It's the holiday season once again, when we should express thanks for the lives we lead, the company we keep, and the handy DVD player hooked up to the nearest television set that will become our new best friend over the next several weeks. If football games, crime show marathons, or crappy Hollywood movies repeated ad nauseum are not your cup of eggnog, why not spend quality time investigating what our film-making friends and neighbors have been up to lately?
The Champaign-Urbana comedy-adventure PRESS START arrived on home video in September from Dark Maze Studios, who decided to stuff their disc with numerous trimmings in addition to a colorful, full-frame presentation of the 102-minute movie. Apart from a talking-head featurette and a trailer, supplements on the DVD-R come in threes: a trio of episodes from the on-line BONUS LEVEL "Flash" cartoons, a troika of DIAL V FOR VILE skits featuring Count Nefarious Vile (played by Peter Davis), and a triad of commentaries moderated by director Ed Glaser and featuring production crew (Kevin Folliard, Meagan Benz), cast members (Josh Stafford, Al Morrison, Davis), and composer Jake Kaufman. Attractively packaged, the DVD can be purchased through the official Web site.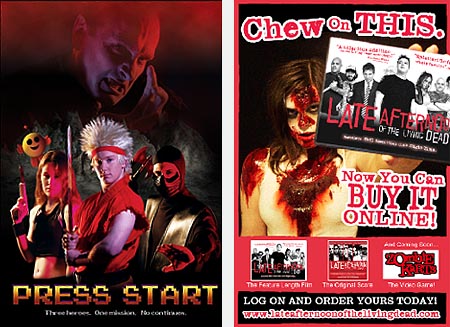 Reaching back farther, Ten Wing Films timed the video release of their horror-comedy, LATE AFTERNOON OF THE LIVING DEAD, with its springtime screenings in Bloomington-Normal. The DVD-9 packs its own gallery of ghoulish extras to complement the 108-minute feature, which is letterboxed and tricked up to emulate grainy black-and-white celluloid. Digital giblets include a blooper reel, music video, three trailers, a novel "revolving door" commentary track, the original 1998 short made by LAOTLD star Chris Hutson that inspired the feature, and an amusing half-hour spoof crossing MASTERPIECE THEATRE with INSIDE THE ACTORS STUDIO. Also attractively packaged, the DVD can be purchased through their own Internet portal.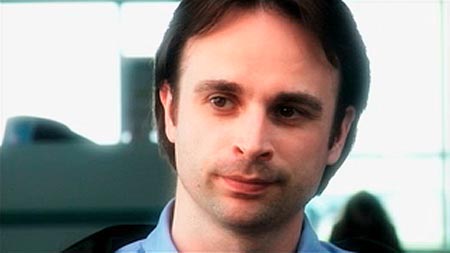 Finally, the Blue Bassoon Pictures short NEAR MISS is technically not available on home video but, unlike PRESS START and LAOTLD, you can rent it locally. That's Rentertainment, 516 E. John Street, Champaign, IL, carries the DVD-R, which features a letterbox presentation of the whimsical 16-minute drama along with a blooper reel, slideshow, commentary by director Alaric Rocha, and nine audio cuts from soundtrack artists Issac Pierce & Ten Speed. A movie-only Quicktime file can also be accessed from this page.
Please keep in mind that DVD-R discs may skip or freeze in certain brands of DVD players.
~ Jason Pankoke
NEAR MISS photo
courtesy of Alaric Rocha/Blue Basson Pictures