On several occasions in recent years, School for Designing a Society instructor Jeff Glassman has told me about a late Sixties zenith of experimental music and theater at the University of Illinois. For maybe just as long, I have enjoyed a series of conversations with John Martirano, a former UIUC library science student who dabbles in data research and design as well as the arts. John has also been working on a documentary about his father, one of the catalysts of that era remembered by Glassman.
A highly productive innovator in traditional and electronic composition, Salvatore Martirano taught at the Experimental Music Studio of the UIUC School of Music from 1963 until his passing in 1995. One of his creations, the SalMar Construction, was apparently the first machine ever made for the specific purpose of generating musical notation in real time. Salvatore also worked on mixed-media performances that involved live actors, projections, and political commentary, as well as a string of video explorations during the Eighties.
Practically all of the above will be represented before and during the 11th Annual Martirano Award Concert which will take place tonight, Thursday, November 15, 7:30 p.m., in the Tryon Festival Theatre of the Krannert Center for the Performing Arts, UIUC, 500 S. Goodwin, Urbana. Prior to show time, SalMar co-engineer Gregory Danner will demonstrate the 400 pound machine in the KCPA lobby at 7 p.m. Then, the first half of the concert proper ($10/general public, $7/seniors, $4/students) will feature the UI New Music Ensemble performing this year's prize-winning works with their composers in attendance.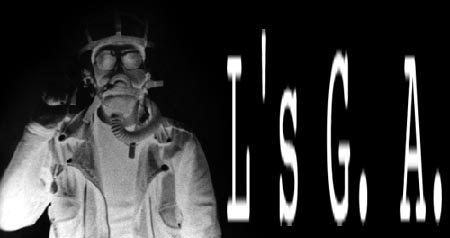 After intermission, John will present an exceprt from his work-in-progress, SAL, and then join M.C. Holloway, Brendan Hanna-Holloway, and Erika Tock for a performance of the 1968 piece "L's G.A." Called "terrifying, clear, and a mixed-media classic" by The Village Voice, this collaboration by Salvatore, Holloway, and Ronald Nameth deconstructs Abraham Lincoln's Gettysburg Address (hence the title) with sound, triple projection 16mm, and on-stage characters including a gas mask-wearing "politico." Nameth, who has worked with such heavyweights as Andy Warhol, John Cage, and William Wegman, also created a 25-minute-long, film-only version of "L's G.A." according to a PDF catalog accessible at this film artist database.
The Boneyard Jazz Quintet, featuring Salvatore's widow Dorothy Martirano, will play an "Afterglow" set after the concert.
~ Jason Pankoke