Hay-oh! [Insert rim shot and Ed McMahon chortle here.] Okay, that was pretty rude, but how else could I have started this post given the movie in question? Yes indeed, the first episode of BrainSmart Productions' THE ADVENTURES OF THE SCREAMING APE has arrived just in time for everybody's favorite gift-giving season. Keep an eye out for it at a local business (read: Exile on Main Street) near you: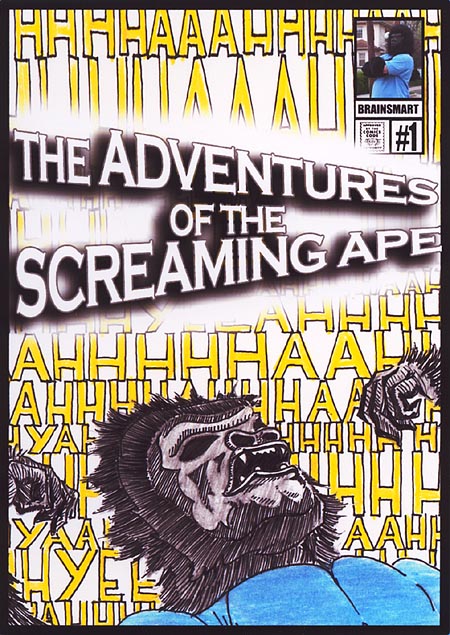 In this highly demented Jason Butler comedy, a sloth of a man named Charles (Thomas Schrepfer) has a falling out with his girlfriend Wendy (Julie Grubich) which results in a major temper tantrum and an encounter with a cackling gypsy (Ania Hrezuch). Her scorpion sting bestows upon Charles a heroic alter ego called the Screaming Ape, whose dubious super powers and ridiculous costume appear when the host achieves a woody. (I can't believe I just wrote that.) The gig also comes with an angry sidekick named Ghost (Bill Turner) that can be summoned by yelling "Ghost!" Hijinks ensue, crime is thwarted, a sequel is threatened, and Charles never seems to learn a thing.
The DVD-R presents the 39-minute SCREAMING APE alongside a chapter menu, an all-star BrainSmart commentary track that sounds like it was recorded at Mike 'n' Molly's even though the bar scenes were shot at The Brass Rail, and a preview section with WAITING FOR GODOT and trailers of JB's other long-form C-U movies: THE TEETH OF THE BOTTLE, THORAXX II, WEREWOLF CEMETERY, and THE SECOND ADVENTURE OF THE SCREAMING APE. I believe this marks the first time any of it has appeared on disc apart from THORAXX, and this WEREWOLF promo does contain footage from Episode 4, a.k.a. the climax we've been awaiting for too dang long.
If you don't pick one up from Exile, then slip JB a ten spot and a PBR for a copy when you see him and Ann Fitzgerald at the bars this week. They need the dough to put that other shaggy monster show to bed.
~ Jason Pankoke