In what seems like a scant millisecond after Ed Glaser evoked the name K. Gordon Murray via the preceding post, C-U Blogfidential received an announcement from Chattanooga, Tennessee filmmaker Daniel Griffith that the official Web site for his upcoming documentary, THE WONDER WORLD OF K. GORDON MURRAY, will go live on Monday, December 24. You may be asking yourself right now, "What's the big deal?" Well, let me tell you a little story, buckaroo…
Probably better known for the films he imported rather than the ones he produced on United States soil, Bloomington native Murray and his wife Irene went into the movie business after relocating from central Illinois to Florida. The first half of their partnership was marked by a series of fantasy and horror tales made in Mexico and Europe, dubbed into English and marketed towards the younger populace as exclusive Saturday afternoon fare, thereby creating what would become known as the "kiddie matinee." After studios co-opted and then killed the practice, the Murrays produced their own exploitation flicks in the Sun Belt until K. Gordon passed away in 1979.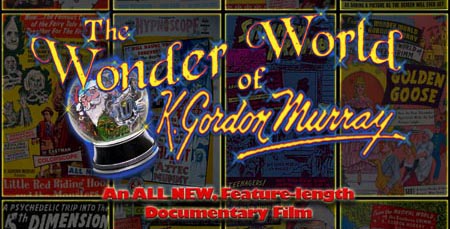 While documentaries about cult films and filmmakers are a dime a dozen lately, Griffith seems to be going the extra mile to make his effort distinctive. Period reenactments of Murray movie premieres, contemporary footage of drive-in theaters on their last legs, and anecdotes by Murray contemporaries will help fill out the project, which Griffith tells C-U Blogfidential will be finished in the spring. 
We have an interview with Griffith in the works, so keep an eye on CUBlog and check it out when it appears! Until then, you can actually watch a teaser trailer right here, bookmark the official movie site once it's active, and dive into Rob Craig's superlative fan site about the man, the movies, and some crazy old-fashioned showmanship.
~ Jason Pankoke
[Updated 12/27/07, 06:00 p.m. CST]