While we dig for more bones about the upcoming DVD release of the Dreamscape Cinema production SHEEBA, directed by Michael J. Jacobs and written and produced by C-U Blogfidential contributor Robin Christian, the best we can tell you about the product streeting nationwide on Tuesday, January 18, through Questar Home Video is that the finalized cover art has been appearing on Internet merchant sites. Behold: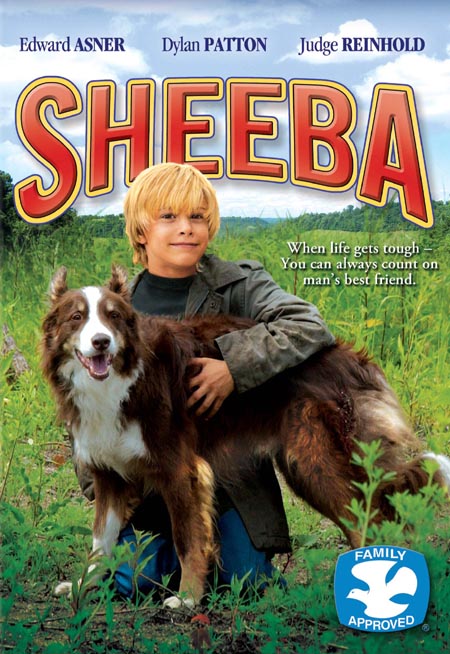 The release title for this locally-made production, formerly known as CRAB ORCHARD (the fictional small town in which most of the film takes place) and SO OTHERS MAY LIVE (the real-life firefighter's motto), comes from the name of the dog given feisty young lad Clay (Dylan Patton) by his mother Kim (Ruby Handler) and grandfather Cecil (Ed Asner). While Sheeba helps warm the boy's heart to life in the Midwest after his emotional move away from New York City and workaholic fireman father Jim (Judge Reinhold), she does not figure prominently until the story's second half and has obviously been promoted to top dog in the film's marketing.
Strangely, the SHEEBA key art resembles that of a Disney "wilderness adventure" movie circa 1970, saturating the DVD cover with wholesomeness if the huge Dove Foundation "seal of approval" doesn't get the point across first. This is hardly deceptive advertising since SHEEBA is a true family film and concludes with a protracted outdoors sequence set in the woods. We'll be curious to see how Christian's in-progress production, MY DOG THE SPACE TRAVELER, will be promoted once completed since it concentrates on yet another boy-and-his-dog tale set in forest environs.
Until then, we have our first peek at SPACE TRAVELER courtesy of the following "trailer" posted to Dreamscape's YouTube channel, which teases at the mysterious inter-dimensional portal discovered by science teacher parents, played by Chris Lemmon and Tonja Walker, and their son, portrayed by Logan Peters.
~ Jason Pankoke