"America's Forgotten 'Matinee' Idol"
An interview with Daniel Griffith of
THE WONDER WORLD OF K. GORDON MURRAY
by Jason Pankoke
Oftentimes, the people, places, and things that validate local culture come from outside its geographic sphere. Such is the case with Chattanooga, Tennessee, filmmaker Daniel Griffith, who has turned a childhood fascination with B-movie impresario K. Gordon Murray (1922-1979) into the first-ever documentary about the late showman. Its significance to C-U Blogfidential is that Murray is a native son. More than once, Griffith traveled to nearby Bloomington-Normal to conduct interviews with surviving family and friends as well as capture B-roll (no pun intended) of the area which Murray called home for most of the first three decades of his life.
From the late Fifties on after settling in Florida, Murray milked a library of English-dubbed horror and fairy tale films from Mexico and Germany, as well as domestic potboilers and his own exploitation flicks, by continually re-releasing them to theaters and television. In fact, his marketing schemes for the fairy tales – which included restricting their show times to Saturday afternoons and freezing ticket prices at children's rates for all ages – gave birth to the "kiddie matinee." A smattering of this strange oeuvre can be found on Mike Vraney's ephemeral label, Something Weird Video, and in uncut, Spanish language editions through Casa Negra Entertainment, but one wonders why it took so long for someone to engineer a movie about this man's colorful life story.
It doesn't matter. Let's thank Griffith for following his whims and inadvertently fitting this piece into the puzzle that is the movies of Champaign, Urbana, and the cities beyond.
Read on, Murray buff…
Jason Pankoke: Thanks again, Daniel, for agreeing to be the subject of the first-ever "EXTRA!" interview for C-U Blogfidential. Before we attempt to decipher the Wonder World of K. Gordon Murray, I'd like to know more about your personal background and what inspired you to make your own movies…
Daniel Griffith: When I was in preschool, long ago, the teacher asked us to draw what we wished to become when we grew up. One student sketched a fireman. Another scribbled something that resembled an astronaut. My picture was of Superman … and over in the corner of the page was me, screaming "action" from behind a large camera. I guess I knew from the beginning that cinema would have a tremendous impact on my life. The characters that filled the screen, both hero and villain alike, would often add color and complexities to my otherwise limited world.
You see, I grew up in a small, uneventful suburb of Chattanooga, Tennessee [called] Ft. Oglethorpe, Georgia, where the only escape [came from] the books you read, the movies you watched, and the games you created in the backyard. It was the movies that made a lasting impression [on me] which is why, when my fellow classmates desired to become something more adventurous – in the eyes of a six-year-old, at least – I longed to become merely a filmmaker. Or, more specifically, a visual storyteller. Not to say that the process of filmmaking isn't an adventure of its own. The past two years working on this documentary can vouch for that.
JP: Then, living in an "uneventful suburb," how did you discover K. Gordon Murray and his work?
DG: By both accident and coincidence, really. First, the accident. When I was in high school, a friend of mind let me borrow some of his MYSTERY SCIENCE THEATER 3000 dubs. This was back when [the show was] on Comedy Central. I had only heard of MST3K but never had the opportunity to see an episode; my family did not have satellite. Well, I loaded the very first VHS in the stack into my VCR and, behold! [It featured] the crew riffing on Murray's SANTA CLAUS import.
Suddenly – and this is where the coincidence takes effect – my teenage mind was transported back to when I was a little boy watching MIDNITE MOVIES on the weekends. One night stood out, most of all. It was a weekend before Christmas. The local television station was playing this incredibly bizarre film with Santa Claus combating one of the Devil's minions. The dangerously surreal imagery would not leave my adolescent mind, though I couldn't remember the name of the film nor the individuals responsible for it! But, once I saw my very first MST3K episode, I knew – at last – who to blame!
Just kidding. I was excited. From that moment on, every time I saw Murray's name on anything I would buy it whether it was a magazine, article, or video.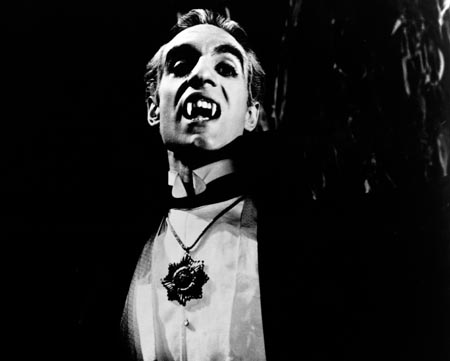 JP: Which Murray movies are your favorites?
DG: Well, obviously I have been a fan of Rene Cardona's SANTA CLAUS since my childhood, but I am partial to THE BRAINIAC, CURSE OF THE CRYING WOMAN, and SHANTY TRAMP, which I consider to be an independent, exploitation masterpiece of its time. And, of course, there's always room for LITTLE RED RIDING HOOD AND THE MONSTERS!
JP: Many of today's fringe filmmakers remember those discoveries made while they were children. It's almost as if a secret club managed to "get" these oddball treasures and channel them in numerous ways later in life. That said, why did you decide Murray's story would make for a good documentary?
DG: Boy, do I get asked that question everywhere I turn. When I mention this project to most people in the film world, they immediately ask, "Why?" This is quickly followed by another question, "Have you seen these movies?" My opinion of these films is irrelevant. The documentary is about a showman and his influence on the pop culture of the time. I will say this – there is a certain charm in these films that does not exist anywhere else in the cult film world.
As for the decision to do this particular film, I think Ken Murray (K. Gordon Murray) decided for me, or at least that is what I was told. During one of my interview trips, I met with a medium who told me that Ken was over my shoulder every step of this production. I have since come to believe it! Too many hunches led to something fruitful. So, this is really his movie. I just have a hand in it and maybe a pocket.
I can, however, honestly say that I consider him a great friend, just one that I have never met or spoken to, but I advise the other inhabitants of the "spirit realm" to resist the urge to knock on my door when they want their stories told. Unless you are Alfred Hitchcock or William Cameron Menzies [director/designer of the original INVADERS FROM MARS]; my door is always open for you.
I think it is important to remember the past whether it is film related or not. That is where the true human story comes from. I was attracted to the story of K. Gordon Murray because it had never fully been explored and was in danger of being lost to the ages. Several wonderful people have written magazine articles on the subject and Rob Craig has an amazing Web site dedicated to him, but I felt that his human story had never been told. It's not really my predecessors' fault; it is a difficult story to tell – an enigma, really – and that story has to come from those who knew him personally.
Ken would have been 86 this January, which means that most of the people who knew him best have already departed from this world or are in danger of doing so. In my travels, I've met some truly talented individuals that I am honored to call my friends, and this project is really about them as much as it is about K. Gordon Murray.
JP: Your quest to capture Murray's life story has led you all over the country…
DG: I traveled from New York City to Miami, Florida, from Winston-Salem, North Carolina, to Los Angeles, California, and just about everywhere in between. I have spent most of my time in Miami and Bloomington, Illinois, though. I fell in love with Bloomington. You couldn't ask for a more ideal setting for Murray's story. It is real Americana!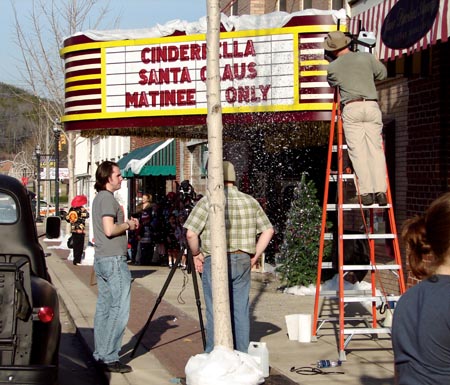 JP: In ways, it's true. Whereas Champaign-Urbana has the feel of suburbia constructed around a university, the sense one gets from visiting Bloomington-Normal is of two archetypal Midwest cities that grew into each other and just happened to sprout a pair of universities. What did your B-N trips entail?
DG: A lot of research! I also met with Ken's remaining family and friends. They are all wonderful people! You will meet them in the documentary. I also visited and filmed his childhood home, his school, the park where he played and his band would later perform, his father's funeral parlor, etc. Basically, I walked in his footsteps to find his story.
JP: Did you look into the circus culture that Murray took many of his presentational cues from?
DG: I was able to meet with and interview Steve Gossard, curator of Illinois State University's Circus Archive. He also gave me access to an incredible wealth of material dealing specifically with Bloomington-Normal's somewhat infamous circus/carnival history, most of which will be featured in the documentary.
JP: While retracing Murray's path, did you encounter any surprise moments or revelations?
DG: There's several, but you will have to wait for the documentary [to come out]. It has been a long journey and I would hate to reveal any secrets prematurely. I can tell you this – by the time the end credits roll, you'll know everything there is to know about the infamous K. Gordon Murray. Or, at least, everything he wants me to tell you. Ha, ha!
JP: Today, most filmmakers emerge from film school and are at the mercy of other peoples' money and devices to get their work produced and distributed. How do you think a self-made character like Murray would fare in today's entertainment world?
DG: I think he would do very well, for the most part. Today's entertainment industry embraces independent film production. Of course, that is only because "we," the audience, embraced it first. But I do think his work would at least be seen in the direct-to-video market, which is huge! Today's world is so overpopulated and diverse. There's a niche for everyone. Consider this – people still enjoy his films today and no one has ballyhooed or promoted them.
However, I believe that K. Gordon Murray would be saddened by how impersonal show business is presently. Part of a showman's charm is how he plays or manipulates a crowd. The same spectators who once gathered around a carnival barker on the midway now huddle around a television set and watch the same thing on the Discovery Channel. A showman needs to see the audience's reaction. It is his elixir of life.
JP: The state of the industry obviously didn't stop you from diving in. What filmmaking experience did you have prior to starting this project?
DG: I worked as a lighting grip on several features and television shows while I was attending school. It was only recently that I became more involved in documentary work. While it is not my main goal as a filmmaker, it still falls within the parameters of my overall desire, which is visual storytelling.
Within the past year, apart from my work on THE WONDER WORLD OF K. GORDON MURRAY, I have also edited and directed a historical documentary on the Civil War battle in Chickamauga and played an essential role in developing all the visuals accompanying a new opera performance entitled Twisted Sisters.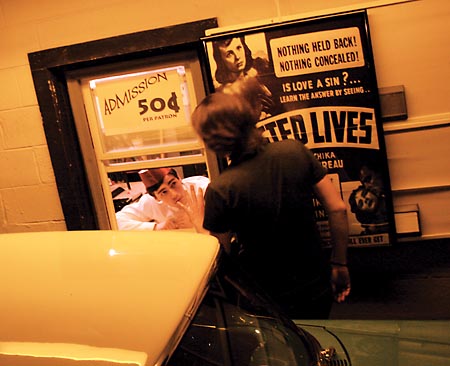 JP: Maybe it's telling that you produced some reenactments specifically for WONDER WORLD, and also shot footage at a drive-in on its last days of operation – material that reaches above and beyond the standard interview/stock footage itinerary for documentaries. What do you hope touches like these will bring to the movie?
DG: Above all, I hope that the audience feels like they are part of history. These are experiences that simply do not occur anymore. When was the last time you went to see a movie, only to have it interrupted by a self-proclaimed doctor trying to sell you sex-education manuals? Or, when was the last time you went to a drive-in movie, much less a drive-in where a vampire strolls around from vehicle to vehicle serving "blood cocktails"? These events barely exist in books.
This film is all about the pop culture of the time, and it's all in good fun!
JP: When do you believe you'll finish and start exhibiting the film?
DG: We hope to complete this film by the end of April 2008. From there, we will submit it to various film festivals and, perhaps, even show it at cult film conventions. Who knows, maybe television.
Hopefully, we can have Murray's hometown premiere at the Normal Theater in Bloomington-Normal, where he played several of his "kiddie matinee" films. I plan to roadshow the documentary using the same tactics that Murray used with his own productions. This includes a special, live appearance by "Stinky the Skunk." That's right. You heard it here, folks! Live and in person!!!
JP: Awesome! I'll be first in line to get Stinky's autograph and check out THE WONDER WORLD OF K. GORDON MURRAY. Until the show hits the road, how can we learn more about Murray and your film?
DG: The main site will launch in March, but we will be adding information and updates on a weekly basis from here on in. You can visit the Wonder World at http://www.kgordonmurraymovie.org/. Also, be sure to visit Rob Craig's wondrous Web site at http://www.kgordonmurray.com/. I also have a MySpace site where you can view several rare trailers of Murray's releases. That site is http://www.myspace.com/ballyhoo_danielgriffith.
JP: I noticed the presence of Something Weird Video on those Web sites. How are they involved with the documentary?
DG: From the beginning, the staff of Something Weird – especially Mike Vraney and Lisa Petrucci – have been very supportive of this extraordinary documentary film. I consider Something Weird Video a partner in this endeavor.
JP: Finally, do you have any new productions scheduled to begin after you wrap up with Murray?
DG: I have been contracted to produce the bonus features for the upcoming special edition DVD [of a film] directed by cult filmmaker and friend William Grefe (STING OF DEATH), as well as developing another documentary film – possibly a production based on the life of William Cameron Menzies – and a feature.
JP: Good luck with everything!
DG: Thank you for your interest and tell your friends … "The Wonder World is coming!"
Interview conducted December 2007-March 2008 via e-mail.
All photos courtesy of
Daniel Griffith/Ballyhoo Productions.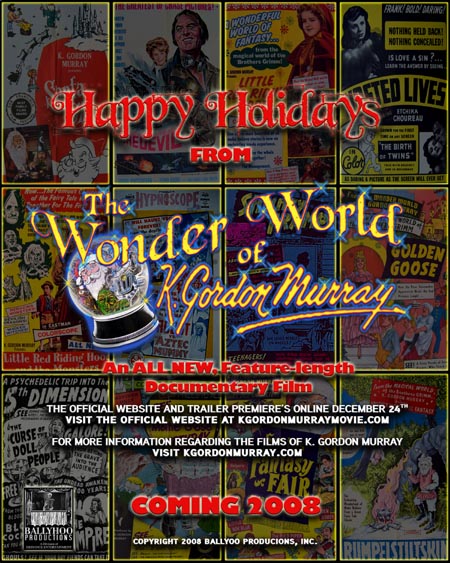 CUBlog EXTRA! Interview No.1 © 2008 Jason Pankoke
Back to the fore, Murray buff…