Once again, it's time to uncover that which occurs on the fringe…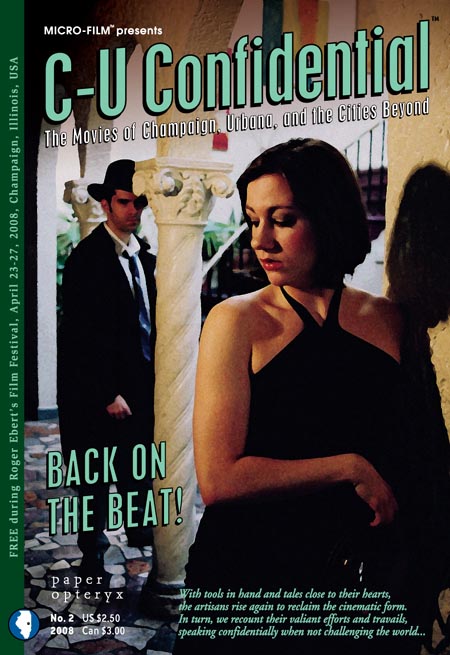 You like? If so, make sure to nab the real deal next week at Roger Ebert's Film Festival in downtown Champaign between April 23 and April 27, when it will be available FOR FREE thanks to our advertisers! Behind the shadowy scene featuring Michael Bach and Tonie Sadler, you will find excerpts from our interviews with local micro-filmmaker Ed Glaser (PRESS START) and non-local storyteller Daniel Griffith (THE WONDER WORLD OF K. GORDON MURRAY) as well as previously unseen photo galleries from Chris Lukeman's weirdo comedy THE TRANSIENT and Chris Folkens' stylish concept video THE LIFELINE: TRILOGY! We also summarize the past year in downstate Illinois film, reprint several choice postings from C-U Blogfidential, and take a brief look back at twin cities cinema circa 1973.
Not enough, true believer? We did manage to cook up one extra morsel to help celebrate the return of CUZine – a bonus cover – although you won't get your first look at the artwork on CUBlog. Our friends at Smile Politely revealed the artwork on Wednesday, April 23, so hop on over to this permalink for the reveal!
As you hoist your copy high to show everyone within sight that our little "magazine of the blog" has returned most triumphantly, we'll be hunkering down and getting back to business here in the digital realm. (We're finding that creative publishing, film set shenanigans, and tax preparation just don't mix in mid-April. We'll have to work on that…) The information flow resumes later tonight when we post our discussion with Mr. Griffith in its entirety.
~ Jason Pankoke
p.s. Also back on the beat are the advertisers from our streets: 747 Productions, Bachelor Pad Magazine, Black Oak Media, The Bread Company, Dreamscape Cinema, Exile on Main Street, Film Foetus Inc., The Finish Point/CU Cameras, Heartland Gallery, Illini Film & Video, Illinois International Film Festival, Ippatsu Salon, Jane Addams Bookshop, JNP Digital, Michael Wiese Productions, Record Swap, Roselawn Productions, Route 66 Film Festival, Smile Politely, That's Rentertainment/Parasol, Tripod Films LLC, Wind Water & Light Gallery, and The Writing Initiative. Confidential patrons will visit with you shortly!
[Updated 4/20/16, 8:40 p.m. CST]