"Going the distance" will mean several things when upstart Urbana company Essence Films premieres their first in-house production, PRELUDE, 50 miles north of Champaign-Urbana at the Onarga Theater, 101 W. Seminary Ave., Onarga, IL, tomorrow night, Thursday, August 7, 7 p.m. "We really wanted a 'theater' atmosphere for our first film so we came across this small, but recently refurbished, theater in Onarga," PRELUDE director and Essence founder Luke Boyce tells C-U Blogfidential. After running into high rental prices and inflexible scheduling at all their C-U options, Boyce discovered that "[the Onarga] owned an HD [High Definition] projector, so it was pretty much a no-brainer from there on out."
While the average independent filmmaker might have accepted Standard Definition facilities and off hours four-walling to show their work, Boyce has a specific technical aspect to tout with PRELUDE along with the dedication and artistry of its cast and crew – rich imagery photographed by the revolutionary RED ONE digital camera, which captures up to 4,000 lines of resolution. (1080p HD is the rough equivalent of 2,000 lines resolution.) "Just having something tangible to stand by is a really great accomplishment," says Boyce about the finished project, filmed in various C-U locations in April 2008. "It feels like this was our cinematic initiation, and we're now ready to move on to heavier stuff."
Such "stuff" will involve three full-length productions over the next 18 months, including a "controversial" documentary, a "secret feature" scheduled to shoot early 2009 in Los Angeles, and another feature with the working title SHADORA that will expand on the supernatural quandry facing the characters played by Vanessa Prokuski and Micah Boyce in PRELUDE. Originally produced as a "pilot" to SHADORA for attracting potential investors, PRELUDE might just receive an autonomous berth beyond the Onarga premiere. "Considering that it stretched out to 35 minutes, and since we have some decent behind-the-scenes footage from Matt [HarsH] and Joey [Burgess], I'm considering giving [PRELUDE] its own DVD very strongly," reasons Boyce, who also wants to enter film festivals and schedule shows in Champaign and Chicago.
As PRELUDE enters its next phase and the subsequent projects move forward, the filmmaker will also keep busy with Champaign-based Shatterglass Studios, a commercial multi-media firm launched two-and-a-half years ago by Boyce, Brett Hays, and David Fendley. The efforts of Shatterglass and Essence certainly overlap – both Fendley and Hays worked on PRELUDE in various capacities – but it's clear that teamwork and passion will ensure a productive future for them regardless of the logos emblazoned on the many hats they'll wear.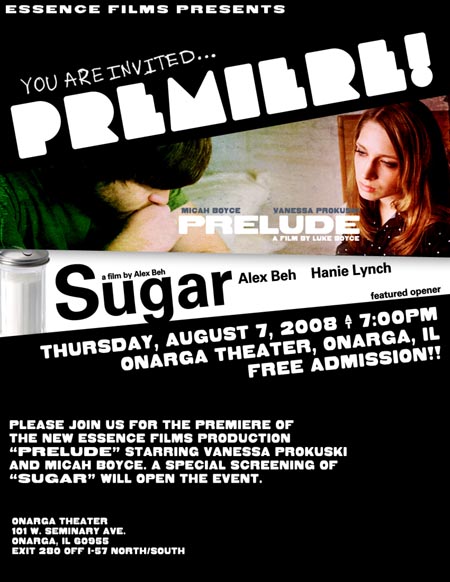 PRELUDE is a production of Essence Films in association with Yerobo Films. It was written and directed by Luke Boyce and produced by Brett Hays and Luke Boyce, and stars Vanessa Prokuski and Micah Boyce. It runs 35 minutes. The Onarga premiere will also feature SUGAR, a production of BlackHouse Theater/Essence Films/Dot+Cross. It was written and directed by Alex Beh and produced by Alex Beh, Rachel Reichard, Geoffrey Plitt, Brett Hays, Nathan Brown, and Bud Johnson, and stars Alex Beh and Hanie Lynch. It runs 7 minutes.
Questions about PRELUDE and upcoming Essence Films/Shatterglass Studios projects can be directed to Luke Boyce at luke [at] shatterglassstudios [dot] com.
~ Jason Pankoke
PRELUDE artwork
courtesy Luke Boyce/Essence Films