Once again, Jason Butler will whip out some older Brainsmart Productions later tonight, Monday, September 22, 9 p.m., at Mike n' Molly's, 105 N. Market St., Champaign, in order to stir up interest in WEREWOLF CEMETERY: Issue 4, which he is currently shooting about town. Following a reprise of WC 1 will be everyone's favorite hum-ant movie musical, THORAXX II: THE BREEDING (10 p.m.), and the rip-roaring WC 2 (12 a.m.) which introduces everyone from ExtermoCorp to Agents Sparrow and Mantis.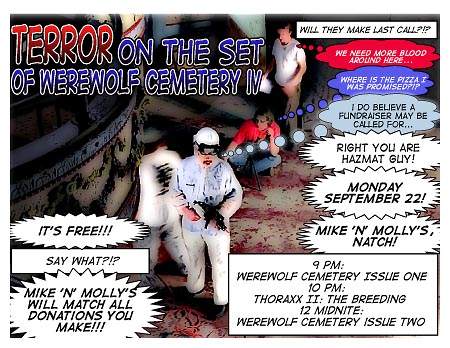 This show will be free admission but please help JB take advantage of the pledge by bar owner Mike Murphy to match every dollar placed in the Brainsmart Tip Jar throughout the evening. What is the money for, you ask? Make-up, costumes, props, and blank tapes don't grow on trees, hoss, so it's simply time to help a filmmaking brother out.
As proof in the blood red pudding, we offer up another exclusive set photo from WC 4 as JB explains to The Living Blue's Steve Ucherek an intense scene between his character, Ichabob, and the ancient warlord, the Thane. We're still not sure why exactly werewolf Kelley Wegeng-Shimmin was staring down Ucherek's eardrum, but we obviously digress…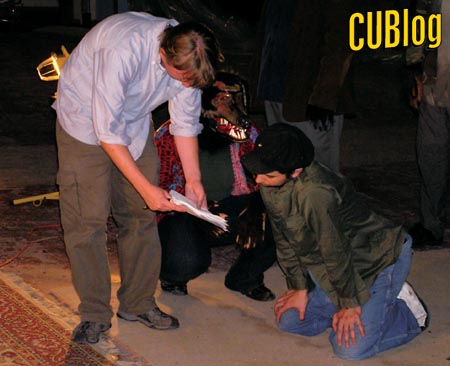 Elsewhere, my equivalent to the music scene in Champaign-Urbana, closet WC groupie Todd J. Hunter, managed to creatively plug the series on-line. It seems that Hunter won a sharp looking T-shirt from The Horrors of It All, a Weblog showcasing non-EC horror comics from the Fifties, and a THOIA editor invited our man to send in a photograph of himself wearing the shirt. Right here you will find that THOIA not only posted two snaps of Hunter being gnawed by a Mark Peaslee original but also doctored one of them to reveal our man's true nature.
JB still needs extras for upcoming scenes, by the way. Contact him at (971) 645-9098 or brainsmartproductions [at] yahoo [dot] com if you're ready for your close-up. We know you are.
Finally, adding extra value to Mike n' Molly's evening of cultural outpouring will be The Abe Froman Project, a local improv quintet who will perform upstars beginning at 9 p.m. up until THORAXX II time. Froman is comprised of Matt Fear, Nate Jones, Mike Prosise, the too-cute Katie Baldwin, and the irresistably hot Mikel Matthews, Jr. I can't believe I just typed that last part but, since he's a movie-maker too, it must be true.
~ Jason Pankoke