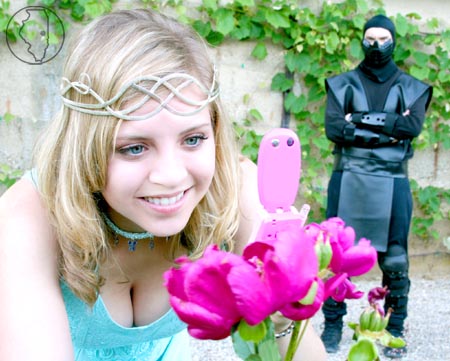 From February 11, 2011:
FOR IMMEDIATE RELEASE
Local Movie Studio to Release Ninjas, Zombies, and Laughs – Again!
CHAMPAIGN, IL (February 11, 2011) – Champaign-based Dark Maze Studios will release a sequel to its critically-acclaimed videogame comedy PRESS START on DVD March 11, 2011. Titled PRESS START 2 CONTINUE, the film reunites the original cast and crew and adds fan favorite characters from the ongoing PRESS START ADVENTURES animated series.
PRESS START 2 CONTINUE tells the story of an ultraviolent ninja forced to team up with a bubbly, positive-thinking princess to save his friends – and the world – from a resurrected evil sorcerer.
Filmed largely in Champaign-Urbana, including the offices of local video game developer Volition, the movie features University of Illinois faculty, alumni, and other locals. Champaign business owner and world-renowned performer Andy Dallas of Dallas & Company also reprises a role from the first movie as an eccentric shopkeeper.
The movie also features professional videogame voice actors from series such as "Sonic the Hedgehog," "Contra," "Marvel Ultimate Alliance," and "Shantae;" personalities from popular comedy Web site ThatGuyWithTheGlasses.com; and a musical score by videogame composer Jake Kaufman.
Described by gamer news blog Destructoid.com as "the best videogame movie ever made," PRESS START has gained fans worldwide for its clever writing and spot-on parody, making up for low-budget indie production with geek-tastic laughs and behind-the-scenes dedication.
The on-line press kit can be found at www.PressStart2.com, including high-resolution photos and the movie's trailer.
About Dark Maze Studios
Dark Maze Studios is a Champaign, Illinois based micro-budget independent studio that strives to produce high-quality entertainment on budgets Hollywood would consider pocket change. Dark Maze has produced a number of successful films since 2002.
###
CONTACT
Ed Glaser, President
(217) 722-8289
ed [at] darkmaze [dot] com
http://www.darkmaze.com/