There's not much we can tell you about the brand-new DVD release of the Dreamscape Cinema production DISCONNECT, written and directed by Robin Christian of Monticello, that distributor Osiris Entertainment hasn't already outlined on their Web site. So, let's skip right to the part where we show you the cover artwork. Unlike the old-fashioned look of Questar's SHEEBA packaging, DISCONNECT feels marketed to audiences in the here and now: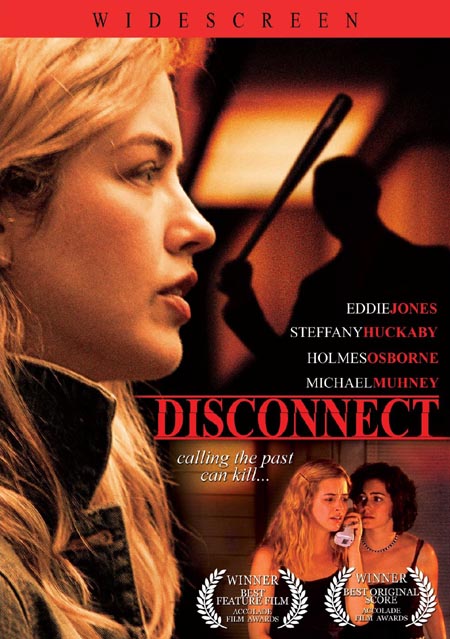 Streeting nationwide last Tuesday, February 15, DISCONNECT originally went into production the summer of 2004 in Champaign County and tells the tale of collegiate fine artist Haley (Steffany Huckabee) who is working through the tragedy of her mother's untimely death with support from her father Russell (Holmes Osborne) and best friend Cathy (Amanda Troop). Late one night, Haley rediscovers a vintage telephone toy she played with as a child and realizes it can facilitate conversations with people in their past lives. She and Cathy soon make ill-advised attempts to change the course of history and prevent the passing of Sonya (Devorah Richards) since Haley believes foul play was involved, accidentally incriminating her boyfriend Dylan (Michael Muhney) and forcing a local sheriff (Eddie Jones) to reopen a case he'd rather remain closed.
After the near-decade that has passed between pre-production and domestic release, we're disappointed so few supplemental materials made it to the DISCONNECT and SHEEBA discs, although the former trumps the latter simply because it has extras, however modest. Osiris added a photo gallery – certainly welcome if the images are quality, even though we'll always prefer to peruse such things in print – and a trailer, piquing our interest only for the fact that we've found two of them on-line and wonder which one made it to the DVD. First, observe the edit posted to Osiris' YouTube channel, basically the long-existent Dreamscape cut with the distributor's logo added at the beginning:
We also found an alternate on the channel of voice-over artist Kurt Kelly which runs approximately 10 seconds shorter, substitutes or excises numerous shots, and features his throaty hyperbole. Given some of the other Osiris trailers uploaded by Kelly, we're guessing the distributor hires him to audibly dress up promos they cut together in-house:
Actors Muhney, Troop, and Jones would return to MICRO-FILM Country the year after filming DISCONNECT to appear in the next Dreamscape feature, ACT YOUR AGE, which Christian tells CUBlog is on the cusp of landing its own United States distribution. Stick with us for updates, dearest readers!
~ Jason Pankoke