Yesterday, Dark Maze Studios of Champaign released their newest creation, ROBOGIRL, to home video. Originally announced as a martial arts-tinged project called NINJA HUNTRESS (see item: 2/24/08), the resulting "mobisode" series redresses the concept in sci-fi threads that recalls Eighties favorites such as THE TERMINATOR, THE HIDDEN, and a certain muscular Paul Verhoeven flick. In ROBOGIRL, a combat cyborg named Huntress (Elle Parker) is sent back in time to the early 21st century by a brilliant scientist (Andy Dallas) and a military commander (Peter Davis) to stop the Host, an alien collective consciousness that spreads via human procreation.
Bare-bones by the standard that Dark Maze set with their prior releases, inclucing the jam-packed platter for PRESS START (see item: 11/26/07), the DVD-R for ROBOGIRL presents all 10 "mobisodes" in their colorful full-screen glory as well as trailers for both of these titles. As each segment lasts just under three minutes, it adds up to the equivalent of a 30-minute short for less than 10 bucks – not a bad way to support your local filmmaker, which you can do by visiting this particular page. However, the DVD is only one part of the ROBOGIRL story as Huntress has yet to kick butt on the platform she was originally programmed to conquer – a mobile device near you!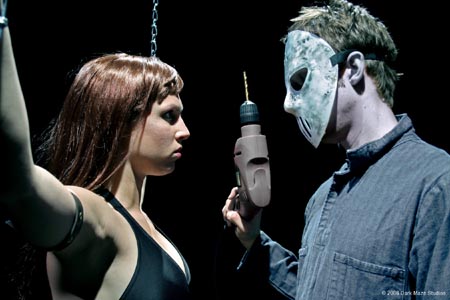 ROBOGIRL follows in the footsteps of the studio's Flash-animated series, PRESS START ADVENTURES (formerly PRESS START: BONUS LEVELS), which is also geared towards mobile distribution. "After two years making [the PRESS START feature], I wanted to take a bit of a break and work on something more short form," ROBOGIRL director Ed Glaser tells C-U Blogfidential. "Additionally, high definition is becoming the standard for video but for budgetary reasons I'm still working in standard definition. Mobile, with its smaller screen, allows me to continue to make good use of the equipment I have."
Glaser and company shot the new series in Champaign-Urbana during the spring and summer of 2008, using several recognizable locations (including the obligatory pit stop at the Dallas & Company storage unit) along with a slew of fresh faces. "I have some contacts among the faculty [of the University of Illinois' theatre department] and was given the opportunity to pitch the series to a number of seniors," explains Glaser, who cast statuesque ROBOGIRL lead Parker and several other actors as a result. "Some Dark Maze 'regulars' still appear, though, including Andy Dallas, Peter Davis, and [PRESS START lead] Joshua Stafford, who was also this series' fight choreographer."
While PRESS START ADVENTURES landed ThunderSquid as its carrier some time ago, both it and ROBOGIRL have yet to be unleashed for the iPhone generation. Another title waiting in the wings is the live-action short, PRESS START: BIO HAPHAZARD, produced prior to ROBOGIRL for inclusion on the disc of X-Strike Studios' upcoming Resident Evil parody, RESIDENT HORROR. A current post on the PRESS START Weblog discusses the present state of the Dark Maze universe in further detail.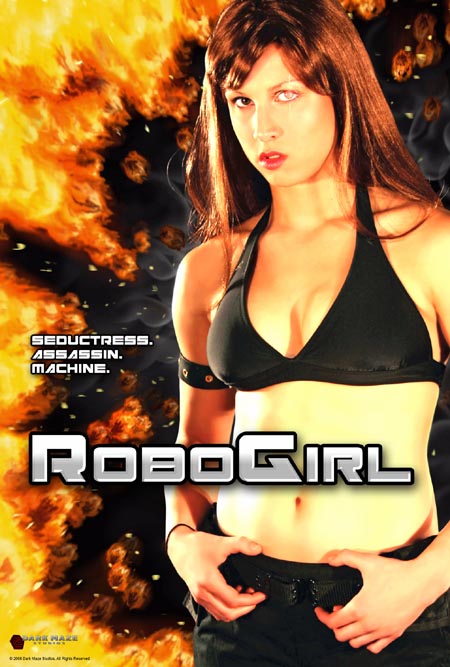 ROBOGIRL: Season 1 is a production of Dark Maze Studios. It was produced and directed by Ed Glaser and written by Kevin Folliard, and stars Elle Parker, Peter Davis, Andy Dallas, Kevin Reader, Adam Shalzi, Joshua Stafford, Terry Fletcher, Eric Michael Smith, Erin Sutkay, Alexander Berg-Jacobson, Amanda Drinkall, and Kinsey McCartor. Total running time is 30 minutes.
Questions about ROBOGIRL and other Dark Maze productions can be directed to Glaser at ed.glaser [at] gmail [dot] com.
Please keep in mind that DVD-R discs may skip or freeze in certain brands of DVD players.
~ Jason Pankoke
ROBOGIRL photos
courtesy Ed Glaser/Dark Maze Studios