Back on October 6, the University of Illinois-set Webisode series ONE FINE DAY! became available as a DVD through Amazon.com. Recent UIUC graduates and series producers Derek Klein and Marc Morin, Jr., filmed and posted the set throughout the 2007-08 academic year, utilizing the help of the student body and finding an expanded audience on other college campuses who followed the lives and loves of six "Chicago Residence Hall" RAs: Daniel (Bob Dignan), Mitch (Daniel Papas), Steven (Kevin Zaideman), Christi (Elisha Reichert), Henry (Lance Barke), and Katharine (Jessica DiLiberto).
The DVD-R release spreads 12 episodes across four discs, with all presented in a mild letterbox format and most running an average of 20 minutes, save the longer season finales. Apart from commentary tracks on the first two episodes by Morin and Klein, special features have been collected on the second and fourth discs. These include blooper reels and slide shows for each season, teaser trailers for Season 2, a talking head piece called "A Look at Homosexuality in ONE FINE DAY!" that addresses the relationship between Christi and Alexis (Brittney Refakes), an expressionistic short called SECOND LIFE made by Klein prior to OFD! that was repurposed as Daniel's film project in Season 1, and three commercial parodies.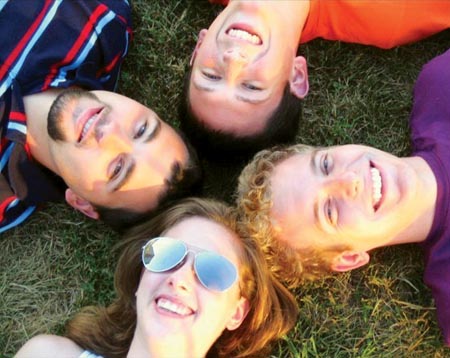 With the surprise popularity of ONE FINE DAY! in and outside of Champaign-Urbana, a direct follow-up had been taken into consideration by its creators. "We decided to not do a sequel to OFD! for a couple of reasons," explains Klein to C-U Blogfidential. "primarily because we felt we ended the series on a high note and we'd hate to do [a Season 3 or] a movie that may not turn out the way the audience would like." Compounding the issue would be the real-life graduation of numerous cast and crew members including Klein, who now works in the Chicago suburbs for Eric Klein Photography and Best Buy, and Morin, who relocated to Appleton, WI, and works for Kimberly Clark as an engineer.
Geographical disparity has not put the brakes on future collaboration as a recent update to the ONE FINE DAY! Web site revealed that the duo's Premonition Pictures will be producing a feature-length project. "We are currently in the early stages of production, locking down a storyline and fleshing out the characters," continues Klein. "The working title is A CERTAIN POINT OF VIEW and the idea behind the film is to tell a set of stories from differing perspectives. As the character that the audience is following changes, the audience will be able to see previously hidden motivations and discover that the point of view can have an impact on how we live our lives."
The lack of continuity with ONE FINE DAY! is not discouraging the involvement of key personnel from the series. "Most of the creative team that helped make OFD! what it is will be working on A CERTAIN POINT OF VIEW," says Klein. "Marc and I are back as executive producers and writers, and we've added Bob Dignan, Lizette Gomez, and an old writing partner of mine, William Palmisano, to help flesh out this new story." Premonition is also negotiating to bring back several OFD! performers in new roles, including Kevin Zaideman, Betsy Trevarthen ("Monica Burns"), and Prashanth Venkataramanujam ("Jacob Winters").
Interesting is the fact that A CERTAIN POINT OF VIEW will be shot at UIUC as was ONE FINE DAY!, although Klein and company will be trading in the haphazard guerilla shooting style of the series – which often incorporated unwary students wandering into frame – for a planned guerilla shooting schedule over Spring Break next March. "We'll need to film what we believe to be a 90-minute film in eight to 10 days," estimates Klein. "It's going to be a crazy production schedule but I think it can be done. A DVD release date is planned for the fall [of 2009] unless we can find some sponsorship and some completion backing to get it released theatrically."
No word yet on what personnel Premonition will be seeking for the shoot, so interested folks should keep an eye on the ONE FINE DAY! site for information as well as videoblog posts that will discuss the decision to graduate from OFD! itself to what promises to be a sophistcated experiment.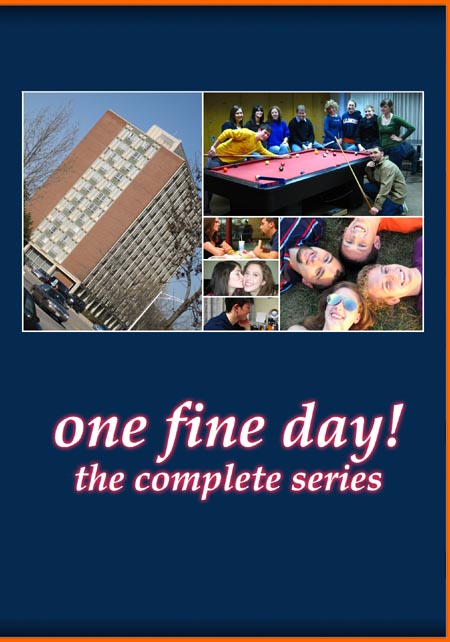 ONE FINE DAY!: Seasons One and Two are a production of Premonition Pictures. They were produced and directed by Derek Klein and Marc Morin, Jr. and written by Klein, Morin, and Bob Dignan, and star Daniel Papas, Bob Dignan, Elisha Reichert, Kevin Zaideman, Brittney Refakes, Jessica DiLiberto, Betsy Trevarthen, Colleen Delaney, Lance Barke, Courtney Refakes, Michelle Williams, and Jennifer Linsenmeyer. Total running time is 287 minutes.
Questions about ONE FINE DAY! and other Premonition productions can be directed to Klein at d.klein [at] onefinedaytv [dot] com.
Please keep in mind that DVD-R discs may skip or freeze in certain brands of DVD players.
~ Jason Pankoke
ONE FINE DAY! photos
courtesy Derek Klein/Premonition Pictures
[Updated 4/9/16, 3:30 p.m. CST]