I'm pleased to report that another old acquaintence has re-emerged to give area audiences a singular look at the world through the camera lens. Minier native and former Chicago resident Dennis Neal Vaughn, whom your humble editor first met nine years ago at the long-defunct Chicago Alt.film Fest, chronicles his emergence as a gay artist and gay rights' activist living with HIV in the new short subject ELECTRIC CITY – FAR FROM NORMAL. It will premiere tonight, Monday, December 1, 7 p.m., at the Normal Theater, 209 North St., Normal, IL, in conjunction with the observence of World AIDS Day. Admission is free and open to the public.
ELECTRIC CITY, which Vaughn filmed both in the Minier/Normal area and San Francisco, CA, where he currently resides with his life partner Mark Petty, is the latest of several projects that the filmmaker has returned to make in central Illinois and his most autobiographical to date. Prior cinema works include AUTUMN BLUES, AN ENIGMA, and MAMA MEDEA.
More information on ELECTRIC CITY can be found on this Weblog, which includes numerous stills and the original short story that preceded the film, while a second Weblog is Vaughn's personal forum. An article that ran in The Pantagraph last week further details the filmmaker's decision to escape Chicago for San Francisco and to rely on medicines and love to trump the aliments of his body and heart.
An official press release for tonight's screening follows the jump.
~ Jason Pankoke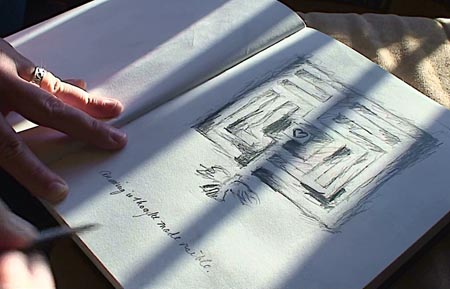 From August 3, 2008:
FOR IMMEDIATE RELEASE
Film to premiere on World AIDS Day 2008
(Normal, IL/San Francisco, CA) Dennis Neal Vaughn's autobiographical short film, ELECTRIC CITY – FAR FROM NORMAL, tells his personal life story of a man's journey from rural central Illinois and a town named Normal to begin a new life in San Francisco. The short film deals with his coming to terms with his AIDS diagnosis and how he must adapt to changes and grow from the experience. The film is based on Mr. Vaughn's short story, "The City Was Electric."
ELECTRIC CITY will screen on the 26th anniversary of World AIDS Day on Monday, December 1, 2008, at the Normal Theater in Normal, IL, funded in part by a Town of Normal Harmon Arts Grant made possible with the Human Rights Advocacy Council, the McLean County AIDS Task Force of Illinois, and the Triangle Association of Illinois State University.
Mr. Vaughn, from an outside perspective, would be considered, well, normal. Normal also happened to be the name of the central Illinois town where he attended college. He grew up just a few miles west of Normal on a small country farm approximately two hours south of Chicago, IL.
However, his life would not follow any easy or "normal" path. Despite his heartland roots and a traditional Midwestern upbringing, Mr. Vaughn would find himself coming out as a gay man living with HIV. He would also learn that he was co-infected with Hepatitis-C, as are one out of every three people diagnosed with HIV.
Diagnosed as HIV positive in July 2003, Mr. Vaughn has made a film that gives a vision and a voice to many like him who must learn to cope with the disease. For Mr. Vaughn, it is the discovery that the simple things of life bring him the most meaning.
Currently Mr. Vaughn is a member of The San Francisco Film Society as well as Frameline (The LGBT Film Association) in San Francisco, CA, where he now resides. Mr. Vaughn is a past vice-president of the Independent Feature Project/Midwest's board of directors in Chicago, part of the largest national not-for-profit independent film arts organization.
Mr. Vaughn's film work includes the short films AUTUMN BLUES and TECHNO LAMP which aired on MTV and MTV.com. Mr. Vaughn also wrote and directed the feature film MAMA MEDEA which screened at the Chicago Alt.film Fest, as well as the short film AN ENIGMA. He holds a Master of Arts degree in photography and drawing and a Bachelor of Arts with honors in theatre, both from Illinois State University in Normal.
###
CONTACT:
Dennis Neal Vaughn
Axis Mundi Films
Bullmaze Productions
bullmaze [at] gmail [dot] com
http://electriccitymovie.blogspot.com/