Since there's not much of interest happening theatrically in the vicinity of the Secret MICRO-FILM Headquarters, we're more than happy to remind you that a pair of cult films which managed to snag big-screen time in the area will return this weekend for one more go-round.
The Canopy Club revisits the Flaming Lips/Bradley Beesley/George Salisbury lo-fi science fiction opus CHRISTMAS ON MARS this Sunday, December 7, 9:30 p.m., during their "Pizza + Pitcher and Movie" night. Admission is free and, if you can sit still for the long haul, plan to triple your yuletide cinema intake by arriving early for A CHARLIE BROWN CHRISTMAS at 6:30 p.m. and A CHRISTMAS STORY at 7 p.m. Besides, how can you resist the sight of Wayne Coyne silently lording it over a decrepit human colony on Mars while decked out in a silvery jumpsuit and Ray Walston antennae? Given that it is Wayne Coyne, the get-up just doesn't seem as out-of-whack as it normally would on any other mere mortal…
Looking ahead for a moment, the upcoming "P+P&M" schedule reads exactly how you'd expect for a promotion catering to college crowds; dates of interest include Sunday, January 18, 7 p.m., featuring LOCK, STOCK AND TWO SMOKING BARRELS, FEAR AND LOATHING IN LAS VEGAS, and NATURAL BORN KILLERS, and Sunday, February 22, when ARMY OF DARKNESS (9 p.m.) is sandwiched in between ZOOLANDER (7 p.m.) and ANIMAL HOUSE (11 p.m.) [see item: 11/11/08 – did we call it or what?] during "Toga Party Night." A-hem. Gee whiz, look at the time! Speaking of ARMY…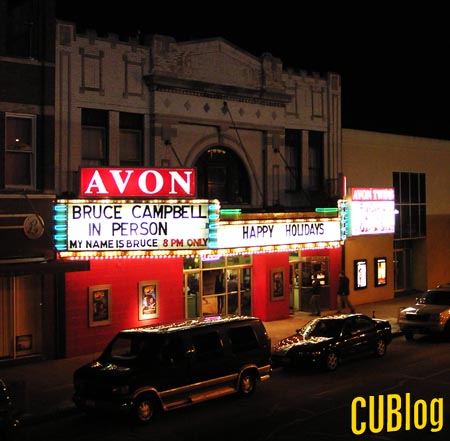 The Avon Theater in Decatur acted fast in responding to Monday night's stuffed-to-the-rafters screening of MY NAME IS BRUCE [see item: 9/28/08] wherein B-movie favorite Bruce Campbell answered questions and slung zingers in person for more than an hour after the audience ate up his highly amusing, self-referential comedy. On Wednesday, owner Skip Huston announced that the Avon had booked BRUCE for a one-week run alongside such heavyweights as AUSTRALIA, FOUR CHRISTMASES, and QUANTUM OF SOLACE, starting tonight, Friday, December 5, at 8:15 p.m. Check their Web site for additional show times!
~ Jason Pankoke