Within days, countless editorials will appear on-line – and certainly, within weeks, many more will appear in print – claiming in numerous intonations the same thing I am about to say here. Forrest J Ackerman, the famed movie and science-fiction memorabilia collector who died at age 92 this past Thursday, December 4, is one of my personal heroes and a large influence in what I've chosen to do with my time on planet Earth. If "Mr. Sci-Fi" and former publisher James Warren had not inspired countless "monster kids" and, by proxy, pop culture outsiders (like yours truly) with their seminal 50-year-old creation, Famous Monsters of Filmland, you might not be reading the Weblog that is currently on your screen, nor the Magazine of Personal Cinema in Action that preceded it or the digest of the Movies of Champaign, Urbana, and the Cities Beyond that followed.
Regardless of his ill health in recent years and concurrent legal fight with another former publisher, Ray Ferry, over the rights to Famous Monsters that left him in financial straits, I am sad that the inevitable has come to pass. Knowing this eventuality, both Forry and caretaker Joe Moe had been encouraging paper, telephone, and in-person correspondence during the past few weeks to exchange good-byes. This helped immensely with Forry's spirits, according to Moe, who told key outlets in the sci-fi/fantasy/horror circuit that the Ackermonster rebounded in time for his birthday on November 24 and then went peacefully just before the stroke of midnight on Thursday.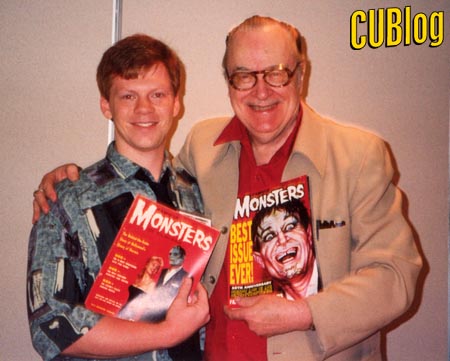 The reach of Forry's contribution to science fiction fandom is quite vast and the significance rather simple to explain. He allowed his love for this world and his compassion for those involved with it to come first and foremost, without apology. He also had the gift of appealing to kids as well as adults with his knowledge, anecdotes, and infamous puns when discussing METROPOLIS and Boris Karloff, Bela Lugosi and Amazing Stories, Ray Bradbury and Ray Harryhausen, KING KONG and H.G. Wells, Issac Asimov and THE PHANTOM OF THE OPERA, Lon Chaney, Sr., and Jack Pierce, Rick Baker and Universal Studios, American International Pictures and THE PIT AND THE PENDULUM, Vincent Price and THE TWILIGHT ZONE, and anything pertinent under the sun, moon, and stars that qualified as culture of the fantastic which often involved, well, the sun, moon, and stars.
His openness and generosity extended to the pages of Famous Monsters, affording the grandfather of all monster magazines a personality absent from most national periodicals of any subject matter that, sadly, hurt its appeal and sales when its grown-up fan base wanted the more sophisticated coverage to be found in other titles like Cinefantastique, Starlog, Midnight Marquee, and Filmfax. As a child during this passing of the guard in the early Eighties, I had no clue, but I can honestly credit FM with being one of the first things outside of my family to open my eyes to my own possibilities.
Just as he championed the horror greats regularly in those magazines, and sci-fi culture in many other outlets during a productive eight decades, the Ackermonster himself will live on through his work and the salutations yet to come by the generations of fans, friends, and entertainment and media professionals who gladly call him "Uncle Forry." I plan to contribute to the outpouring by running an interview I conducted with Forry last year for our defunct Backyard Cinema project. Watch this space and the MICRO-FILM News Blog for an announcement on when it will be available for your reading pleasure.
I just hope that Forry will lend his approval from beyond the stars.
~ Jason Pankoke
Click to read: FJA obituary by the AP 's John Rogers in Variety
Click to read: FJA obituary by Dennis McLellan in The L.A. Times
Click to read: FJA tribute by Harry Knowles at Ain't It Cool News
Click to read: FJA entry from Wikipedia, the free encyclopedia
Click to preview: Recent FJA cover story in Rue Morgue magazine
p.s. The Los Angeles Times also reported the passing this week of one of the prominent B-movie actresses during Famous Monsters' earliest years, Beverly Garland, who starred in such Roger Corman productions as NOT OF THIS EARTH and IT CONQUERED THE WORLD. Her obituary by the Times' Dennis McLellan appears here.
p.s.2 What about Famous Monsters itself? Ray Ferry still churns out his version in limited quantities – despite the court rulings leveled against him – while a group called Infringement Media, LLC, has launched a Web-only version with apparent help from former Fangoria managing editor Robert Greenberger and long-time Forry friend Bob Burns. My humble opinion is that FM and FJA are so synonymous with one another that with one now laid to rest, the other should follow. James Warren, out of the spotlight for many years after originally canning FM in 1983, can also stop throwing his weight around in regard to his apparent rights to FM. For instance, read the editorial in Rue Morgue #83 for more about a Warren legal threat that, incredulously, did not come from Ferry as one might have expected. Thanks so much for perpetuating this mess, people.