Just a tich more than a year ago, we posted an update about former local bad boy Hart D. Fisher and his (still) unreleased chiller, THE GARBAGE MAN. Just a tich more than a week ago, Fisher looked up C-U Blogfidential and let us know that his most intriguing movie story to date – about some of the darkest days in his own life – is set to go before the cameras next year. HART D. FISHER AND THE UNTOLD STORY OF BONEYARD PRESS will be directed by young filmmaker Roger Scheck, whose feature NOBODY LOVES ALICE was released nationwide on DVD last summer by Indie Pictures.
"When I watch the footage of Hart from the television [talk shows in the 1990s], I'm blown away at how ignorant and blind the population is," Scheck describes to CUBlog about the maverick who began producing his controversial horror/fetish comics and writing during those early days of Boneyard Press in Champaign-Urbana. "He's brilliant, literally and not figuratively, and I want to show the other side, the side that the media didn't show – also, the side that he chose to hide." This will include Fisher's first on-camera discussions about incidents that have beleaguered him over the years, including the murder of his girlfriend during the filming of THE GARBAGE MAN.
"My intention is to unearth everything," continues Sheck, an Oklahoma native who produced NOBODY LOVES ALICE while finishing college in Winston-Salem, North Carolina. "[Currently] we are shooting local interviews [on the West Coast] and cutting together a television version." This edit will be included in AMERICAN HORRORS, a package of Stateside fright fare that Fisher's company, Crime Pays, Inc., is offering to European markets. It's hoped that the short version will help the duo raise funds to ultimately create a longer, stand-alone piece that would include – drum roll, please – some quality filmmaking time in a certain little hyphenated college town near us.
Of course, CUBlog will keep you posted on further developments. Parties interested in assisting the production or offering memorabilia and stories about that vintage stretch in time – when Fisher and his Outlaw Nation raised hell from the edge of the "student ghetto" on the University of Illinois campus – can contact Sheck at info [at] scheckmedia [dot] com.
Do I need to mention that the press release following the graphic is, a-hem, not for the faint of Hart? Yeah, I didn't think so.
~ Jason Pankoke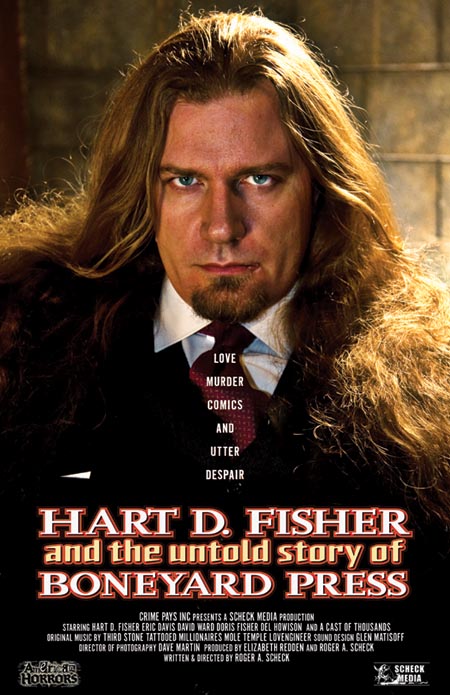 From December 2, 2008:
FOR IMMEDIATE RELEASE
NOBODY LOVES ALICE director takes on shocking story of love, murder, and utter despair
(Los Angeles, CA) In the 1990s, perhaps no independent publisher partied as hard, shook the industry's foundations, or endured more public and private turmoil than Boneyard Press founder and president Hart D. Fisher. While the man Hero Illustrated dubbed "The Most Dangerous Man In Comics" was interviewed in virtually every comics trade publication and on mainstream television programs like LARRY KING LIVE, THE JERRY SPRINGER SHOW, and SALLY JESSY RAPHAEL, Fisher always held back. Some subjects were too personal, too painful to broach. Living on the edge for the better part of a decade, there were stories behind the stories, skeletons in the closet, and bloody ghosts that continue to haunt him to this day.
When Roger Scheck began looking for his next feature film project, after his searing directorial debut NOBODY LOVES ALICE, he was brought to a dead stop upon meeting the controversial publisher-turned-filmmaker. For the first time ever, Fisher opens up about subjects that still bear scars as fresh as when they first formed:
+ The murder of his first love and live-in girlfriend during filming of his debut feature film, THE GARBAGE MAN;
+ The legal battles fought over the publication of his Jeffrey Dahmer comics;
+ The events which led to a threatened KKK protest march on his home in Illinois;
+ What brought him out to Los Angeles and eventually led to him running the show at rock superstar Glenn Danzig's Verotik and the creation of the most controversial comic book in 50 years, Verotika #4's "A Taste of Cherry;"
+ The shut down of Planet Comics in Oklahoma City;
+ The true story behind Hart D. Fisher's "death" in a 1998 April Fool's Day prank gone wrong;
+ Discovering a young Gerard Way (of My Chemical Romance) and taking the young artist (at the tender age of 15) under his wing;
+ The decade-long legal battle to keep the murderer of his first love in prison.
If Fisher kept a lid on some of the subjects in his life, which at the time had him on the brink, that lid has been ripped off and thrown aside in this shocking new documentary project helmed by Roger Scheck.
"What was going on in my life – the real story, the behind-the-scenes," Fisher says, "is something only a few people really know. Some friends, my Dad (who passed away in 2005), Joe Monks … not a lot of people outside my inner circle had any idea what was going on. Both the good stuff and the things that made my life a living hell."
Not surprisingly, when Fisher began to consider revealing some of the details for his new television show, AMERICAN HORRORS, even more spilled out than anticipated. Says longtime friend and frequent co-collaborator Joe Monks, whose own feature film THE BUNKER Fisher co-produced, "What Hart's finally letting out will blow your mind. This is the kind of interview you'd see on 60 MINUTES in its heyday, or in Playboy if they had the guts to print it just the way Hart tells it. It's funny, it's shocking, it's an emotional rollercoaster. Be prepared when this documentary is finished – it's not some fluff piece about a guy who's accomplished a lot. This is a riveting story about a man who survived his worst nightmares and changed an entire industry. This is the real deal, warts and all."
Filmmaker, bouncer, post house CEO, and perhaps the most controversial figure in comic books since William M. Gaines, Hart Fisher has the kind of stories that roadies for The Rolling Stones envy. And he's finally telling them all.
###
CONTACT:
Roger Scheck
Scheck Media
info [at] scheckmedia [dot] com
http://www.scheckmedia.com/
http://www.americanhorrors.com/index.html