How could our quizzical trio take a case such as this without difficulty in obtaining the truth or outmaneuvering the uninvited?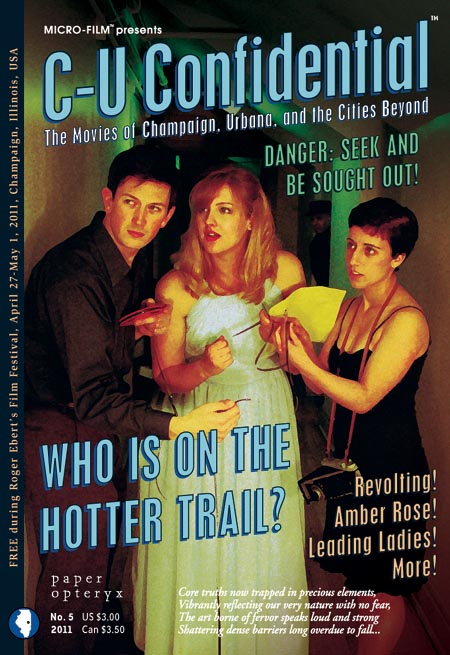 We invite you take a more brightly lit path towards scoring the next upstanding issue of C-U Confidential beginning this Friday, April 29, for FREE during Roger Ebert's Film Festival at the Virginia Theater in downtown Champaign! Relieve our merchandise table of excess CUZine in the Virginia's East Lobby between then and Sunday, May 1, or pluck periodicals from hot spots all across Champaign-Urbana, or join us for our local filmmakers' panel at the Urbana Independent Media Center on Saturday, April 30, 2-3 p.m., during the Midwest Zine Fest! This may be the happiest "multiple choice" adventure we could offer you because in the end, everyone wins!
Yet, we're uncertain what to tell intrepid explorers Robert Dignan, Julia Skeggs, and Elena Levenson other than to not ask a creepy onlooker like Montgomery Joyce for directions. Real-life readers can find better paths to fulfillment once inside the issue as Thomas Nicol discusses the basics of stop-motion animation, as seen in his shorts BEDTIME FOR TIMMY and THE WINDOW INTO TIME, while other CUZine friends chime in about their current projects including Mike Boedicker on REVOLTING, Johnny Robinson on Champaign Movie Makers, Skye Marcia on film school and DISPOSABLE, and Carolyn Kodes-Atkinson and Bill Yauch on AMBER ROSE. As usual, we cobble together the concise news about movie culture in downstate Illinois along with reprinting five choice pieces from C-U Blogfidential and flashing back to when ONE ROACH FOR SEAMUS ruled them all!
This year, we want to know where our fans love to sit down and read all about the movies of Champaign, Urbana, and the cities beyond! Send us cool pictures of you and yours "reading the fifth" with CUZine #5 in hand and we may display this evidence right here on CUBlog. Will you dare incriminate yourselves for the cause? Prove it!
~ Jason Pankoke
p.s. Please don't be shy or stick to the shadows, dearest advertisers: The Art Theater, Bachelor Pad Magazine, Champaign Movie Makers, Cinema Gallery, Jason Lindsey Photography, Kill Vampire Lincoln Productions, Mike Trippiedi, Montgomery Joyce & Aaron Davidson, Paul Holze, Premier Print Group, Psychic Joker Entertainment, Railsplitter Media, R.A.Z. Films, The Red Herring Vegetarian Restaurant, Route 66 International Film Festival, Shatterglass Studios, Sleepy Creek Vineyards, Syndicate Product, Thomas Nicol, and Urbana-Champaign Independent Media Center. Come into the Confidential light!
[Updated 4/20/16, 8:30 p.m. CST]