Once again, a locally-filmed production from Dreamscape Cinema of Champaign is being prepped for national domestic release! Distributor Vanguard Cinema has issued DVD specs to retailers for ACT YOUR AGE, the studio's third official production, although sparse details imply the DVD will be just as bare-bones as the other Dreamscape discs which appeared at the beginning of 2011 through other labels, SHEEBA and DISCONNECT. CUBlog likes the simplicity of Vanguard's duotone cover, on par with their typically bold design sense: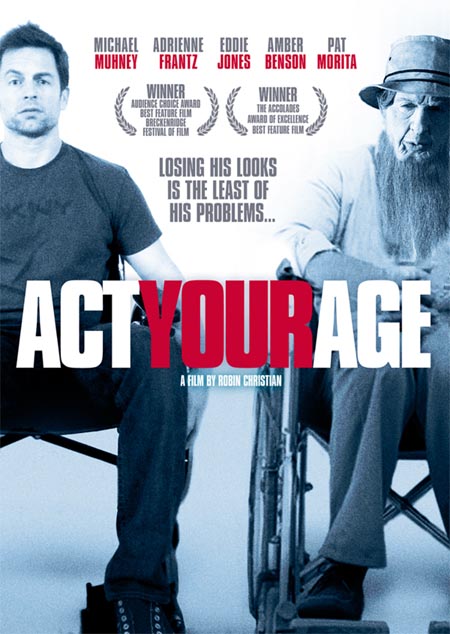 Filmed in the summer of 2005 in Champaign-Urbana and Monticello, ACT YOUR AGE dramatizes the lengths to which a young theater actor named Lake (Michael Muhney) will go to snag the lead role of an elderly man in a Broadway-bound show. Eccentric friends Doody (Mark Allan Stuart) and Vaughn (Frank Nicotero) help Lake concoct an alter ego named Ed and admit him into a local retirement home so the actor can observe residents much to the consternation of Lake's girlfriend E.B. (Adrienne Frantz). What Lake ultimately learns from his new neighbors such as Andrew (Max Gail), Harold (Eddie Jones), and Tom (Pat Morita) changes his negative mindset about the aged and humbles his personal expectations from life itself. ACT YOUR AGE also stars Amber Benson as Harold's daughter Julia and DISCONNECT's Amanda Troop as a nurse.
Written, produced, and directed by Robin Christian, ACT YOUR AGE is scheduled to come out on Tuesday, December 20. No Blu-ray option seems to be in the offing, as with the other Dreamscape titles, while merchant pages list the running time as 91 minutes as opposed to the 105 minute cut we presented at last year's New Art Film Festival.
~ Jason Pankoke