During the Christmas season of 2007, I was surprised after stopping in the former downtown Champaign merchant Old Main Book Shoppe to see the following collectible hanging from the ceiling: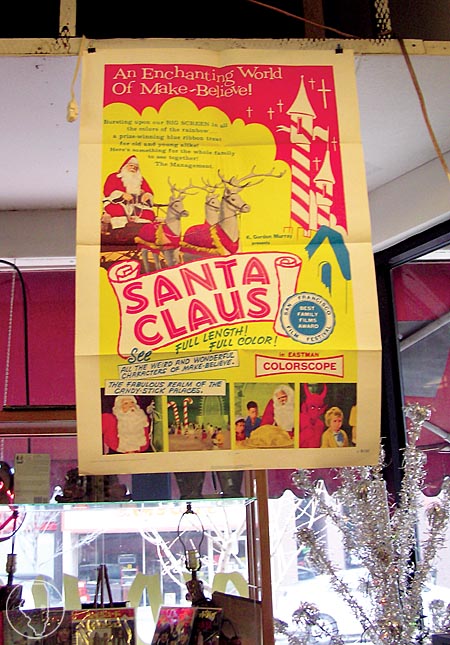 A single yellowed one-sheet for an obscure fantasy film, obviously displayed by proprietor Steve Kysar due to the jolly gift-giving fellow depicted in the title and art work, held numerous meanings for your humble editor. Behold then, dearest readers, a back story that will come at you from several directions … not one of which you will guess in advance!
First we begin with the advertised Mexican opus, SANTA CLAUS (1959), imported into the United States by the late B-grade impresario K. Gordon Murray and then dubbed into English and distributed across the nation where it played limited theatrical engagements in afternoon-only time slots. So successful was this tactic, effectively inventing the "kiddie matinee," that Murray would release numerous other kid-friendly movies from Mexico and Germany in the same manner, circulating his more popular titles for many consecutive years. This accounts for the late Sixties copyright date on the one-sheet; Murray's Americanized SANTA CLAUS originally opened in late 1960.
The same winter Kysar displayed the one-sheet, I began to interview a Tennessee filmmaker named Daniel Griffith who was in post-production on a Murray documentary called THE WONDER WORLD OF K. GORDON MURRAY, a title taken from film packages the entrepreneur would offer theaters to establish a brand name a la Walt Disney. Amongst his efforts to acquire material and footage for WONDER WORLD, Griffith ventured to Murray's boyhood digs in Bloomington-Normal, Illinois, where travelling circuses often pitched camp during the hard Midwest winters. Murray's brand of showmanship would be inspired by those circuses as well as his equally entrepreneurial father.
While THE WONDER WORLD OF K. GORDON MURRAY is not yet released due to rights issues with clips – presumably complicated by both the imports and Murray's own exploitation films produced through his Florida offices – Griffith promises movement soon via the project's Facebook page. (You can also learn more through this official Web site and our own 2008 interview with Griffith.) Another development I learned from skimming Facebook is that, after many years represented by battered prints such as the one used for MYSTERY SCIENCE THEATER 3000, SANTA CLAUS has been digitally restored by VCI Entertainment which just issued Blu-ray and DVD editions this past Tuesday, December 6.
Down further on the Facebook page, I caught one additional item that truly saddens me. It's not surprising Griffith posted about Ross Hagen, the actor and B-movie producer who passed away in southern California on May 7 at age 72, having befriended many "old school" filmmakers through his work on THE WONDER WORLD OF K. GORDON MURRAY as well as DVD extras created for labels such as VCI, Synapse Films, and Shout! Factory. Hagen appears in and narrates WONDER WORLD, although to my knowledge he never played a part in a Murray production.
I interviewed Hagen and his wife Claire in 2000 via telephone about one of his own independent films, BAD CHARLESTON CHARLIE, possibly the only Hollywood based production to shoot on location in the Champaign-Urbana area during the Seventies. With a gravelly voice and upbeat spirit, Hagen told me all about filming his comedic take on the real-life Illinois gangster Charlie Birger in 1970; well-documented financial troubles held up its release until 1973 and today it is difficult to view. After the article appeared in MICRO-FILM 3, I discussed bringing the Hagens to C-U for a workshop and CHARLIE screening using their personal print, but our plans never materialized.
Speaking of materializing, my very first question for Old Main's Kysar upon seeing the SANTA CLAUS poster was, of course, "Where did this come from?" Kysar would frustrate me over a two-year period with stories about acquiring a collection of vintage Sixties and Seventies era one-sheets – apparently rescued by the set's previous owner from the former Illini and Co-Ed movie theaters of Champaign – but never formally offering them for sale. I did manage to buy a SANTA CLAUS duplicate from him after taking the above photograph, but the total contents of that collection – and their whereabouts since Kysar was forced to vacate his store front in 2010 – remain a mystery.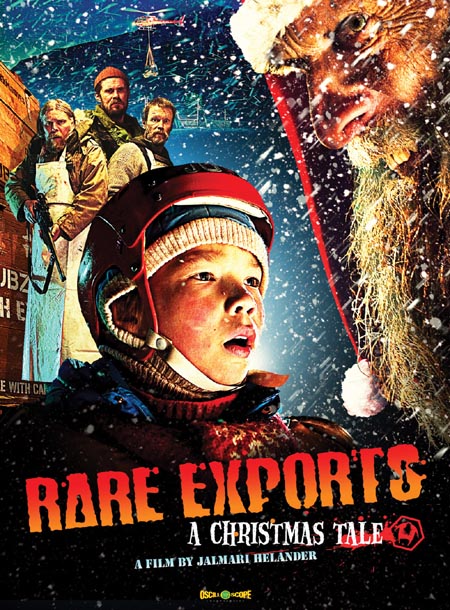 Whereas the Mexican SANTA CLAUS pits a gadget-laden Kris Kringle against a rascally demon named Pitch, the 2010 Finnish-Norwegian-British fantasy RARE EXPORTS: A CHRISTMAS TALE draws from the earliest European lore featuring a goat-horned "dark half" named Krampus who punishes the naughty children of the world! Deceptively straightforward and fiendishly entertaining, this TALE involves Finnish villagers who encounter a feral "Santa Claus" surrogate unleashed from an excavation site just across the Russian border. Champaign's Art Theater will present RARE EXPORTS one final time on Thursday, December 15, at 10 p.m., so don't miss it!
Additionally, the Art has booked a low-budget affair often mentioned alongside SANTA CLAUS in terms of filmmaking ineptitude, an unfair comparison since the latter is lavish (if undeniably cheesy) by any standards. SANTA CLAUS CONQUERS THE MARTIANS (1964), on the other hand, deserves its "so-bad-its-good" reputation as Martians kidnap Santa Claus in their quest to make Red Planet moppets happy at Christmastime faster than you can say, "Hey, that kid is Pia Zadora!" Retro distributor Holland Releasing has packaged MARTIANS with vintage cartoons and shorts as "Santa's Cool Holiday Film Festival," which the Art will show beginning Friday, December 23, in the (St.) Nick of time for the holiday. Ho ho ho!
~ Jason Pankoke
[Updated 12/12/11, 5:30 a.m. CST]