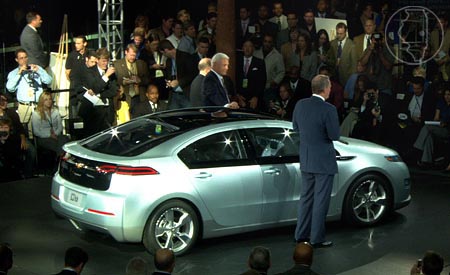 Our lovely Chicago columnist, Michelle Kaffko, has been pulling major double duty while on CUBlog sabbatical, drumming up clients for her photography business as well as playing Match Queen between the American public and REVENGE OF THE ELECTRIC CAR, a feature length sequel to director Chris Paine's well-received original, WHO KILLED THE ELECTRIC CAR? Released on DVD this past Tuesday by Docurama Films, REVENGE has already traveled well during a full year's worth of nationwide play dates booked by specialty distributor Area23a and the company behind the film, WestMidWest Productions LLC. Their theatrical lap continues later tonight, Thursday, January 26, with a 7 p.m. show at the Normal Theater, 209 North St., Normal, IL.
Kaffko is credited on REVENGE as "Producer of Marketing and Distribution," an unusual title she'll gladly add to her résumé. "Distributing an independent film all on your own and without big studio backing is a labor of love and a lot of work, but so rewarding," she tells CUBlog about her first movie publicity gig. "It's a lot like throwing a big birthday party. Lots of planning, promoting, inviting, then one huge party that happens so fast your head spins." Apart from REVENGE, this particular "EVening of EVs" will entail a post-film Q & A session with executive producer Stefano Durdic and Normal mayor Chris Koos as well as an EV exhibition in the neighboring Marriott Hotel & Conference Center from 5:30 to 9:45 p.m. The documentary will also run 7 p.m. Friday at the Normal, with Durdic in attendance.
Following KILLED, which traced early advances in Electric Vehicle (EV) feasibility and chronicled a squelched attempt in southern California to offer the American public EVs as a transportation option, REVENGE looks at the modern resurgence of EV research and development through the insider eyes of General Motors executive Bob Lutz, a former naysayer who reversed course and championed the Volt, Tesla Motors president Elon Musk, a Silicon Valley billionaire who dared to sink money into an EV upstart, Nissan head Carlos Ghosn, another previous skeptic who turns over a leaf by pushing the company's mass market LEAF car, and Greg "Gadget" Abbott, a backyard tinkerer determined to turn his Porsche Speedster into a custom EV. Hollywood actor Tim Robbins narrates.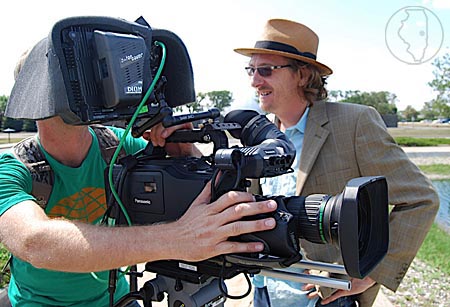 When available, Kaffko banks on special attractions to help reinforce the core messages of REVENGE such as in-person testimonials from the filmmaking team and appearances by local EV owners and their cars, parked outside screening venues for audience members to examine. "People who own electric cars love them so much and want other people to see the cars, drive the cars, and see the film so they can get better acquainted with the idea of more electric vehicles being on the roads," explains Kaffko. The Marriott collection will include a Mitsubishi i, Nissan LEAF, Chevy Volt, Tesla Roadster, Fisker Karma, and vintage 1976 Vanguard, according to a recent Uptown Normal press release.
Having REVENGE cruise through Redbird Country is probably inevitable given how car manufacturer Mitsubishi, which employs many Bloomington-Normal residents at a local plant, depicted Normal as a budding "EVtown" in a commercial spot currently airing on national television. Kaffko learned of it when the documentary premiered in Chicago. "Someone from [the] EVtown [initiative in B-N] was there and talked to me about it, so we started collaborating to bring the film to Normal," she remembers. "One of the advocates there, Joe Mikulecky, has worked his butt off to bring together local government, EVtown, Mitsubishi, and even the Marriott [to] turn it into a huge event the whole town can go to." Information booths and photo shoots will enhance the fun-and-facts spirit of the "EVening of EVs."
"It's all so amazing and the best date that worked for the theater, hotel, and everyone else just happened to be the week of the DVD release," muses Kaffko, who has previously worked on several shorts and documentaries in the Midwest. "While most of the filmmakers [behind REVENGE] are in Los Angeles and got to have a huge premiere there for the first theatrical showings, [Durdic] and I are in Chicago," she reasons, "so it feels really good to have a big DVD premiere event in our home state." Evidence on the official Web site, including a growing list of future theatrical engagements, proves there will be little respite for this timely REVENGE or the dawning EV revolution which fuels it. Therefore, we're pretty sure that Kaffko will get plenty more mileage out of the experience as well.
~ Jason Pankoke
[Updated 1/26/12, 9:45 p.m. CST]