As we mentioned in Thursday's post about PRESS START ADVENTURES, the Dark Maze Studios gang has even more ninja tricks hidden up their collective ninja sleeves as evidenced by the new 10-part ninja Web series, NINJA THE MISSION FORCE. Those familiar with Ed Glaser's DEJA VIEW series will not be surprised to see him riff international genre cinema on a narrative level here; MISSION FORCE doles out comedic nods to the cobbled-together Eighties and Nineties action flicks produced by Hong Kong mainstays Godfrey Ho (NINJA DESTROYER) and Joseph Lai (NINJA STRIKE FORCE), who notoriously stretched their bottom dollar by splicing pre-existing movies into their own minimal original footage. Dark Maze issued a press release about the series yesterday, Friday, February 24, although the first two episodes, "Ninja Begininator" (first embed below) and "Ninja Godfather" (second embed below), already went live during the past two weeks.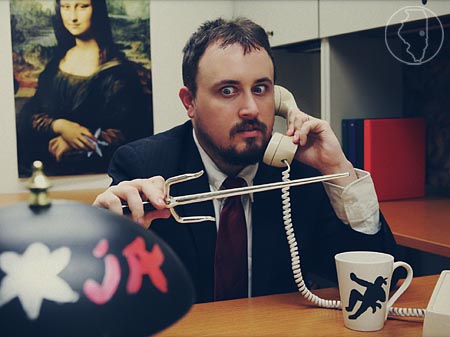 NINJA THE MISSION FORCE stars Glaser as Interpol agent and ninja master "Gordon," referencing the "Ninja Master Gordon" character played in numerous Ho/Lai productions – via repurposed material, of course – by burly character actor Richard Harrison, who also appears in "Ninja Godfather" via public domain footage from an Italian gladiator epic! Such reciprocal silliness will be a hallmark of the series in which Gordon races against arch nemesis ninja "Bruce," played by Brad Jones from the Springfield indie thriller PARANOIA and The Cinema Snob Vlog site, to collect six "avian ninjas" (read: ninja rubber duckies) and gain "Ultimate Ninja Power" … whatever that turns out to be.
Written by Meagan Rachelle and photographed by Glaser and PARANOIA director Ryan Mitchelle, MISSION FORCE also stars Joshua Stafford, Alex Mitchell, Jillian Zurawski, Sarah Lewis, and – in the PD mash-up spirit of the series – Brandon Lee, Ernest Borgnine, John Travolta, Orson Welles, Sonny Chiba, Charles Bronson, the NIGHT OF THE LIVING DEAD cast, and stop-motion dinosaurs. Oh, and groan-inducing jokes, too.
Speaking of groaning, leering, grimacing, seething, and teeth-gnashing, we drop a bonus video at the end of this post featuring Jones doing what he does best – eviscerating bad cinema – in a critique of the 1980 Italian underground cannibal shocker ANTROPOPHAGUS a.k.a. THE GRIM REAPER. It has nothing to do with NINJA THE MISSION FORCE other than to demonstrate what can happen when the Cinema Snob bares the whites of his eyes and canines. Poor George Eastman, we hardly knew ye … inside or out.
~ Jason Pankoke