The movie unveilings keep on a-comin' in MICRO-FILM Country as not one, but two famous monsters (given a C-U twist) simultaneously return and premiere next weekend. Allow me to explain…
First on Saturday, April 22, 7 and 9 p.m., in Room 100 (the auditorium) of Noyes Lab on the main quad of the University of Illinois at Urbana-Champaign, is the long-in-the-making UNIVERSITY OF ILLINOIS VS. A MUMMY. This full-length horror-parody, dreamt up by senior Chris Lukeman as an attention-getter and people-recruiter for the Illini Film & Video student club, stars Paul Karpenko, Jenni Kitchka, and Andrea Gordon as UIUC students (believe it!) who discover a bandaged ghoul that is wreaking campus-wide havoc. Needless to say, they and dozens of peers attempt to stop The Mummy, Ted Johnson, to varying degrees of success.
Lukeman and his producer, junior Alex Wayman, attempted a rough-cut premiere back in the fall which resulted in a presentation featuring only one-half a movie. (They blamed an 11th hour computer crash that eradicated months of editing work.) We presume the edition to be seen at Noyes will feature a beginning, middle, and end, although rumor has it that there isn't one fucking triangle to be found in the entire thing. Curses!
Look here for more information on UNIVERSITY OF ILLINOIS VS. A MUMMY, and here for details on Illini Film & Video, including a last-minute IFV festival that will also take place the weekend of April 22.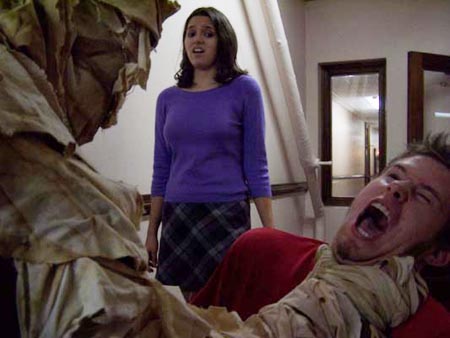 Whereas that hard-drive snafu once rendered A MUMMY an accidental cliffhanger, Jason Butler and Mark Peaslee have been embracing the multi-chapter format with their own creation. "Episode 2" of WEREWOLF CEMETERY will finally take its bow on Sunday, April 23, and Monday, April 24, at the stroke of midnight in the beer garden (weather permitting) of Mike 'n' Molly's, 105 N. Market Street, downtown Champaign.
At the end of "Episode 1," which first screened at the same venue back in October (and should be available as a DVD at the upcoming show), the young gravedigger named Ichabob (Steve Ucherek of The Living Blue) had just arrived in Amnesia Falls to escape his dour upbringing in the outskirts. "Episode 2" will see Ichabob look for employment, the titular werewolves gain strength, and the mysterious Extermocorp – a band of werewolf-hunters – emerge from the shadows. The fact that their clubhouse bears an uncanny resemblance to the second floor of Mike 'n' Molly's is purely coincidental. We think.
On each night, a pumped-up cut of WEREWOLF CEMETERY: EPISODE 1 will start at 10 p.m., followed by the debut of both THE ADVENTURES OF THE SCREAMING APE: PART 1 and the Living Blue music video SERRATED FRIEND at 11:30 p.m., and then WEREWOLF CEMETERY: EPISODE 2 at 12 a.m. Admission will be $2.
For more information on these and other BrainSmart Productions movies, give JB a shout. Also, watch this space later next week for JB's first-ever MICRO-FILM interview!
– Jason Pankoke
UNIVERSITY OF ILLINOIS VS. A MUMMY photo
courtesy of Chris Lukeman/IFV