With the mysterious young lady removed from the equation, our dispirited duo must review the tale of the so-called tape with fresh eyes so they might understand…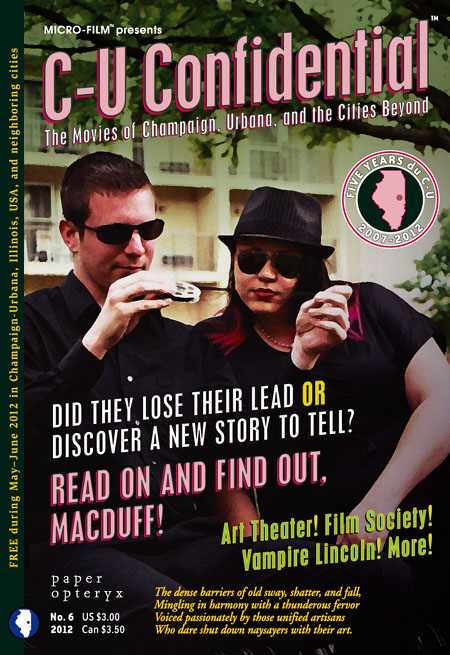 Match their inquisitiveness by picking up the brand-new issue of C-U Confidential FOR FREE beginning right now in select hot spots throughout Champaign-Urbana! You can embark upon an adventure to seek all the local film news fit to print or cut out the chase by checking back with us this Wednesday, June 13, for an up-to-date listing of CUZine locations!
All we can say about our intuitive young investigators Colin Price and Daniela Luisa is they will find reason to retrace their immediate steps and move in new directions. As for you, dearest readers, one simple flip of the page will send you on your way! We welcome Chicago artists The ImageWorks FX as they describe the basics in creating quality character make-ups, while Sanford Hess details the transition from for-profit to cooperative business model taking place at the Art Theater, Bill Kephart sketches a thumbnail of the actor's experience on a low-budget film set, and Luke Boyce and Anne Lukeman reveal the goals behind the Champaign-Urbana Film Society. Our man Tyler Tharpe votes film over digital in his most recent column, your humble editor pays tribute to the late University of Illinois research professor and inventor Joseph Tykocinski-Tykociner, and we whip up a cornucopia of news bites providing you the down-low on our cinema culture circa 2012!
Last year, we asked you to forward us photographs in which you sport shiny happy copies of C-U Confidential. This year, we strongly encourage you to follow through, rumored arts-loving citizens of Champaign, Urbana, and the cities beyond. We want to see where you dig on CUZine!
~ Jason Pankoke
p.s. Bow to the following, whose advertising brought this issue into being: Accuraty Solutions, Bachelor Pad Magazine, Champaign Movie Makers, Cinema Gallery, The Flyover Zone, Kevin Elliott Counseling Group, Kill Vampire Lincoln Productions, Psychic Joker Entertainment, Route 66 International Film Festival, Sleepy Creek Vineyards, Thomas Nicol, and Urbana Public Television. The Confidential lifeblood does not flow without you!
[Updated 4/20/16, 8:30 p.m. CST]