April showers may be bringing May flowers (and unusually cool temperatures) to the area, but something in the water has been causing a mini-flood of DVDs to sprout from the CPUs of area filmmakers.
Now available for rental and purchase at That's Rentertainment, 516 E. John St., Champaign, IL, is THE UNIVERSITY OF ILLINOIS VS. A MUMMY (see item: 4/15/06). The DVD-5 release of this Illini Film & Video production sports packaging and a menu design recalling the glory days of fly-by-night VHS labels from the Eighties, keeping in tune with the splatterific spoofery of MUMMY itself. The 85-minute epic is accompanied by a Blooper Reel and Deleted Scenes, and yes, Virginia, there is indeed a fucking triangle to be found if you watch closely…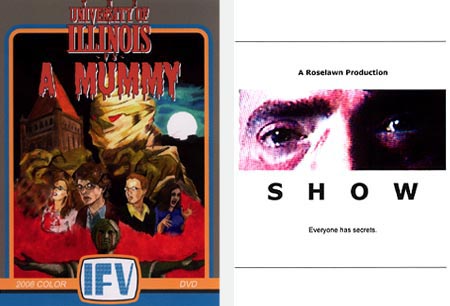 Also available for purchase, if not yet local rental, is the Mike Boedicker film SHOW (see item: 3/12/06) about a voyeuristic introvert named Marcus (played by John Dowers) who assimilates himself into the doings of a local theatre company and their star player, Stephanie (Leila Ramagopal), as a videographer-for-hire. You can visit Boedicker's Web site for ordering information on the DVD-R release of this 79-minute drama, as well as additional details about SHOW, originally produced in Danville, IL, in 2003.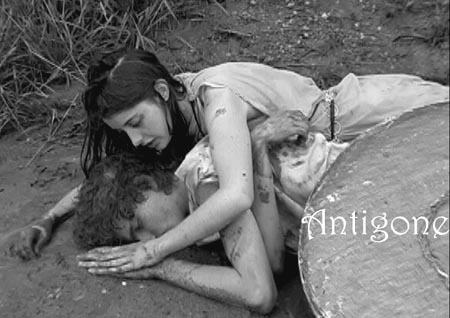 Finally, joining MUMMY in the "American Independent Film" racks of That's Rentertainment this week is a DVD-R rental of ANTIGONE, produced by Creative Dramatics Workshop of Sidney, IL, and directed by Robert Picklesimer. The classic Sophocles tragedy, depicting the ills that befall the sons and daughters of Oedipus, launched the Workshop 10 years ago; Picklesimer revisits the tale in this 101-minute adaptation with himself playing King Creon and current Parkland College student Claire Cowley tackling the title role. Although not available commercially, more information about ANTIGONE can be found at the Web site of the Workshop.
Please keep in mind that DVD-R discs may skip or freeze in certain brands of DVD players.
– Jason Pankoke
ANTIGONE photo
courtesy of Robert Picklesimer/CDW