Sometimes, crunch-hour productiveness pays dividends. Our current illustration is the just-launched official Web site for the fourth annual New Art Film Festival, designed by custom marketing specialists ThirdSide of Champaign! Here is a screen grab, which is absolutely no substitute for clicking on the first link above and seeing for yourselves: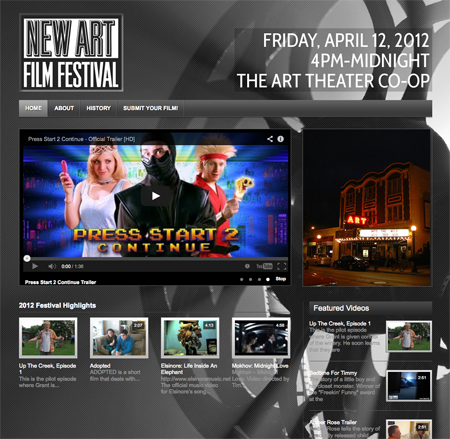 If you happen to visit it today, you will mainly find text and videos from NAFFs past dotting our new digital landscape. However, if you take a well-timed look between now and Monday, April 1, you will be one of the very first to see the full NAFF 2013 schedule which will be added during the weekend! It will also appear simultaneously on Facebook and shortly thereafter on C-U Blogfidential.
Feel free to return again and again up through show time on Friday, April 12, for we'll add pertinent details about all the 20+ pieces set to grace the silver screen. In the years to come, we hope this Web page will become the ultimate source for all your NAFF needs as well as a useful snapshot of what constitutes the movies of Champaign, Urbana, and the cities beyond!
The NAFF takes over the Art Theater Co-op in downtown Champaign, IL, from 4 to 11:30 p.m. on the 12th. We're stopping a bit short of midnight this outing to allow the Art's new Late Night crew to come in and cap the evening with a suitably weird-o rockabilly horror tale, THE GHASTLY LOVE OF JOHNNY X!
Please don't hesitate to send us feedback by writing cuconfidential [at] gmail [dot] com.
~ Jason Pankoke