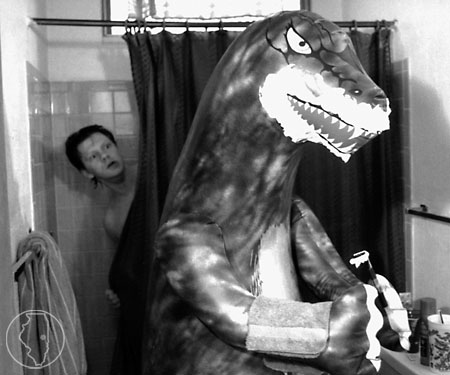 Boy. In an ideal C-U Blogfidential-friendly society, we'd have a crack team of writers at our disposal to cover our movie and media scene in Champaign, Urbana, and the cities beyond on very short deadline and without question. Both previews and reviews would constitute a much larger percentage of our total word count than they do now. Being the week after Roger Ebert's Film Festival, your humble editor has struggled to get back on track and it shows, we're sure, especially since we're daring to attract your attention with the pictures added above and below. We'll explain ourselves shortly.
Until then, we'd like to point you in a few precise directions as sheer proof that springtime film culture doesn't halt when "Ebertfest" and the New Art Film Festival are not in full force. To begin, the University of Illinois has teamed with the Ian Fleming Foundation and other groups to celebrate the legacy of Sir Ian Fleming and his super-spy creation, James Bond, with cross-campus exhibits exploring Agent 007 in print, through music, and on the silver screen. To that latter end, the UI Spurlock Museum, 600 S. Gregory St., Urbana, IL, will show features and television based on the two Fleming novels most translated, Casino Royale and Thunderball, between tonight, Friday, April 26, and Sunday, April 28.
Then, students of the UI College of Media get into the act with their own class project-turned-public event, the Illini Independent Film Festival, taking place tomorrow, Saturday, April 27, from 1 to 7 p.m. at the screening and lecture hall Armory 101 in the Armory Building, 505 E. Armory Ave., Champaign, IL. Led by instructor Richard Potter, these Media and Cinema Studies undergraduates have assembled a program of student work culled from the UI as well as Illinois State University, Eastern University, the University of Southern California, and other campuses. Awards and prizes will be given out to filmmakers, and admission is free as with the Bond exhibits.
Jumping ahead a bit in time, the Art Theater Co-op, 126 W. Church St., Champaign, IL, will play host to the fourth Feminist Film Festival organized by Rachel Lauren Storm and the UI Women's Resources Center. This collection features work created by UI undergraduate, graduate, and professional students which "showcase[s] independent film spanning documentary, narrative, and experimental genres in order to explore perspectives often missing from mainstream media and culture [and] underrepresented artists and filmmakers – particularly women and people of color." The show begins at 7 p.m. on Thursday, May 2, and is also free to the public.
Finally, the Harroun family of the Harvest Moon Twin Drive-in, Route 47 South, Gibson City, IL, has scheduled a special thank-you presentation for customers who helped them raise more than $100,000 to convert their equipment to industry-mandated digital. This Sunday, April 28, they will show on both screens a brand-new documentary by Los Angeles-based producer April Wright, GOING ATTRACTIONS: THE DEFINITIVE STORY OF THE AMERICAN DRIVE-IN MOVIE. Raised in Illinois and Florida and an alumna of both Bradley University and Northwestern University, Wright will fly in for the event. Those who miss out can either pick up the self-distributed DVD starting next week or plan a trek to the Harvest Moon which will encore GOING ATTRACTIONS alongside IRON MAN 3 on May 10-12.
Whew! How about them cinematic apples? Believe it or not, we have enough to post during the next week or two, including a new entry in Tyler Tharpe's excellent column series "The Double Life of a Cinéaste," that we'll have to postpone sharing our stream of Ebertfest consciousness until after we exhaust the timely topics. The remainder of April and May will see CUBlog bloom with headier concepts and contemplations than usual, so stick around if you don't mind thinking a bit about your local movie culture.
Therefore, we counterbalance with a silly appearance by our good friend, G. The occasion for his reemergence at the Art Co-op last weekend, as seen below with your humble editor, was a presentation of the original Japanese-language GODZILLA from 1954. This pleasant camaraderie is a far cry from the friction which laced their friendship during earlier times, as seen above, when G and Mr. JaPan posed for the pages of the Scary Monsters 1996 Yearbook. No amount of toothpaste or cologne could mask the palpable acrimony brought on by G's, er, inflated sense of ego. Never mind all the hot air that followed…
~ Jason Pankoke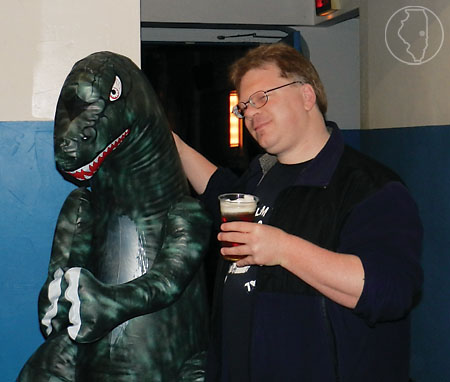 [RAAAARRRRR! This is post #750 on CUBlog! Light it up!]