This evening at Fat City Bar and Grill, 55 S. Chestnut, Champaign, IL, old-guard rock fans will congregate in legion like it's 2005 … or 1999 … or 1993, even, for a band from our past will make its most triumphant return. Has it really been eight years since the thundering sounds of metal gods Third Stone – Bryce Johnson on vocals, Tom Grassman on lead, David Ward on bass, Jeff Markland on drums – shook the pillars of Rock Heaven and the earth beneath our feet from their previous epicenter, the Canopy Club in Urbana? With the jubilant exclamation "Smeg!" on our lips, we'll happily relive those days of yore with a kick-ass quartet known for injecting high energy and humorous antics into their stage show.
Although we're plugging this gig because your humble editor would have it no other way, we would not want gushing adulation to get in the way of upholding C-U Blogfidential street cred so let's connect Third Stone with the world we normally cover, dearest readers! Costumes, props, and doomed-to-fail magic tricks have cropped up in the reunion shows they've played since their mid-Nineties heyday, but the most unique additions have come in the form of video segments engineered by University of Illinois librarian Ward. According to the teasers below, featuring band buddies like Erik Davis, Lynn Canfield, and Jesse Brown, something devilish is afoot and facilitating the band's brief return to terra firma in a scenario that will presumably play out before or during the concert, in-joke references and all. Hrmmmm…
The aforementioned 2005 farewell show-that-wasn't kicked off with a previous Ward joint, the 15-minute "Third Stone Rockumentary" dramatizing (in jest) how the group's "Colonel" played by Josh Hartke coached his troops back to metal respectability after several years off the rock grid. The bit appears on a DVD released at the show, WHAT'S THAT SMELL?, which also features concert clips, newscast appearances, and behind-the-scenes footage from their first decade. (Long-form media related to C-U musicians is a rarity, we've discovered. Examples include Bob Zimmerman's recent OUT OF NOWHERE, the Braid "final tour" documentary KILLING A CAMERA (2001/2004), and Poster Children's self-made ZERO STARS (2000).) Hardcore fans who failed to snag it the first time around might generate re-release interest by inquiring through this new Facebook page and this old Web site.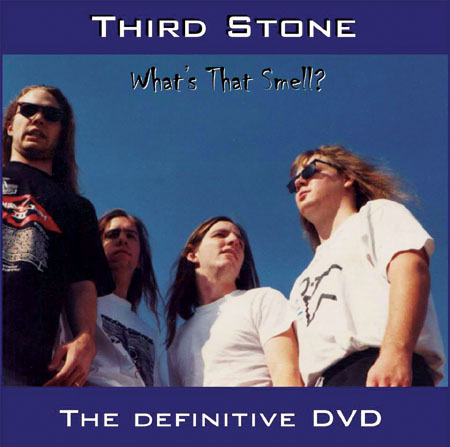 Third Stone had brushes with other filmmakers apart from taping their own tomfoolery. Producers behind the road trip indie 12 BUCKS (1998) licensed several cuts for their soundtrack, including The Stuff lead-off song "Afterbirth" which underscores the opening flashback sequence of the film. More notoriously, former Champaign underground artist Hart D. Fisher included "R.D.A." from The Stuff in his grungy serial killer drama THE GARBAGE MAN (1993/2009) which also features all four bandmates in bit parts. Fisher filmed a companion Third Stone "R.D.A." music video in the north Champaign dance club Bradley's, to our knowledge their only stab at a song promo. Get on that, industrious bassist David Ward!
Madness begins at 8 p.m. at Fat City. Opening for Third Stone, who just released a 20th anniversary edition of The Stuff, will be ace guitarist Mike Bray, a.k.a. "Sasquatch," who tours with the comedic Jack Black/Kyle Gass rock act Tenacious D.
~ Jason Pankoke
p.s. In the realm of unrealized things, here is yet another MICRO-FILM edition that never was. (You can check out prior evidence of derailed efforts in this CUBlog post and that CUBlog post.) MF friend Scott Jenkins surprised us in late 1998 – more than a year before MICRO-FILM 1 came to pass – by mailing this neat-o 'zine mock-up to the Secret MICRO-FILM Headquarters without warning. Apparently, we covered Third Stone in this iteration…