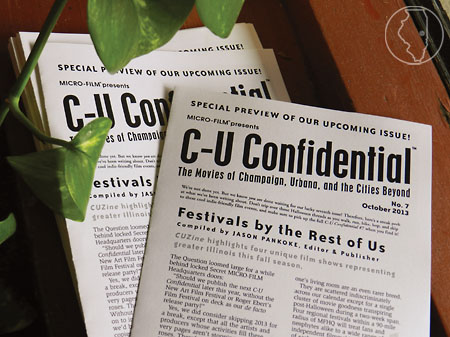 Good Sunday, dearest readers! In order to appease the movie gods of MICRO-FILM Country, who are not quite pleased that we've missed bringing out issue 7 of C-U Confidential digest during our region's unofficial "fall film season," we are working overtime to contribute in the now while prepping for print in the immediate future. We could sling dozens of potential excuses in the air and adhere to the ones that actually stick, but why? It simply has been difficult to jump-start production in what is our electronic-only period of the year. Apology is therefore offered, yet the buck doesn't stop there.
Above is a pamphlet preview of CUZine #7 we cooked up for distribution at the events where CUZine #7 should have appeared, as well as to set out in Champaign-Urbana for the curious wondering about our whereabouts. If you find it, please read and then share! It gives props to the smaller-scale events happening opposite "Ebertfest" on the calendar, including the just-wrapped Freeky Creek Short Film Festival, Route 66 International Film Festival, and Drunken Zombie Film Festival. Click those links for exclusive material on C-U Blogfidential about each one; they can always benefit from your attention and awareness, even in advance, for they will be with us once again in 2014.
The preview also discusses this coming weekend's Embarras Valley Film Festival in Charleston, which will receive its own CUBlog post just before we mark the 100th anniversary of Champaign's Art Theater on November 12. By the time all these attractions subside, CUZine #7 should be resting safely in the comfort of your own two hands where it belongs, even if off schedule a little.
~ Jason Pankoke