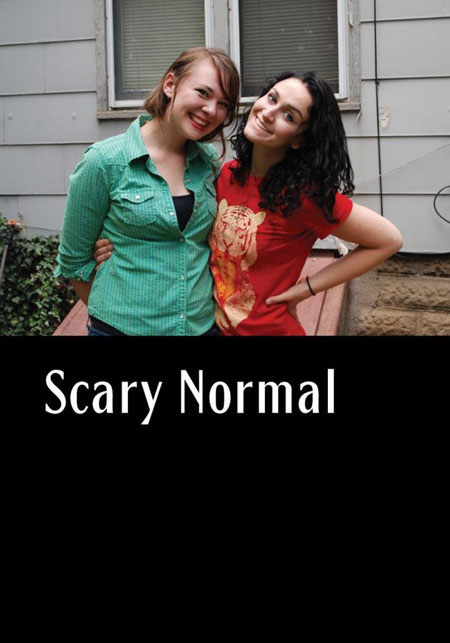 A good snowy Saturday to you, central Illinois cinema fans! If being outside today isn't your bag, maybe it's a good opportunity to hit some links here on the Interwebs and support your local filmmakers with purchases before year's end!
As of yesterday, Friday, December 13, the made-in-Danville feature drama HOUSE OF THADDEUS is available on DVD-R from Roselawn Productions, with a Blu-ray edition on the way. HOUSE director Mike Boedicker tells C-U Blogfidential the disc will cost $10 but did not mention a price for the Blu; both should be available through the project's Web site shortly. We believe it contains only the 106-minute film, which played a release party at Danville's Kathryn Randolph Theatre last night. You can get your first look at the cover art below featuring one of the "eyes" of the title domicile. Spooky!
The comparable DVD-R for Hot Diggity Productions' SCARY NORMAL was introduced last Tuesday, December 10, at the Art Theater Co-op in Champaign. NORMAL directrix Jennifer Bechtel revealed disc specs to CUBlog including the 96-minute feature, trailer, blooper reel, and a super-secret URL at which viewers can access additional goodies such as storyboards, pre-production videos, and a commentary track with Bechtel, executive producer Dan Bechtel, and lead actors Laura Welle and April Cleveland. You can purchase it for $15.99 through their Web store or stream the movie via Vimeo on Demand for $1/one day or $8.99/purchase that, we're guessing, allows you to download and watch whenever you want. You've already received a complementary peek at the front cover, above!
We'd also like to mention two more indigenous indies released to a physical format we might have failed to point out. One is the Springfield-made family drama feature JUMP IN directed by Kimberly Conner for Predestined Arts & Entertainment; a $14.99 DVD-R release arrived in September that seems to be movie-only. Further back in June, Thomas Nicol of QuantumCat Animation in Champaign delivered a dystopian DVD-R of his short HEARTSHOT. For $12 you land the 33-minute film, two trailers, two featurettes covering visual effects and creature design, a commentary by cast and crew, a second commentary by source story author Mike Byers, and the bonus short A BEAR IN THE WOODS.
Be sure to read Kelly White's interview with Nicol about his C-U animation domination in the free quarterly magazine Community Concierge dated "winter 13/14," available at many of the same public spaces you might find C-U Confidential.
~ Jason Pankoke