Since Mother Nature is doing her best to wipe out our fondest memories of too-mild winters from recent years, it might be just the weekend for your kids to stay indoors and exercise their budding storytelling skills. You might ask, "How?" We might say, "By writing short film scripts, of course!" You might then explain, "Interesting idea, but my children have only played around with my smart phone and the family pocket camcorder. Don't they need to learn how to assemble a movie properly before they write scripts?" And we might then encourage, "Until they're ready to take that next leap into media making, a mysterious community of professional Champaign-Urbana creatives have stepped up to turn a handful of student-written stories into full-fledged movies every year. Could your son or daughter's story be one of the next to go before their cameras and hit the local silver screen?" And the reaction to our claim will be common amongst the parental units du C-U: "Really!"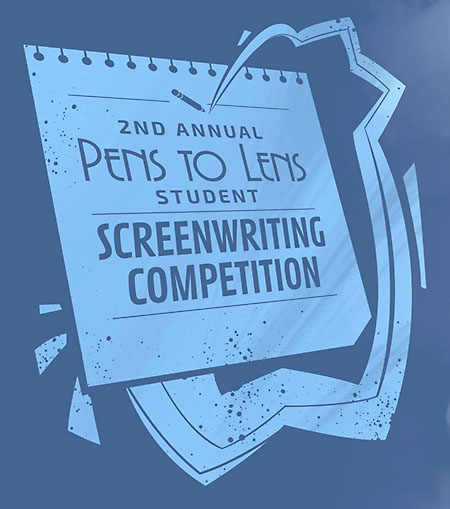 After receiving a surprise groundswell of attention, participation, and support from our populace-at-large last spring, the Pens to Lens Screenwriting Competition launched by the Champaign-Urbana Film Society returns for its second go-round of turning narratives by our pre-college set into cinema! Through their connections at most area grade and high schools, CUFS will provide training materials and on-site instruction that teachers can use to explain the particulars of screenplay writing to their students. Individuals or groups aged 5 to 18 will then have from February 1 to 28 to complete and hand in their work for P2L consideration, after which CUFS officers will organize all entries and teams will select stories to produce! A gala showing of this new batch will take place at the Art Theater Co-op in August, where the winning writers will walk a red carpet and be recognized for their efforts.
As with last year, filmmaker groups will be marshaled through Champaign Movie Makers and original poster designs based on the children's scripts – both produced and unproduced – drawn up by members of the Champaign-Urbana Design Organization. We're certain additional perks will be announced as the time flies and anticipation builds!
Plenty of information can be found at the Pens to Lens Web site, including streaming videos of all last year's shorts, and you can always consult their Facebook for timely alerts. Please click here to pop up the announcement flier for screenplay submissions and check out two of the 2013 shorts below: SUSAN AND DAISY'S ADVENTURE: EPISODE 1 directed by Tim Meyers and INTO THE MINE directed by Andrew Stengele. Good luck to all participants!
~ Jason Pankoke
SUSAN AND DAISY'S ADVENTURE: EPISODE 1
INTO THE MINE