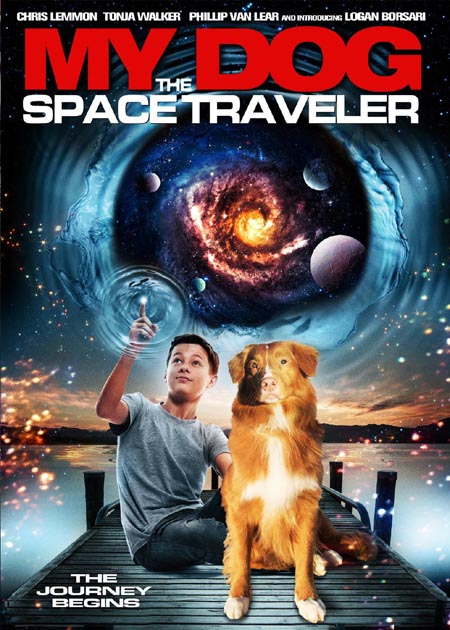 Space out, gang! Three full years after C-U Blogfidential last posted about SHEEBA, the first feature-length movie by Dreamscape Cinema of Champaign to be released in the United States, we've come full circle with the domestic distribution of MY DOG THE SPACE TRAVELER through NAMP/Cinedigm Home Entertainment as of yesterday, Tuesday, February 25. Not only has the studio revisited the boy-and-his-dog formula of SHEEBA but also successively sold international rights to all their initial titles, including DISCONNECT and ACT YOUR AGE. (This excludes their low-profile, micro-budget efforts seemingly mired in limbo, DISPOSABLE and LINK.) As you might have discerned, above is the cosmic box art and here is a more earthbound trailer:
Now available on extras-free DVD through Netflix and the expected merchants – Amazon, Best Buy, etc. – DOG is an adventure story involving the efforts of preteen Robbi (Logan Borsari), his parents Vernon (Chris Lemmon) and Pearl (Tonja Walker), and friends to rescue the family dog from an intergalactic portal hovering over a pond on their land. Silly as the conceit might be, it probably has the potential to attract more attention than SHEEBA due to the science fiction angle. We've already found this amusing DOGS notice by one MaryAnn Johanson, a.k.a. the "Flick Filosopher," a.k.a. one of the many self-styled movie critics aggregated on Rotten Tomatoes. Johanson clues her readers in to comparable UK/Australia artwork that is oddly devoid of juvenile appeal save the title canine; see for yourself below.
DOGS director Robin Christian has been working on post-production for his most recent project, the action thriller LOWLIFES starring Booboo Stewart, Giselle Bonilla, Kyle Massey Mark Derwin, Quinton Aaron, Christopher Judge, Madelyn Deutch, and GHOSTBUSTERS veteran William Atherton, filmed in the Monticello and Champaign-Urbana areas last summer. According to Christian, Dreamscape will soon be announcing a drive to raise finishing funds for that film as they prep resources for production on a brand-new feature, the company's first foray into the horror genre, later in 2014.
~ Jason Pankoke
p.s. Yes, we absolutely did go there with our headline. Deal.