Hey, gang! MICRO-FILM wants you to populate the beer garden of Mike 'n' Molly's, 105 N. Market St., downtown Champaign, on the nights of Sunday, July 23, 9:30 p.m., and Wednesday, July 26, 9:30 p.m. Why? Not only does that mean you get to buy your C-U Blogfidential editor a drink – because, well, he'll need it at that point – but you also can let out your inner "monster kid" while watching a pair of indie creature features under the spooky night sky!
Most of you know of UNIVERSITY OF ILLINOIS VS. A MUMMY by now (if not, see items: 4/15/06, 5/14/06), but probably didn't brave the throng of underclassmen who packed its prior on-campus screenings. Well, now's your chance to finally check out Chris Lukeman's irreverent horror-comedy, along with another new film hailing from St. Paul, Minnesota, called THE MONSTER OF PHANTOM LAKE. If you dig those Fifties-era, black-and-white, sci-fi cheapies that once ruled the UHF airwaves, then you probably will enjoy this homage created by director Christopher Mihm in honor of his late father. The film's Web site provides further details.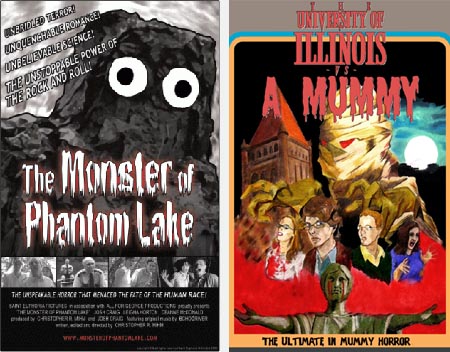 On July 23, UNIVERSITY OF ILLINOIS VS. A MUMMY rampages at 9:30 p.m., followed by THE MONSTER OF PHANTOM LAKE at 11:15 p.m. On July 26, MONSTER emerges first at 9:30 p.m., followed by MUMMY at 11:30 p.m. Admission will be $5 each night. Please come out to have a good time, support these filmmakers, and demonstrate through your presence that MICRO-FILM Movie Shows should continue in the near future!
This double-bill is sponsored by MICRO-FILM, Illini Film & Video, Exile on Main Street, and Mike 'n' Molly's.
– Jason Pankoke