A ghoulish afternoon to you, dearest readers! We take a rare detour from the movies of Champaign, Urbana, and the cities beyond to briefly discuss a television special airing on Syfy tomorrow, Tuesday, March 4, at 9 p.m. CST. CARVERS is a "Syfy First" presentation depicting the unique exploits of Arizona's Villafane Studios; their artisans sculpt elaborate and detailed characters and monsters on unusual materials, often in spectacular "real time" fashion at public events. Signature canvases are pumpkins and sand, as pictured on the company's Web site, although every imaginable surface from chocolate to cheese can become works of art under their watch. Syfy has not uploaded any preview clips we can find although they offer this teaser with an appearance by McKenzie Westmore, the host of CARVERS lead-in FACE OFF.
While the program does not have any specific relationship with our region, Villafane lead carver and business partner Andy Bergholtz hails from St. Louis, Missouri, as does his CARVERS producer and show developer Scott Jenkins. It so happens Jenkins attended Millikin University in Decatur during the mid-Nineties at the same time CUBlog Webmaster Eric Pankoke was finishing his undergraduate degree there. Inevitably, he and your editor met and became friends. Jenkins worked as a designer for the Trendmasters toy company after completing his Millikin studies and then joined the Zipatoni national marketing firm. He is currently employed by Zipatoni successor Rivet Global in Chicago and lives in the suburbs with his wife and three children, enriching his spare time by learning the craft of his on-screen CARVERS collaborators as shown on his Instagram feed.
C-U Blogfidential wishes Jenkins and everyone else behind CARVERS the best of luck when it airs on Tuesday! Below, we share an example of Villafane Studios' handiwork and the official Syfy synopsis, as well as the Jenkins mystery MICRO-FILM cover we originally dusted off to illustrate our story on the Third Stone rock show reunion from the fall.
~ Jason Pankoke
p.s. Are you seriously surprised the mystery MICRO-FILM cover involves a stabbing utensil and a parody character based on "Jason" from FRIDAY THE 13th?!?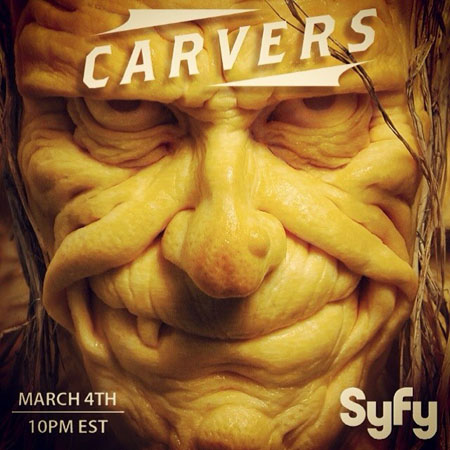 CARVERS (Original Special)
Premieres Tuesday, March 4 at 10 p.m. – The special CARVERS follows Ray Villafane and Andy Bergholtz, two uniquely talented and quirky craftsmen, who wield knives as their artistic utensil of choice. These best friends, along with their staff of eccentric carvers, create masterpieces out of wood, ice, pumpkins, chocolate, sand, meat, and anything else their clients desire. From high-end corporate events to state fairs, this crew works feverishly to design and sculpt jaw-dropping works of larger-than-life art. CARVERS is produced by Coolfire Originals. Executive producers are Jeff Keane and Steve Luebbert. Aaron Bowden is the showrunner.
~~~~~