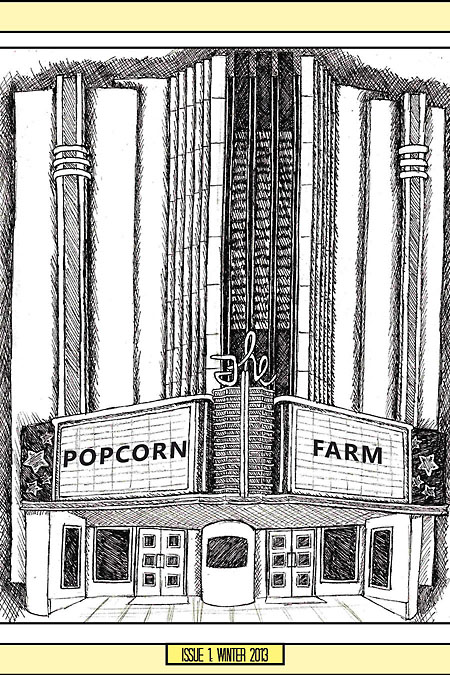 Seeking something cool to read outside of C-U Blogfidential, dearest Saturday afternoon browsers? Stick with us for a few paragraphs as we introduce a new publishing kid on the Illinois block!
Let's begin by recounting the primary topic of the Eastern Illinois University symposium we posted about a few days ago, curated by our friend David Gracon of Hallways Microcinema. During the various sections of "Cut & Paste," your humble editor, Gracon, and others waxed philosophic and historic about the 'zine, those self-published and non-commercial endeavors created by fringe voices with little or no (or stolen) means as a way to counter or circumvent the established media. In particular with 'zines intended as a vessel for personal expression or declaration, they are typically produced in such small numbers that one has to be wise as to how to find them in the first place.
'Zines are sold for cheap through the regular mail and Internet or left out for purchase or as free swag at record stores, comic shops, coffee houses, and other cultural spaces. Sometimes, 'zine creators play it coy and distribute feelers to attract attention instead of the actual product. Such was the case when we noticed a color flier tacked up on the bulletin board of downtown Urbana's Flying Machine Coffee/Pizza M that solicited material for an upcoming literary magazine called The Popcorn Farm. Unusually, the bent as proposed on the flier would be cinema-influenced writing in poetry and prose forms.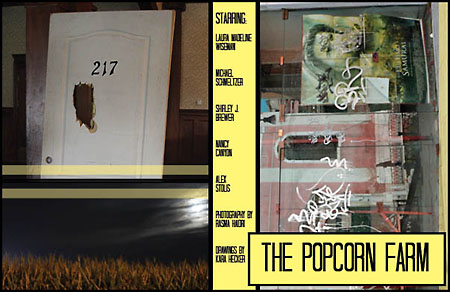 CUBlog eventually made contact with editor-in-chief Jacob Cross, a recent Springfield-to-Chicagoland transplant, and received a look at their first two offerings: a 53-page PDF digital release of The Popcorn Farm, Issue 1, and a quarter-size, 10-page "Clean Zine" edition that is hand made. Issue 1 features an array of poems, essays, fiction, and visual art, while the physical 'zine is devoted to poetry; author biographies reveal these contributions come from all over the United States. Cross' team includes managing editor Kimberly Stout, marketing/production director Tish Cunningham, and visual art director Hecker, whose artwork provides the cover image for Issue 1 as photography by Rasma Haidri graces the Clean Zine cover..
Inklings on their Twitter and Facebook feeds imply they are accepting submissions for the second full issue. One can also peruse this Weebly page for an Issue 1 preview, this WordPress account for general information and updates, and this Etsy store to purchase the existing issues and support your local-ish independent press for independent film-inspired ideas!
~ Jason Pankoke
p.s. It could be argued The Popcorn Farm follows lit mag conventions more intrinsically than the 'zine archetype. For comparison, we present this cut-and-paste example your editor discovered around the same time as TPF, a tribute to the films and eccentricities of Wes Anderson titled – what else? – Wes ANDERZINE. Precious to the core in affecting elements found in THE GRAND BUDAPEST HOTEL director's work, the 150 copies of its first issue by Briton Owen Clements went quickly and a 300-copy run of #2 is due this month. Anderfans can download a free, high-resolution PDF of #1 from here.