From July 11, 2006: 
FOR IMMEDIATE RELEASE
CHAMPAIGN, IL (July 11, 2006) – FirstSunrise Productions, Inc. is pleased to announce that CRYSTAL'S SIGH, a five-minute short film extracted from the feature film, AURA, IL, written and directed by Yu Hasegawa-Johnson of the Beckman Institute at the University of Illinois at Urbana-Champaign, has won a prestigious CINE Golden Eagle Award – a very strong start for the feature film, which is currently in post-production.
CRYSTAL'S SIGH is one of just two award-winners in the category of Independent Short Fiction, out of several hundred submitted films. The film is a short, heart-warming comedy describing a teen-aged girl's unfulfilled romantic obsession with fairy-tale suicide.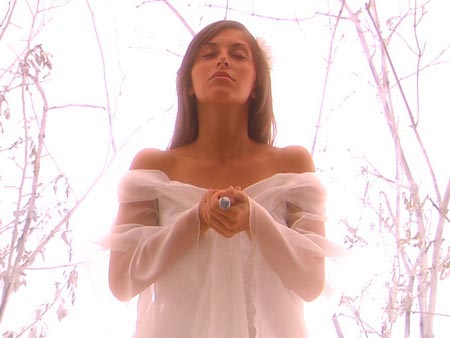 The CINE Golden Eagle awards, distinguishing excellence in professional and amateur works, are recognized internationally as symbols of the highest production standards in filmmaking and videography. Since its founding in 1957, CINE has been dedicated to discovering, rewarding, educating, and supporting established and emerging talent in film and video. Among great talents whose first major awards included the CINE Golden Eagle are Steven Spielberg and Ron Howard, and such great documentarians as Ken Burns, Charles Guggenheim, Stanley Nelson, Albert Maysles, and Frederick Wiseman.
In the Spring 2006 Competition, more than 300 judges viewed and evaluated hundreds of distinguished entries. Experienced professionals in the field of film and video production, as well as subject matter experts, serve in a volunteer capacity. They judge the entries using standards of overall excellence, evaluating such criteria as writing, sound, editing, creativity, visuals, insights, and the extent to which the film meets its stated goals and communicates with its intended audience.
All of the competitive awards will be presented at the Annual CINE Awards Ceremony, to be held in Washington, D.C., in April 2007. Prizes and awards worth more than $25,000 are associated with these awards.
CONTACT:
Rita Vidanagamage, Co-Producer
(217) 722-0211
rita@firstsunrise.net
###
CRYSTAL'S SIGH photo
courtesy of FirstSunrise Productions, Inc.