[Note: A scant few hours after the following article went live, we received word the Buttered Corn on the Cob Film Festival directors had decided to postpone their comeback event set for this Sunday, April 13, at Fluid Event Center in Champaign. It's unfortunate but, sometimes, those mysterious forces beyond our control thwart best intentions. For now, we'll leave our story up "as is" so you can learn about their plans for BCOC; assuming they reschedule in the near future, we'll revise and repost at that time. Thanks! – ed.]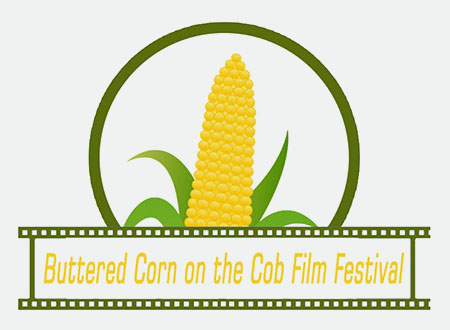 It seems that "pop-ups" are the Next Hip Thing in Champaign-Urbana. Small business owners who do not have a physical storefront take up temporary residence within existing spaces to sell their wares, be it arts, crafts, plants, food, or what have you. It is truly an "anything goes" concept if the space allows, so, why could that not apply to movies? We'll let that thought percolate for a spell as we discuss a more formal arrangement between venue and event, the latter bouncing back from apparent obscurity after vacating the 2013 calendar…
Unbeknownst to most in the C-U until very recently, the New Art Film Festival will be sharing this Sunday, April 13, with a second indie cinema show! The Buttered Corn on the Cob Film Festival makes its belated return to the area from 12 p.m. to approximately 7 p.m. at the Fluid Event Center, 601 N. Country Fair Drive, Champaign, ending a two-year-long hiatus. Its 2011 and 2012 shows at the former 88 Broadway space in the Lincoln Square Village of downtown Urbana were originally set up by organizers Ludo van der Hout and Sasan Shabrou as a "pop-up screening room" of sorts. We presume admission will be free as in previous years.
As you can tell from this post and the itinerary, shared after the jump, Buttered Corn has not offered much in the way of details on the films themselves. Potential attendees can willingly go in blind and hope to see pleasant surprises – that is one of the core tenets of the film festival experience, after all – or use their mad Google skills to look up titles on the list and make an educated decision as to whether the trek out to far west Champaign will be worth it. We did find on-line presence for the features just for you, dearest readers. MY LIFE IS A MOVIE is a no-budget drama from St. Louis filmmaker Dale Ward about siblings who run away from home, their adventures captured on an iPhone, and COMMUNITY SERVICE is a serial killer yarn made in upstate New York by director Joe Kelly.
It might be worthwhile to pop open the Buttered Corn Facebook page a few times between now and Sunday to see if any late-inning announcements or incentives are posted!
~ Jason Pankoke
p.s. Buttered Corn and the NAFF overlap by two hours or so. We do recommend that you attend both, even if that means missing a few selections at one or the other. Our collective film spy network will be watching for you, just so you know.
p.s.2 Buttered Corn is not related to the indie literary journal-with-a-cinematic-twist, The Popcorn Farm, which we reported on just last month. Yet, the mind now boggles with kernels of cross-over ideas…
[Updated 4/10/14, 11:40 p.m. CST]
~~~~~
Buttered Corn on the Cob Film Festival – Complete Schedule
@ Fluid Event Center, Champaign, IL
April 13, 2014, 12 p.m.-7 p.m.
FREE ADMISSION
Feature Film Block 1 :: 100 min.
MY LIFE IS A MOVIE / Dale Ward
Short Film Block 1 :: 40 min.
CURIOSITY KILLS / Sander Maran
GAME COMPANION / James Monson & Brian Morelan
THE BOX / Hugo Martinez
THE FANCY DRESS / Leah Mann
International Film Block :: 70 min.
EL HOMBRE EQUIVOCADO / Roberto Goni
FORTUNE FADED / Alexandere Heringer
HISTORIA MUERTA / Fran Mateu
LA MIRADA PERDI / Damian Dioniso
SINCERIDAD / Andrea Casaseca
NGUTU / Daniel Valledor & Felipe Olmo
SCARLET / Charlotte Rose Palmer & Jamie Weston
WRONG PLACE WRONG CRIME / Florian Puchert
Feature Film Block 2 :: 75 min.
COMMUNITY SERVICE / Joe Kelly
Short Film Block 2 :: 80 min.
HOME SWEET HOME / Adam Krause
HUSK / Matt Packman
IT'S ABOUT TIME: THE CORNPOCALYPSE / Scott Lehman
TURTLE BANDITS / Adam Carbone
~~~~~