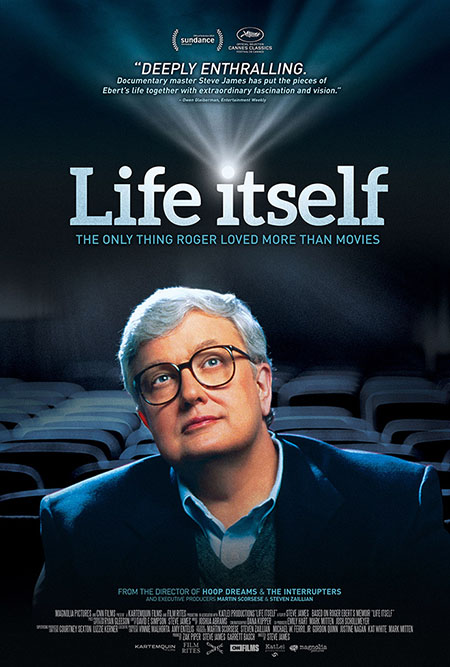 Magnolia Pictures has unveiled during the past two weeks their one-sheet poster art and trailer for the Roger Ebert documentary LIFE ITSELF, a candid portrait fleshed out by rare material as well as new interviews with friends and confidants such as widow Chaz Ebert, filmmakers Martin Scorsese (THE WOLF OF WALL STREET), Werner Herzog (CAVE OF FORGOTTEN DREAMS), and Errol Morris (TABLOID), fellow critics Richard Corliss (Time), A.O. Scott (The New York Times), and Jonathan Rosenbaum (Chicago Reader), and Marlene Iglitzen, wife to the late Gene Siskel. Additional details can be gleaned from several Web pages launched by Magnolia and producer Kartemquin Films, including a release date of Friday, July 4, on demand, through iTunes, and theatrically in the United States.
"Last year, producer Garrett Basch and executive producer Steven Zaillian approached me about doing this film," recounts director Steve James in Magnolia's press notes. "After I read Roger's remarkable memoir, I was ready to leap in." Known for telling empowering tales of the disenfranchised such as HOOP DREAMS, THE INTERRUPTERS, and STEVIE, James intended to capture the Eberts' livelihood in direct odds with the journalist's well-publicized ailments. "In our final meeting before filming," he explains, "[Ebert] complained of a sore hip. The very next day he was diagnosed with a hip fracture and hospitalized … we couldn't have known then, that Roger would be with us only four more months. But during that time, he showed his trademark wit, good spirits, and toughness. I hope the film captures that."
Life Itself: Official Trailer (2014) from Kartemquin Films on Vimeo.
An emotional crowd took in the LIFE ITSELF world premiere this past January at the Sundance Film Festival in Park City, Utah, followed by an equally memorable bow at the Cannes International Film Festival last week in Cannes, France, and upcoming festival dates in England, New Zealand, Australia, and New York City. As far as viewing opportunities on the home front, LIFE ITSELF will open a run at the Art Theater Co-op in downtown Champaign on Friday, July 11, while the nearby Virginia Theatre will offer 7 p.m. shows of the Stanley Kubrick classic 2001: A SPACE ODYSSEY from tonight, Tuesday, May 27, through Thursday, May 29. It is no mystery why 2001 would be chosen to fill the Virginia's immense silver screen from a cinematic standpoint, especially to put their long-awaited digital projection system to the test, although followers of Roger Ebert's Film Festival will readily point out extra significance to the scheduling gesture given how, more than once, 2001 has played a key role in the "Ebertfest" mystique.
We conclude with first news about our exclusive review/essay series on the 2014 "Ebertfest" to be contributed by your humble editor and several guest writers. Look for their pieces to start appearing in June, once or twice per week! We offer as a preview the following snippet about LIFE ITSELF, written by former WILL-TV editor and shooter Brian Paris. "When seeing a movie at a film festival," he says, "it is hard to separate the quality of the film from the experience of seeing it. That was basically true on the opening night of this year's Roger Ebert's Film Festival … [LIFE ITSELF] brought [Roger] Ebert back one last time to share the story of his life, and it gave the audience a chance to collectively remember the man that they missed." Watch for our next related post introducing you to the writers and screenings they will discuss.
Based on Ebert's 2011 memoir of the same name, LIFE ITSELF is a Kartemquin and Film Rites production in association with KatLei Productions released by Magnolia and CNN Films, running 118 minutes.
~ Jason Pankoke
[Updated 5/28/14, 11:45 p.m. CST]