What is it exactly that interests the lovely young explorer in the secret exchange occurring at stairwell's end?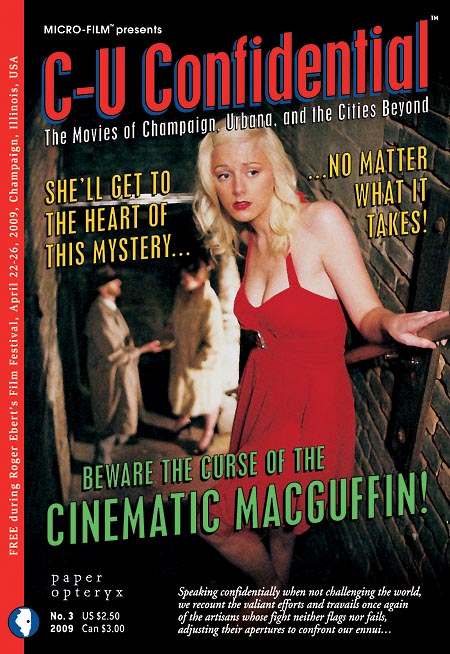 Hopefully, it is the sense of adventure and creative enlightenment that you will discover, dear readers, in the next exciting issue of C-U Confidential! You can pilfer your favorite localized movie-making periodical for FREE starting tonight at WOODSTOCK, which opens the eleventh annual Roger Ebert's Film Festival in downtown Champaign. Look for it on the left end of the merch table in the East Lobby of the Virginia Theatre, adorned by our brand-new noir escapade featuring Caragh and Paul Brooks and a femme to die for, Genevieve Jauquet.
Flip open the new edition, and you will discover excerpts from our interviews with upcoming New York producers Thomas Bender and Jake Bakkila (HOOPESTON) and low-budget director Joe Stoltz (MISTER UNDERSTANDING), as well as never-before-seen stills from the set of Luke Boyce's dark-edged drama PRELUDE and a sampling from our coverage of "Ebertfest" X by Anthony Zoubek. We also summarize the past year in downstate Illinois film, reprint several choice postings from C-U Blogfidential, and harken back to that fateful date of October 29, 1999, when a certain Magazine of Personal Cinema in Action made its debut with a then-novel section devoted to the movies of Champaign, Urbana, and the cities beyond … curiously disguised as a novel!
We have an extra surprise in store regarding CUZine 3 although we're holding onto this one for a little bit before making the reveal. Stick right here for the first news and make sure to come back during the next few days to hit the beginning of our Ebertfest XI coverage, the complete interview with misters Bender and Bakkila about their Sweet Corn Capital documentary, and relevant reports from that far-away land we know as Bloomington-Normal! Finally, we'll give you a wrap-up of the inaugural C-U Confidential Local Film Show, which gave MICRO-FILM Country the concentrated dose of local cinema madness it sorely needed!
~ Jason Pankoke
p.s. Red is exclusively what we'd see if not for the soothing visuals of our advertisers: 747 Productions, Above Normal Video Productions, Bachelor Pad Magazine, Caffe Paradiso, Central Illinois Film Commission, Champaign Movie Makers, Dallas & Company, David Domal, Exile on Main Street, Idea Plunger, Illini Film & Video, My Pet Piranha LLC, Premier Print Group, R.A.Z. Films, Record Swap, Roselawn Productions, Route 66 Film Festival, Sanford Hess, Shatterglass Studios, Sleepy Creek Vineyards, That's Rentertainment/Parasol, Ward & Associates, and Wind Water & Light Gallery. We appreciate every square inch of your messages in our Confidential pages!
[Updated 4/20/16, 8:40 p.m. CST]