Last year, we gave up the ghost right away that the second issue of C-U Confidential sported two different covers, leaking the alternate "Indiana Jones" concept to SmilePolitely.com while the noir variation popped up first on C-U Blogfidential. This year, we managed to refrain from tipping our fedora in advance as we introduced dual designs for CUZine 3 at intervals. While most of you saw this cover make the rounds at "Ebertfest" 2009, most of you have not seen the following until now: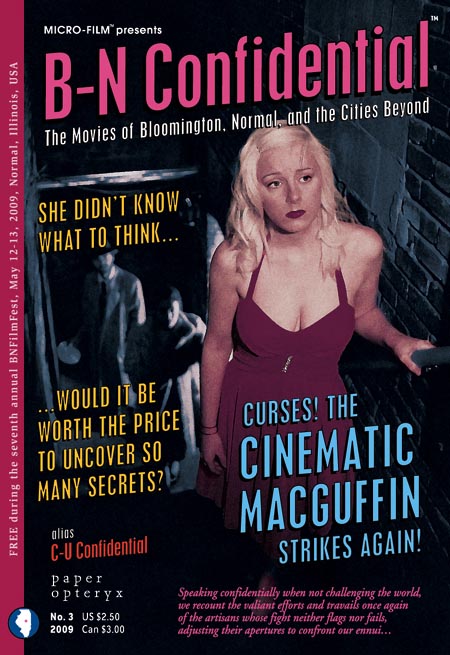 Our first-ever "alias cover" features a different color scheme and alternate pose of our principals, played by Paul Brooks, Genevieve Jauquet, and Caragh Brooks, and also suggests a storyline as the P.I. and femme fatale have caught wind of a third wheel in the moment connecting images A and B. "Uh-oh" says the face of our innocent onlooker, a sentiment that may or may not be dead on … depending on what happens next!
The inspiration for transforming CUZine to BNZine for part of the press run came from the abundance of Bloomington-Normal material in the issue as well as the annual BNFilmFest organized by Chuck Thacker, which took place at the Normal Theater back on May 12 and 13. (I do have to correct a slight here; I learned too late that this year's BNFF was actually the 10th, not the 7th as stated on the spine.) Reinforcing the conceit is the front-cover presence of Normal residents Paul and Caragh in a Bloomington location – the back stairwell of Kymberly Harris' TheatresCool in the downtown area.
We must give a special shout to the lovely Ms. Jauquet who not only traveled down to B-N from Chicago for the photo shoot, but went the extra mile of doing make-up and hair on herself and her equally lovely cousin, Caragh. (This is correcting a second slight, since I forgot to credit her extra contributions in print. Did I mention the Secret MICRO-FILM Headquarters was swamped this spring? Ay…) Let's transition to discussing an unrelated digest your humble editor designs (Did I mention the Secret … oh, never mind …) that features another lovely lady who knows a thing or two about being photographed in the proper light: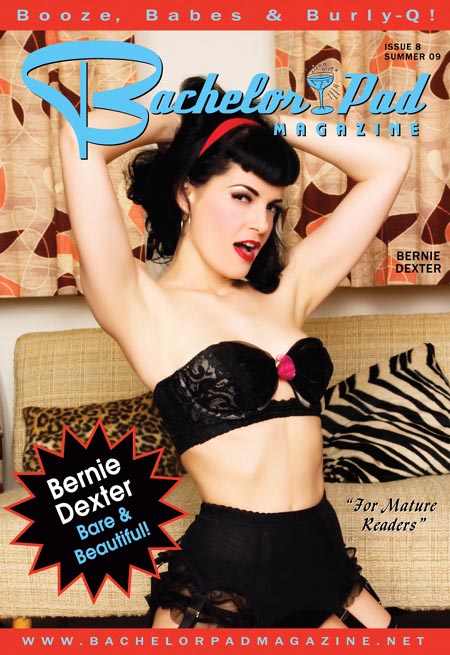 Coming hot off the presses any day now will be the eighth exotic issue of Bachelor Pad Magazine edited by our friend Jason Croft, who is known respectfully as "Java" in the corner of the world that still embraces the stylish charm and naughty enticements of Atomic Age culture. Front and center is one of the current pin-up stars of those feverish Fifties followers, Miss Bernie Dexter, who finally makes the cover of BPM and becomes the first model to earn a photo spread in two different issues.
The usual gang of swinging cats and kittens fills the interior with articles about navigating Las Vegas, visiting the Forbidden Island tiki bar in California, watching jungle exploitation cinema, hosting a champagne burlesque brunch, listening to space-age music, pumping up for photo shoots, viewing erotic Japanese art, and mixing a Zero-G-String at the wet bar nearest you. Don't forget the lively dose of Tawdry Tales, Funny Stuff, and pictorials by Dexter, Skye Sinclaire, Sable Sin Cyr, and Diamond Minx, all for the discerning retro-reader! Build up your stockpile of Bachelor Pad Magazine today; I hear from Java himself that the early issues are almost gone!
~ Jason Pankoke
p.s. There's one final slight to right (for the moment) and I can't believe no one has caught us on it! We've never actually posted the "Dr. Jones" cover for C-U Confidential #2 on CUBlog, so in case you missed it for some inexplicable reason…