…when the middle component of our first MICRO-FILM wave flooded the shelves of many Champaign-Urbana businesses, providing their patrons with lively words on cinema the likes of which did not appear in their humdrum, average, everyday media! The newsletter MICRO-Scope first appeared on Friday, August 6, 1999, and thereafter every six to eight weeks during the 1999-2000 academic year. A follow-up to MICRO-FILM: The Warning Shot from that spring and a quick-and-cheap attempt at keeping our name on the streets between the newsstand MICRO-FILM issues, the 'Scope was packed with as many bite-size tidbits of interest as we could cram onto the front and back sides. We considered news, interviews, reviews, shout-outs, MF promotion, and calls to filmmaking arms fair game, bestowed upon our community free of charge and copied on crayon-hued paper stock. We screamed all the colors of the cinema rainbow, we did! Sadly, the 'Scope was shelved once our flagship title picked up some traction.
In the near future we will share the fruits of these dark-ages labors for your perusal but, right now, let's tease with a facsimile of MICRO-Scope #1. Topics included the nationwide release of THE BLAIR WITCH PROJECT, a Freaky Films screening of WADD: THE LIFE AND TIMES OF JOHN C. HOLMES at the New Art Theater, the empowering video-making activity of Girlzone, the sixth Chicago Underground Film Festival up north, and a messy, noisy, and totally rad moving-away show for our pal John May featuring local bands and his own film shorts. Not unlike MF proper, the 'Scope ranged from the local to national and provides a selective timeline that helps us remember our beginnings. Just click on the graphics to pop up an enlarged, easy-to-read scan! Underneath that, we chart the who, the what, the where, and the when appearing in the newsletter's brief run. If your humble editor's old-school comrades are interested in a hard copy set to file away, write him to arrange an exchange.
"Between one copy-shop 'zine, two full-blooded glossy 'zines, seven newsletters, and a brand-new Web site, I think I can say that it's been exhausting and exhilarating so far," I professed at the head of the final MICRO-Scope issued Friday, April 28, 2000, during the second Roger Ebert's Overlooked Film Festival. The general sentiment still applies in 2014. You're welcome, then and now.
~ Jason Pankoke
~~~~~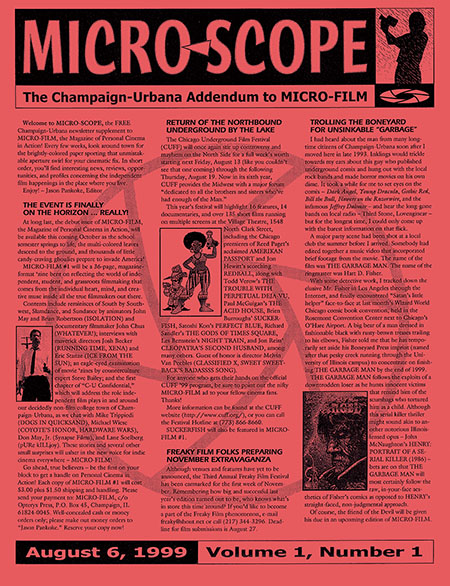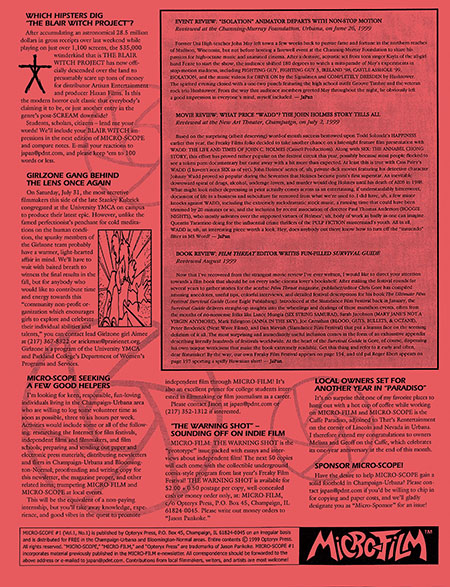 ~~~~~
MICRO-Scope
"MICRO-FILM's Newsletter of Local Cinematic Action"
August 1999 – April 2000
M-S 1.1, 8/6/99: MICRO-FILM 1 preview; Chicago Underground Film Festival '99 details; Freaky Film Festival '99 update; seeking THE GARBAGE MAN; box office victory for THE BLAIR WITCH PROJECT; Girlzone makes videos; John May rocks out before Madison move; WADD film review; The Ultimate Film Festival Survival Guide by Chris Gore book review; MF: The Warning Shot plug; Caffe Paradiso plug…
M-S 1.2, 9/17/99: Adventures in seeing STAR WARS: EPISODE 1 at the Lorraine Theatre in Hoopeston; the revival of the Normal Theater in Normal; Russ Meyer attends his own film in the C-U; UIUC student makes short film in Chicago; THE BLAIR WITCH PROJECT review; Channing-Murray Foundation plug…
M-S 1.3, 10/22/99: John May talks creating a "film scene;" words to film by from Eric Stanze (ICE FROM THE SUN); Bruce Campbell wisdom remembered from Freaky Film Festival '97; complete Freaky Film Festival '99 program essay by Mr. JaPan; DOGS IN QUICKSAND local film review from Shock Cinema…
M-S 1.4, 12/3/99: MICRO-FILM 1 now available; Freaky Film solo shows coming to The Highdive; MF 1 cover story film RUNNING TIME released on home video; MICRO-FILM Web site announced; looking for C-U short film OPEN TO CLOSE; first reactions to MF 1; preview of MF 2; TED: THE MOVIE local film review; Game Over by Mike Cole local comic 'zine review; Freaky Film Festival '99 local event review…
M-S 1.5, 2/4/00: Peter Asaro and Doug Matejka talk producing C-U homeless documentary IN THE NEIGHBORHOOD; Leila Ramagopal Pertl on acting in Champaign Underground music video DELTA QUEEN; LIVING PROOF: COURAGE IN THE FACE OF AIDS film review; SPREADING THE DISEASE local student film review…
M-S 1.6, 3/17/00: John May discusses developing animated fairy tale SAMARIA; thought provoking coffee talk with Jay Rosenstein; Ralph Roether III on appearing in thesis film short LOTTO; Illinois Wesleyan at the Movies local book review; DREAM WHEEL CIRCUS local film review…
M-S 1.7, 4/28/00: MICRO-FILM 1 review excerpts; Champaign-Urbana local film directory… fin.