Once again, MICRO-FILM invades Mike 'n' Molly's in downtown Champaign to unleash true independent cinema from the up-and-coming to the decidedly obscure.
On Saturday, September 9, 8 p.m., the MICRO-FILM Movie Show will present "Night of the 'Film Foetus,'" featuring works produced by D.P. Carlson and Film Foetus, Inc., of Chicago. We will show a selection of Film Foetus shorts, music videos, and works-in-progress (approx. 90 min.), followed at 10 p.m. by THE BEARS: OUT OF HIBERNATION! (2005, 87 min.), a full-length rockumentary about long-lived Ohio pop quartet The Bears, whose members include rock-god guitarist Adrian Belew. (Those hep to our local music history know that Belew resided in C-U during the early Eighties, at which time Robert Fripp invited "Mr. Music Head" to join King Crimson; the band's mail-order "Collectors' Club" even offers a CD called Champaign-Urbana Sessions: January 17-30, 1983.) Carlson and Film Foetus regular Mike Weber plan to join us; admission will be $5 for the evening.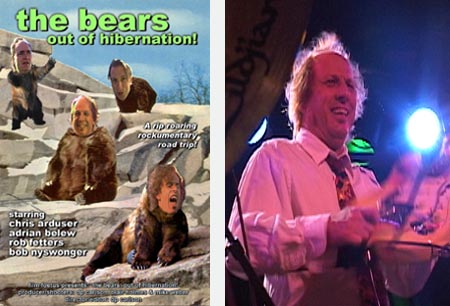 Click here for more about Film Foetus and also here for the review of Carlson's prior doc, CHICAGO FILMMAKERS ON THE CHICAGO RIVER, at the MICRO-FILM News Blog. Our sister site also sports a brand-spanking-new "MF Movie Show" page, serving as the ongoing almanac for our public acts of cinematic discovery and the first place you will want to look for show updates – unless you choose to receive the news through our handy Mailing List.
Join us on September 9 for the MICRO-FILM Movie Show at Mike 'n' Molly's, 105 N. Market St., Champaign, IL, and raise a pint to our co-sponsors for believing that this Show must go on: Film Foetus, Inc., Exile on Main Street, Innocent Words Records, and Mike 'n' Molly's.
– Jason Pankoke