It might be of interest to our dearest collegiate readers that regular weekly meetings of the Illini Film & Video club at the University of Illinois will not be hosted in the Main Library, where their orientations took place, but a venue quite familiar to past and present members! IFV will gather at 8 p.m. every Thursday in Room 104 of the English Building when school is in session. (The next one will be Thursday, September 25. Plan ahead!) We can't emphasize enough the value of a group like IFV for secretly aspiring young filmmakers who attend an institution without a film school; former players have gone on to launch production companies from suburban Chicago to mainland China, funnel commercial success towards personal projects intended to help save lives, and cement their status as prolific contributors to Champaign-Urbana film culture. No one graduate of IFV – er, UIUC – has achieved cinema rock star status in the world at large, but several have made movie gold all the same. That is worth something.
For today's Image of the Week, one of several imminent CUBlog posts highlighting examples of "students on film at UIUC," we revisit a recent Web series-come-programming staple on the university-owned cable channel UI-7. Mainly due to bad timing, we never got on the stick covering FOR THE RECORD when creator and then-senior A. Lawrence Dreyfuss first posted it as seven weekly installments in early 2012, and we've grown to dig on this little mystery-comedy despite its weird narrative gait and student-budget production values. The story, such as it is, follows a placid young man named Steve "Stevie" Darrie (Kyle Bullock) after he moves from Chicago to Champaign for a job that is never really defined. (This is par for the course as Dreyfuss selectively doles out the details.) Now working for the excitable Alvy Doyle (Kelson McAuliffe), Steve is talked into following a local murder case by his insistent coworker Berry (Nick Narcisi) that involves Mrs. Doyle (Gina Dunn) and Doyle's mistress Mary Silver (Sally Hamer).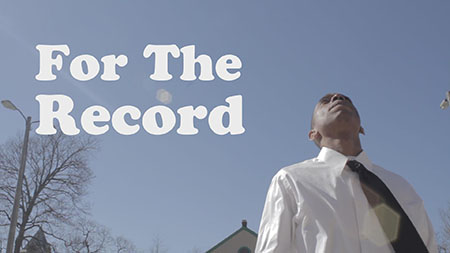 The IFV participants of the time – Dreyfuss, Robbie McBeath, Christian Lorea, Ashlea Thomsen, Allie Rietz, etc. – made a good effort to infuse FOR THE RECORD with high energy as well as incorporate the C-U landscape to service Steve and Berry's adventure. While most minor characters are played rather broadly, Bullock provides a serviceable center of calm and Narcisi the needed counterpoint as a brassy, Cosmopolitan-drinking amateur detective. (Conversely, the latter delivered a surprisingly controlled take as an Earth-walking Devil in Dreyfuss' prior film short, the Depression-era fable HAD HE FIDELITY that played the New Art Film Festival.) Unlike most student filmmakers' penchant for adding well-known songs to their soundtracks for ready-made emphasis, Dreyfuss chose to smartly place cuts by C-U groups such as Sonny Stubble, The Duke of Uke, and World's First Flying Machine, even commissioning an original balladeer-style recap for Episode 6 that is charmingly sung by Nile Hawver.
We recommend watching the episodes in succession to get the most out of FOR THE RECORD – they often fill a 60-minute block on UI-7 from start to finish – although below you can preview two segments that feature our favorite set pieces. Episode 4 finds Steve and Berry at the scene of Mary Silver's murder, dramatized in flashback as a literal ballet of death. And in Episode 5, the duo quiz a concession worker (Shannon Stanis) at the Art Theater; her recollection of a show attended by the Doyles and Mary Silver is staged using theatrical lighting and split-screen photography that places the present and recent past in immediate proximity.
After finishing his bachelor's degree in Media and Cinema Studies at UIUC, which included a semester-long stay at the Tisch School of the Arts of New York University to study filmmaking, Dreyfuss moved to Hawaii for two years and worked in a high school environment. He recently relocated to Los Angeles.
~ Jason Pankoke