Saturday afternoon is as good a time as any to tell a rural tale about a kid we once knew…
On one side of the country road near small town Monticello and the University of Illinois' Allerton Park, farmers kicked up fine dust as they readied the land for planting crops. On the other side, slightly cautious UI students armed with bright plastic weaponry entered the grounds of a dilapidated home, probably considered a mansion in its day, to scout for corners at which to shoot scenes for their movie. After assuring the mild-mannered groundskeeper they had permission to be there, a second line of defense galloped into sight. Our brave junior filmmakers vanquished this bleating mite with a neck scratch and belly rub, allowing the team to pass and be on their merry way.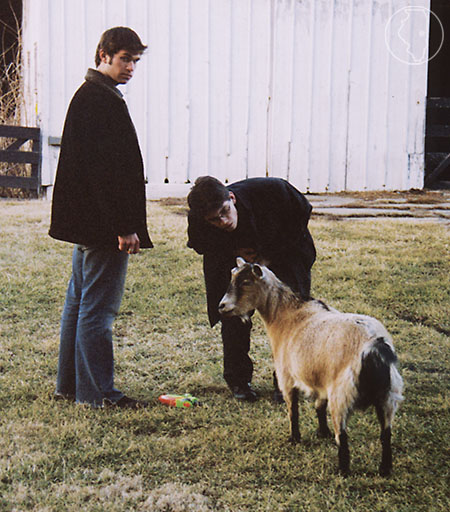 Since barely locking horns with Shoestring the goat way back in April 2004, en route to completing photography on his (appropriately) no-budget comedy ASSASSINS, alumnus Paul Karpenko has not only battled the infamous UIUC mummy, Ted Johnson, and conquered one day's hell – twice! – but also guided a reluctant warrior through a ravaged industrial landscape and thrown a political intern into a time loop she valiantly attempts to break. This last scenario is currently unfolding via Webisode as RE-ELECTION; the first of five new episodes premiered on Election Day and the next will register this coming Tuesday, November 11, as will our exclusive interview with Karpenko from his Los Angeles digs!
For now, please enjoy a few select shots from that crisp afternoon in the central Illinois heartland, seen here for the first time ever, and visit YouTube to cast your thumbs-up votes for RE-ELECTION. You can also flash back to past Karpenko by reading this buzz magazine article about him and ASSASSINS, a 40-minute-long "Hydro-Action H2Opus" co-starring Ryan Heindl and Coleman Balogh (seen in the photos with their director/on-screen nemesis) and parodying "campus assassin" games where participants hunt down their marks with water pistols. Is there a weird irony in pointing out that, amongst the dozens of Illini Film & Video projects created over the years, ASSASSINS is one of the few that simply will not die?
~ Jason Pankoke