Not a month ago, C-U Blogfidential provided you an interior pictorial of our friendly neighborhood movies-first venue, the Art Theater Co-op. Even more recently, we decided it was high time to offer you a good look at its exterior as seen exclusively through our Confidential lens! Inspired partly by this week's event at the Art, 126 W. Church St., Champaign, featuring comedians Nick Prueher and Joe Pickett (The Onion's The A.V. Club, WINNEBAGO MAN) hosting "Volume 7" of the touring Found Footage Festival, we've spent time rummaging through your humble editor's personal photography to locate the most interesting Art appearances that we could. Some images were obviously shot with purpose, others snapped merely to finish up rolls, but all of them appearing below have never seen the light of day (or computer screen) until now. Also, they originated on 35mm film if that parameter is your bag. Scroll down to discover what pictures taken at various moments in the past 15 years or so can tell us about the little Art house that could, which celebrated its 101st anniversary this past Wednesday, November 12.
p.s. Stay tuned to the end for a special offer on a book we absolutely love to promote!
~~~~~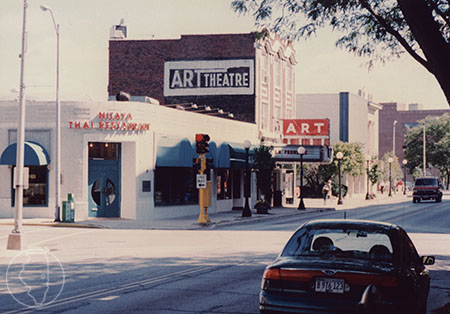 September 1997: This is the oldest Art photo we could find in the Confidential stash. Looking east on Church Street, we see a downtown block much less packed than it is today. The Art is almost half-way through its life as the New Art Theater under Tom Angelica. On the marquee is LA PROMESSE (1996), a Belgian/French drama directed by Jean-Pierre and Luc Dardenne that was distributed in America by the now-dormant New Yorker Films.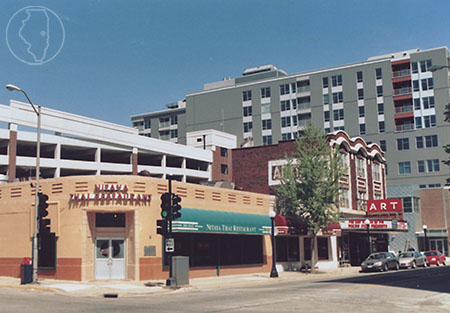 April 2010: From a similar vantage point, we see the Art Theater dwarfed by the M2 mixed-use building and a city parking garage. Just east of the Art, the First Bank & Trust building has been radically updated while the former home of The Gallery boutique – itself a bank in the early 1900s – has been physically engulfed by M2. On the marquee is "MICRO-FILM Presents," a designation for late shows playing the first New Art Film Festival; the Art has been operated by Sanford Hess for about four months.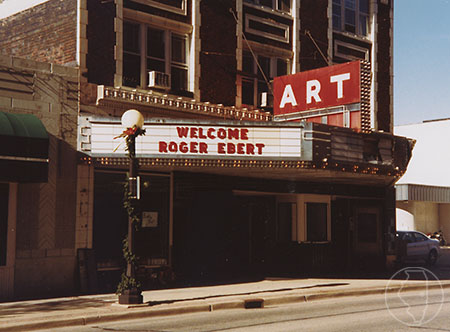 April 1999: From a decade prior, we study a medium shot of the New Art Theater façade, again facing eastward. The "weak" side of the marquee, typically used to promote special events or upcoming attractions, welcomes film critic Roger Ebert to town for his University of Illinois-backed Overlooked Film Festival, held two blocks away at the Virginia Theatre. The harsh sunlight somewhat disguises a few blights on our lovely Art…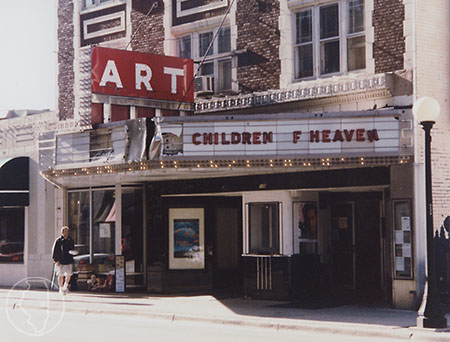 …for, if one looked westward from down the street, lightning damage to the marquee is readily apparent. After the loss of former partners John Manley and Ron Epple, Angelica struggled to maintain the business and could not come up with funds to repair the marquee, despite a successful campaign just a few years earlier that allowed him to replace the seating. On the marquee is CHILDREN OF HEAVEN (1997), an Iranian family film directed by Majid Majidi and brought to the United States by Miramax Films.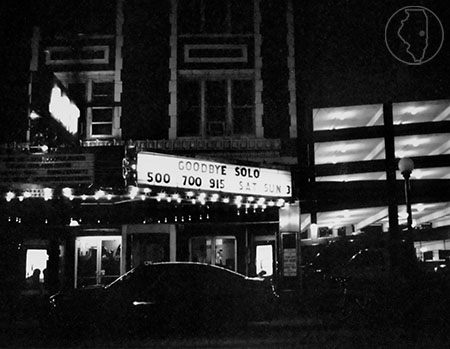 June 2009: Entrepreneur and industry technician Greg Boardman inhabited 126 W. Church Street as Boardman's Art Theatre between 2003 and the end of 2009. Taken months before he bowed out of the central Illinois exhibition business, this murky picture captured on Kodak's C-41 stock inadvertently casts the Art as a brooding setting right out of Fifties noir. On the marquee is GOODBYE SOLO (2008), an affecting two-character drama from director Ramin Bahrani issued by Roadside Attractions.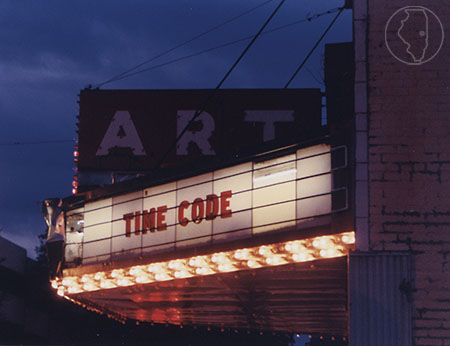 Summer 2000: This atmospheric close-up of the New Art demonstrates what a little dusk can do for a dinged-up structure. On the marquee is TIMECODE (2000), the experimental black comedy directed by Mike Figgis and presented on-screen in four "channels" of linear narrative. Sony's genre division Screen Gems opened the film during a landmark string of low-budget, high-concept hits released theatrically by indie studios and Hollywood subsidiaries from 1999 to 2001.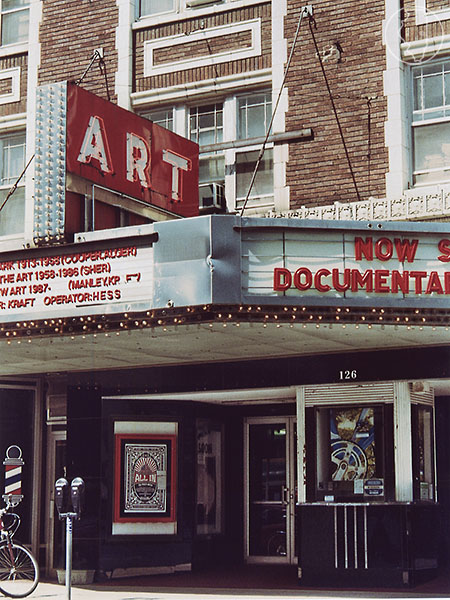 March 2012: During one of Hess' documentary festivals, as the wheels turned to adapt the Art into a cooperative business model, Mr. JaPan photographed this close-up of the façade. Prominent details include the protruding ticket booth used today for receiving packages, a "hidden" third frame for displaying movie posters, and a "management history" on the front panel of the marquee introduced by Boardman. Click to enlarge this view for further study, just because you can!
~~~~~
Leafing through all those prints to fill out our gallery above, as well as last weekend's set from the student project ASSASSINS, has made us contemplate whether a C-U Confidential picture book might be viable in the future. We know more comprehensive work would have to go into both high-quality scanning, preferably from negatives, and careful digital clean-up, preferably by people who know how to make pixels sing, yet we can dream! For now, let's get real about a wonderful volume that already exists…
One year ago, Perry C. Morris, Joseph Muskin, and Audrey Wells released their Art history, The Art Theater: Playing Movies for 100 Years. You can purchase it directly from them or at various shops in Champaign-Urbana, or you can take us up on a special offer! We have less than 10 copies at the Secret MICRO-FILM Headquarters we would love to find good homes for on the authors' behalf. Unfortunately, these have lost a bit of luster in the most literal sense; storage in the back of your humble editor's car has not been his smartest idea ever and the covers bear that brunt. On the positive, they still look pretty good with no discernible creases or folds and the interiors are fine. Here are two deals that can go down for the first folks who pipe up:
Slightly worn The Art Theater: Playing Movies for 100 Years @ $20 ea. (20% discount)
Slightly worn The Art Theater: Playing Movies for 100 Years + Complete set of C-U Confidential #1-7 @ $30 ea. (20% discount)
Write us right now at cuconfidential [at] gmail [dot] com to claim one or more copies/sets until they are gone! We can accept either PayPal or cash, and will be glad to arrange a drop-off if within the C-U. Prices do not cover shipment; we will determine total costs on an individual basis.
Act now, dearest readers, and The Art Theater can live forever … on your bookshelf!
~ Jason Pankoke