Have you ever been given a gift book listing historical and cultural events from a particular year, usually the one in which you were born? Something tells me that, were I to receive said book highlighting 1970, it would feature no mention whatsoever of DEMONOID (1970). Even if filled exclusively with entertainment fun facts, there would still be no mention of DEMONOID (1970). Horror fans might see random citation on Web sites of the Mexican production DEMONOID (1981) starring Samantha Eggar and directed by Alfredo Zacarías, but they certainly won't find mention of the Mexican production DEMONOID (1970) directed by Juan Francisco Moctezuma II. Well, at least for now.
Except here on Facebook. And on this fan-made Internet tribute. In fact, Moctezuma's work has been resurrected for screenings at festivals in Chicago and Spain. What gives, dearest readers?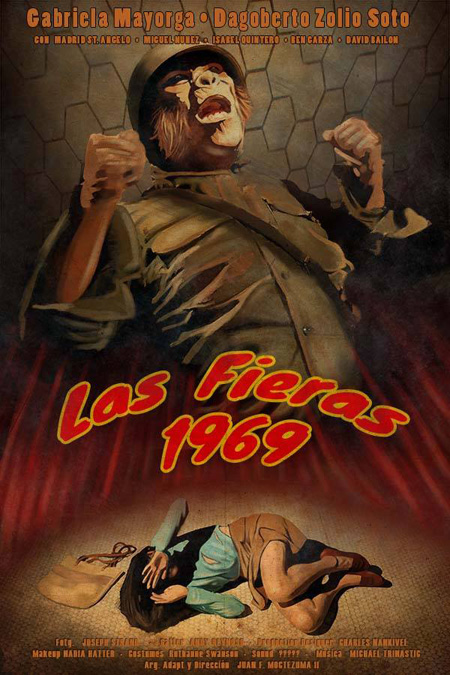 Alaric Rocha, the filmmaker, instructor, and New Art Film Festival veteran whom we've featured over the life of C-U Blogfidential, is the catalyst of this creative conundrum. (Apologies if we spoil the semi-secret, but it is our editorial policy to not perpetuate faux personalities as the real deal.) It seems DEMONOID (1970) and the entire Moctezuma canon is a glorious myth invented for an upcoming false documentary, SEARCHING FOR FRANCISCO. Currently splitting time between the Windy City and Mexico, Rocha has been working with fellow young filmmakers on both sides of the border to piece together Moctezuma's tale, one of an enigmatic low-budget director in the vein of Fernando Méndez (THE VAMPIRE) and René Cardona (DOCTOR OF DOOM) who all but vanished after his prime.
Rocha's team has already shot vintage-style footage from the supposed Moctezuma filmography on location, starting with the luchador melodrama A PRICELESS WOMAN (UNA MUJER SIN PRECIO (1961)) and military thriller THE BEASTS (LAS FIERAS (1969)). Next up is the fabled DEMONOID (1970) and they could use your help to make that madness happen! Later tonight, Sunday, January 11, a fundraising effort will take place at The Elbo Room, 2871 N. Lincoln Ave., Chicago, IL, featuring a silent auction and live performances by Pool Holograph and Gramps the Vamp; doors open at 6 p.m. and the bands will play beginning at 7 p.m. Of course, those unable to drive up from Champaign-Urbana or Decatur can write twin9000 [at] yahoo [dot] com to inquire about contributing to the cinema adventures of Rocha, a downstate Illinois native, including an Indiegogo campaign to be launched today.
"Demonoid 1970" Promo Video from Alaric Rocha on Vimeo.
Let's close with a summation of what Moctezuma apparently unleashed upon paying audiences in his home country, taken from the Facebook and Wix links above:
"Juan Francisco Moctezuma II is a Mexican horror and sci-fi filmmaker from the 60's and 70's. He was born in 1936 in a small town called Xilitla. He found his way to Mexico City by the age of 16 and worked as a projectionist. While there is evidence he worked on and created many films, his first project of note is LOVERS OF THE LORD OF NIGHT (1958) which won him an Ariel from the Academia Mexicana de Ciencias y Artes Cinematográficas. With his winnings Moctezuma created A PRICELESS WOMAN (1961). There was a long break before he made his next film in response to the Tlatelolco Massacre in 1968, LAS FIERAS (1969), most of which was destroyed by the government. Moctezuma's next film was DEMONOID (1970), quickly followed by DEADLY NIGHTSHADE (1971) which was never completed. Moctezuma is a pivotal director in Mexican Cinema for making bold and personal films during a time of social unrest and government oppression." ~ Masked Men and Mummies: The Encyclopedia of Mexican Pulp Cinema by J.D. Chalston
Now, if someone wants to gift me this book for my birthday at the end of 2015, I would happily … oh, damn. They made it up for SEARCHING FOR FRANCISCO like all the rest, didn't they?
~ Jason Pankoke
p.s. If you want to learn more about this particular niche, please flash back to our interview with Daniel Griffith about his as-yet-unreleased documentary THE WONDER WORLD OF K. GORDON MURRAY, recalling the Bloomington, IL-raised, Florida-based importer of Mexican fantastic film!
p.s.2 We will point out the aforementioned Tlatelolco Massacre, during which thousands of student and civilian protestors were attacked by soldiers and police in the Plaza de las Tres Culturas of Mexico City's Tlatelolco section, did indeed take place on October 2, 1968.