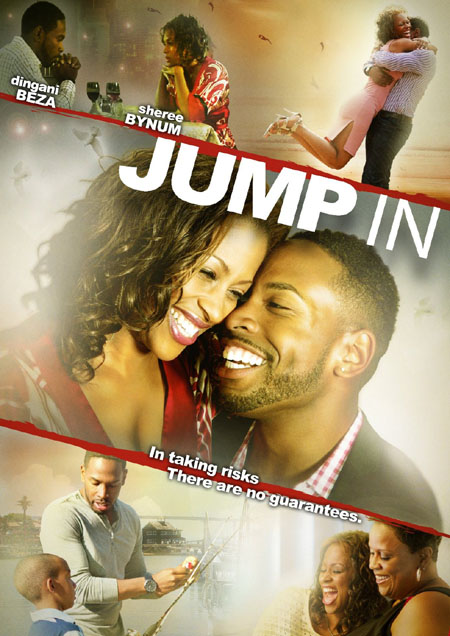 Chilly salutations to you, dearest readers in the frozen Midwest tundra! We're still chasing around a minor flurry of cinema efforts that has been falling on Champaign, Urbana, and the cities beyond since the fall season, for who are we to not give the gift of local film gab with so much tingling on the tips of our tongues? (Those with short-term movie memory can refresh beginning with this. Here's another. And, another still. If you don't get the idea by now, we're simply not sure what to do about you.) We now resume catching up on all relevant stories to tell, beginning with the oldest example in the bunch that we should have relayed when it was timely…
Yet, why not make the case that Kimberly Conner's feature JUMP IN is equally as noteworthy today? Shot on a shoestring in Springfield and Chicago nearly two years ago by this tireless lady and her collaborators, the film received a DVD berth from genre indie distributor Maverick Entertainment Group back on Tuesday, September 23, and is available at all the expected on-line markets. Sheree Bynum, Dingazi Beza, Karen Malina White, Michael Higginbottom, Thea Camara, and Kevin Craig West star in a low-key exploration of relationships among contemporary African-American adults, every thread revolving around the efforts of law student Troy Alexander (Bynum) to power through school, a broken marriage, and a breast cancer diagnosis in order to find happiness and accomplishment.
We are so behind in the progress of Conner and her Predestined Arts & Entertainment company, in fact, that we have barely talked about the follow-up to JUMP IN. Filmed late summer of last year in the general Springfield area and currently in postproduction, BEFORE 'I DO' features actors Jensen Atwood and Omar Gooding as small town firefighters with the former's character "Caleb" facing a midlife crossroads after being stood up at the altar. Andrea Kelly, Danielle Ward, Kathleen Turner, Michael Pittman, Joel Patrick King, and Camara also appear as various friends, allies, and romantic interests. Since a spring 2015 premiere has already been hinted by Conner, such as the one held in the capital city for JUMP IN last March, we have no doubt an announcement on that front is forthcoming.
You can hear a bit more about BEFORE 'I DO' from Conner, Atwood, Gooding, and Kelly in the news segment below. Please watch this space for more things Predestined!
~ Jason Pankoke