We take it some of you caught this feature, run by The Daily Illini on Tuesday, February 24, about the venerable Campustown institution That's Rentertainment and their continuing mission to keep the faith with physical media. While such pieces appear almost like clockwork in the local press – if you run a theater, drive-in, perennial film event, or persistent last-of-its-kind like a video store, you will get covered frequently in Champaign-Urbana – we're always happy to see Geoff Merritt and his staff of "Rentertarians" receive a friendly nod. Given the incessant reshaping and homogenizing of real estate adjacent to the University of Illinois this past decade, we need to pay lip service to the local business folk over the invasive national chains and congestive rental properties every chance we get.
The themes of embracing "old school" goods and services in the DI article remind us of our promise to develop C-U Blogfidential material regarding film culture that is ignored if not simply unheralded. We hit on the idea back in January when introducing you to the Austin, Texas, micro-label Bleeding Skull! Video, founded last year by Joe Ziemba and Zack Carlson in cahoots with the Alamo Drafthouse's Mondo Video. (A third collaborator, Annie Choi, joins them in writing the Bleeding Skull! Weblog.) We still plan to chat them up in regards to their budding catalog of VHS wonders, which also includes the discovered-in-a-car-trunk (!) action opus RUN COYOTE RUN (1987) and the trash horror experience HEAVY METAL MASSACRE (1989), but this post will focus on another individual we had mentioned previously.
Born and raised in Champaign, freelance videographer Samuel M. Oldham moved to California in the Seventies to pursue filmmaking, taking classes and accepting jobs to shore up his skills. Respectable tenures have included positions as an instructor at the Sherwood Oaks Film School in Hollywood and director/writer on television specials produced by Global Science Productions of Beverly Hills, but the offerings at his personal YouTube channel paint a radically different picture. Oldham is an individualistic thinker and dreamer whose heart lies equally with classic cinema and what he calls "psychotronia;" how else does one explain a playlist littered with custom footage captured at horror conventions, martial arts demonstrations, wrestling matches, and female bodybuilding competitions?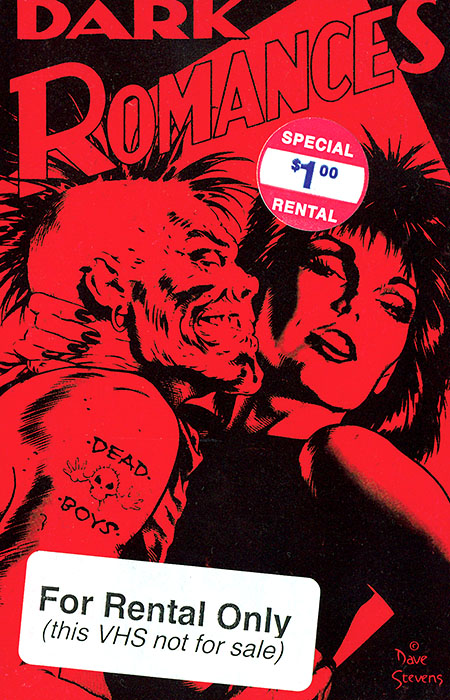 If we order his Internet Movie Database credits into a cohesive timeline, we can identify a solid period between the Eighties and Nineties when Oldham tried his hand at narrative genre pictures including several early shot-on-video (SOV) efforts. We already pointed out his involvement as an editor on the flagship BS!V release, S&M laced thriller CARDS OF DEATH (1986), but research has confirmed Oldham and his DEATH friends were also responsible for an underground title more familiar to backyard cinema fans, the fantasy anthology DARK ROMANCES (1991) starring "scream queen" Brinke Stevens. Other indie romps of note include Oldham's own martial arts adventure, THE MASTER DEMON (1991), and as a sound recordist on the "agent of the Devil" flick CATACLYSM (1980), one of three features edited into the oddball omnibus NIGHT TRAIN TO TERROR (1985) recently reissued by Vinegar Syndrome.
Now it should be clear why we've adorned this post with vintage packaging from the Film Threat Video release of DARK ROMANCES, illustrated by the late Dave Stevens of The Rocketeer fame. Its rental stickers also hint as to how this prototypical SOV shocker has haunted us for so long, apart from foggy memories of house ads in the original Film Threat magazine, since we scanned the art from a copy that has been sitting in the VHS section of That's Rentertainment for ages. (You just knew TR would play a role in this recollection, didn't you, dearest readers?) Oldham co-edited ROMANCES with the film's main producer, Mark Shepard, along with co-directing two segments as well as co-writing and acting in one of the two, "She's Bad, She's Blonde, She's Lunch."
To give you an idea of what early SOV horror looks like, sneak a peek at Oldham's rare promotional teaser for DARK ROMANCES that's a fun fit of showmanship. Essentially it is an extended trailer that provides a plentiful look at some of the tales in the four-hour-long (!!) anthology, flanked by a cheeky scene of Stevens' vampire character pitching an impressionable teenage lad on watching her movie as an alternative to safe and square Hollywood home video product. How could he resist?
~ Jason Pankoke
p.s. Since he is prone to putting his money where his mouth is, even if it is just a dollar, your humble editor climbed up on his Video Throne a few months back and checked out DARK ROMANCES. While not his favorite slice of SOV pie by a long shot, particularly since the lengthy opening segment is such a catatonic slog, he found some enjoyable passages within and further amused himself by eyeballing CARDS OF DEATH connections. The only other ROMANCES release to date other than the original Film Threat Video set from 1993 was a pair of separately-sold VHS tapes issued by Sub Rosa Studios circa 1999-2000. In this undated interview with Richard Glenn Schmidt of the Doomed Moviethon Web site, star Brinke Stevens implies a digital release might be complicated due to the untimely passing of Shepard.
p.s.2 No time like press time to confirm that Hollywood does not have a monopoly on resurrecting decades-old film properties! Seems that original Film Threat head honcho Chris Gore has purchased back the rights after the title changed hands a few times over; this brand-new Kickstarter campaign to raise funds for preserving and continuing its Internet incarnation, as well as bring back his former ATTACK OF THE SHOW! segment "DVDuesday" as a standalone Web program, is proof positive.
p.s.3 Oldham's first stab at a no-budget feature was an obscurity made in 1988 called TALES OF THE UNLIVING AND THE UNDEAD. It should not be confused with TALES FROM THE QUADEAD ZONE (1987), an equally obscure no-budget item created by Chicago outsider artist Chester N. Turner, which has made headlines in recent years due to its DVD re-release through Massacre Video and the on-line sale of a tape copy for more than $1,000. Who knew, right?