To complete our week of connecting dots between the present day and our primordial motion picture past, when the Paper Opteryx had barely evolved from the Champaign-Urbana mire, we share this house ad from page 31 in the October 2000 program of the final Freaky Film Festival designed by our pal Ted Veatch. Shrouded in a darkness that can only be affected by dense ink on newsprint, the trophy pictured here never had a chance to become universally iconic like the Academy Award statuette or uniquely referential as is the "Golden Thumb" given to guests of Roger Ebert's Film Festival. However, in our minds and hearts, mad props have always gone out to ace artisan Michael Schwegmann for creating the hand built, one-of-a-kind tokens given to that last set of winning FFF filmmakers. The craftsmanship typifying Schwegmann's work today is certainly leaps and bounds classier than his crazy vessels with FFF co-founder Eric Fisher's "Film Guy" poking its cartoony mug out the side, but we know those recipients absolutely loved inheriting works of art instead of assembly-line mantle fillers.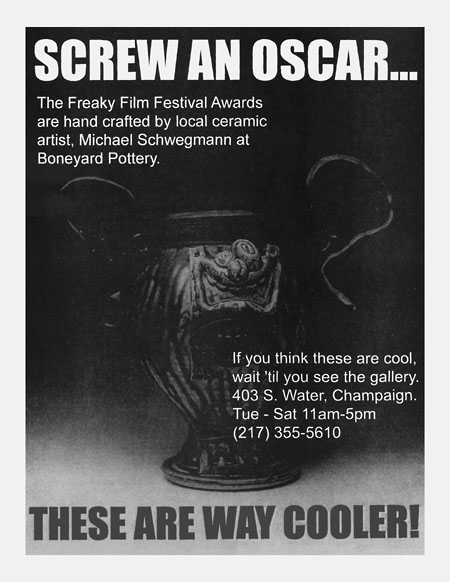 Of all things local since the FFF folded after that year, the super-awesome custom cakes designed by MeMe's Treat Boutique of St. Joseph for that other freakin' event, the Freeky Creek Short Film Festival, are the closest descendants. We don't know what exactly Joe Taylor and Bill Kephart bestow upon the Freeky Creek entrants who win their event's various audience awards but maybe, just maybe, MeMe owners Eric and Patty Woller could transfer their three-dimensional ghoulies from an edible to displayable form in the previous Schwegmann mold. If we're dreaming big in the weirdest way possible right now, please give us at least that pleasure on a dreary, drippy, post-"Ebertfest" afternoon.
~ Jason Pankoke
p.s. As of December, Schwegmann and his wife Patty have moved their Schwegmann Studios (formerly Boneyard Pottery, as in the above promo) from its longtime Water St. location in central Champaign to a more private home/work arrangement in the outskirts. You can view examples of his remarkable pottery and her sleek jewelry creations here.
p.s.2 As of sometime recently, the Wollers have apparently rebranded as Vicious Collectibles in Danville for which their main product is "hand sculpted, one-of-a-kind zombie cupcakes." A little yummy terror for your tummy, or, does Charles Band and Full Moon Features see the crossover possibility here?
p.s.3 Our editorial in the almost-here C-U Confidential #8 plays down the overall importance of awards to the festival goer or participant in determining worth based primarily on winning accolades. Some will not be in agreement, yet for our purposes in journalism and presentation we don't find them crucial. Our goal is to encapsulate the full canvas of work being done in Champaign, Urbana, and the cities beyond as best as possible, not doting on the brush strokes deemed the best quality or most pleasing. Enough judgment is passed in due course, year after year, when deciding the stories we run on C-U Blogfidential or pieces we play at the New Art Film Festival. That's our feeling on the matter, not necessarily yours.
p.s.4 That all said, the FFF cups are still way cooler than an "Oscar," even 15 years later. We wonder how that tongue-in-cheek statement of defiance might be worded were it to run today…