These days, we at the Secret MICRO-FILM Headquarters have precious little contact with our culture comrades up north in the Windy City, but it is not a confession that we pay no attention to what goes on well beyond Champaign-Urbana, Illinois. In fact, we regularly skim teasers and read stories posted to the likes of Reel Chicago, Hollywood Chicago, CINE-FILE, the Chicago Reader, Newcity Film, the Tribune, and the Sun-Times for clues on cinema making waves along the Lake Michigan shoreline. There is one particular event we always look forward to spying on from afar, we'll admit, although it's been too damn long since we've checked it out in person…
Now operating under the watch of IFP/Chicago, but primed since 1994 to unleash rambunctious non-mainstream filmmaking on their audiences, the Chicago Underground Film Festival will invade the Logan Theatre, 2646 N. Milwaukee Ave., between tomorrow, Wednesday, May 13, and Sunday, May 17, with their 22nd collection. To the ongoing credit of long-time artistic director Bryan Wendorf and his merry movie brethren, the titles and primary creators in the CUFF line-up are not immediately recognizable to the general viewer with average taste, all but guaranteeing an element of intrigue or discovery. The full program and related asides such as 90-minute "bar talks" with visiting and local indie producers in the Logan's lounge, a novel "prop art" exhibit of film ephemera at the next-door I Am Logan Square Gallery, and the prerequisite parties-come-bonding experiences are detailed on their official Web site. Same-old, same-old narrative cinema is not the CUFF stock in trade, suffice it to say.
Adventurous souls will get the most out of CUFF fare, of course, but we'll encourage all of you to sample the wilds of low- to no-budget film expression if you happen to be in Chicago during the rest of this week. All the same, we are consistently puzzled as to why the C-U has never managed to sustain a modern-day equivalent to either CUFF or the beloved Freaky Film Festival of yore; we certainly can't look to our own New Art Film Festival for a transgressive fix since, with all due respect, most submissions we receive would be classified as "sane" and "safe." Some CUFF/Freaky style pieces of a social issue persuasion might appear in local events playing to that strength, and the fall Freeky Creek Short Film Festival books the horrific and darkly comic as a rule, but it's really – and we mean, really – difficult to publicly view material in bulk that is effortlessly out there – and we mean, out there.
Can us prairie folk muster the skills or conjure the desire to sow seeds for a new underground rooted in our own backyard? Or, has personal on-line streaming and a diminished taste for the outré forever doomed its future presence du C-U?!?
~ Jason Pankoke
p.s. Fortunate as we are to have perennial events catering to various wavelengths in the filmmaking spectrum, their combined appeal and scope is understandably limited compared to the stacked calendar of a metropolis like Chicago. Here is a starter list courtesy the Chicago Film Office; creative word play in Google searches will probably reward you with links to many more subsets within the niche, particularly those based in the suburbs.
p.s.2 Bryan Wendorf has possibly addressed our questions well in advance, if this five-year-old video interview between him and prolific film journalist Ray Pride shared by the Underground Film Journal is any indication. Listen and learn, friends and neighbors…
p.s.3 Did we fail to mention we've reprinted the primary CUFF 2015 press release after the jump? We're just in time, then. Jump!
~~~~~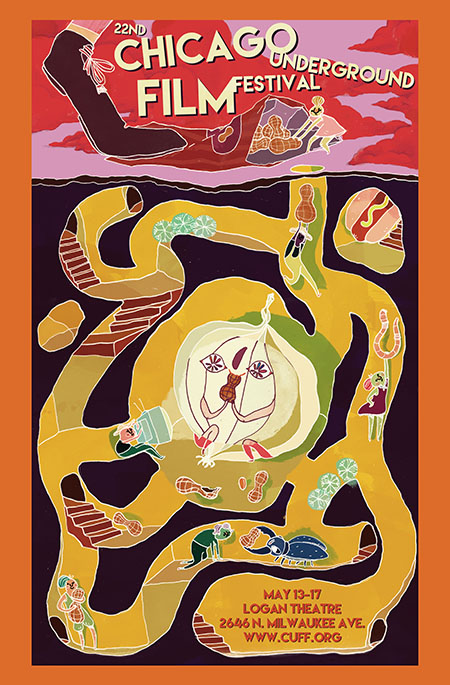 ~~~~~
From May 5, 2015:
FOR IMMEDIATE RELEASE
22ND CHICAGO UNDERGROUND FILM FESTIVAL OPENS MAY 13 AT THE LOGAN THEATRE
CHICAGO, IL (May 5, 2015) – The Chicago Underground Film Festival (CUFF) returns to the Logan Theatre to again challenge mainstream ideologies of filmmaking by bringing underdogs of cinema into the limelight with more than 100 provocative, challenging, and entertaining features, documentaries, and shorts. The reigning champion of underground film festivals also celebrates its 22nd year with screenings, discussions, performances, and parties!
CUFF, a program of IFP/Chicago, takes over the Logan, 2646 N. Milwaukee Ave., Chicago, with energy and innovation for five packed days on May 13-17, 2015, presenting a diverse slate of experimental, documentary, and narrative features and shorts that were carefully selected and curated for 25 unique programs, drawn from nearly 2,000 submissions from around the globe.
For more than two decades, CUFF has provided audiences with an accessible, viewer-friendly showcase for avant-garde and cult cinema, made even more accessible at the lovingly restored Logan Theatre in the Logan Square neighborhood location for the third year running. CUFF has established itself as the premier venue for emerging independent filmmakers
From high camp to formal experimentation, CUFF programs films that wildly exceed expectations while breaking the boundaries of genres – ones made with passion, obsession, and drive. Last year, the readers of Moviemaker Magazine named CUFF one of the "coolest underground/experimental film festivals in the world." Through sidebar events, not limited to infamous after-parties and lively panel discussions, CUFF promotes an atmosphere of engagement for filmmakers to discuss ideas, techniques, and tactics, also to network and forge lifelong creative relationships!
Highlights of the 22nd edition include:
Opening Night
CUFF is proud to present the North American premiere of RUINED HEART: ANOTHER LOVESTORY BETWEEN A CRIMINAL AND A WHORE, the 46th feature by Khavn de la Cruz, the extremely prolific musician, poet, and filmmaker known as "the father of Philippine digital filmmaking."
Closing Night
CUFF is also proud to present the World Premiere of Chicago filmmaker Robert Stockwell's city symphony, BURNT IN MEMORY, MY LOVER HAS STEEL LEGS AND STREET LIGHTS FOR EYES, performed with a live musical score at the Logan.
BURNT IN MEMORY chronicles life in Chicago. Its impressionable tableau has no dialogue, no characters, no story, and no acts. It is just a glimpse of people and their places – their in-between and forgotten places. The music was entirely improvised as the musicians played to a projection of the film, resulting in a unique and varied film score. Keeping with this, the musicians will be improvising a new score to the projected images live at the Logan; they include Azita Youssefi on piano, Amber Amar-Walton on cello, Justin Martin on guitar, Nandini Khanud on the Folktek Quadrum, and Ben Clarke as musical director. Rather than composing restrictive melodies and rhythms, the musicians played just as freely and uninhibited as BURNT IN MEMORY was photographed.
Feature Film Highlights
*Festival alumni Lev Kalman and Whitney Horn's impressionistic, episodic comedy, L FOR LEISURE. Their first feature, BLONDES IN THE JUNGLE, won Best Narrative Feature at the 2010 CUFF. With a lo-fi 16mm style that recalls 1990s television, home videos, and underground comic books, L FOR LEISURE is a unique piece of deeply independent filmmaking, reveling in excesses of both lush beauty and awkward humor. Thursday, May 14, 6:30 p.m.
*Mexican filmmaker Ricardo Silva's NAVAJAZO, which portrays an apocalypse we've always imagined, presented to us through portraits of characters struggling to survive in a hostile environment where all they have is each other, and the only thing they have in common is the will to keep on living no matter the cost. Thursday, May 14, 8 p.m.
*Festival alumni Bill Brown and Sabine Gruffat's experimental documentary, SPECULATION NATION, captures the consequences of the housing crisis in post-crash Spain. Through their travels, they find Spanish citizens, inspired by the politics of the 15-M movement and Occupy Wall Street, who mobilize, collectivize, and fight for the right to a decent place to live. Friday, May 15, 8:30 p.m.
*IMMUNE! THE ORIGIN OF RYAN SCAMMELL, SUPERHERO (APPROXIMATELY 72% NONFICTION) by Ryan Scammell is a unique take on film as self-portrait. Drawing on conventions of the contemporary graphic novel and blending live action, animation, documentary, and narrative, the film asks why real people allow themselves to get lost in fantasy and, ultimately, why we all might want to believe in a world with superheroes. Saturday, May 16, 4 p.m.
*SAILING A SINKING SEA is a feature-length experimental documentary by Olivia Wyatt that explores the culture of the nomadic sea-faring Moken people of Burma and Thailand. As a viewer, you will swim under the sea past fishes and mermaids, sail boats across turquoise waters, land on 13 different islands, step inside sea shanties on stilts, delve into the minds of shamans, become possessed through the worship of sea gods, dance between lovers, and emerge drenched in Moken mythology. Saturday, May 16, 6 p.m.
*FOR THE PLASMA by Bingham Bryant and Kyle Molzan is a digital-pastoral drama of friendship, landscape, and technology. FOR THE PLASMA begins as the story of two young women (Anabelle LeMieux and Rosalie Lowe) employed as forest fire lookouts in northern Maine, and ends in a hundred places at once. Along the way, the girls make financial predictions based on surveillance footage of the surrounding forest, [???] the local lighthouse keeper until a pair of unusual investors interrupts their solitude, and a dreamlike portrait of small town America and contemporary life is revealed. Saturday, May 16, 8 p.m.
*EVAPORATING BORDERS by Iva Radivojevic is a sweeping visual essay on increasingly restrictive global attitudes toward migrating populations. Through a series of vignettes, her essay film poetically weaves themes of migration, tolerance, identity, and belonging as it dissects the experience of asylum seekers in Cyprus. Sunday, May 17, 3 p.m.
*LIVING STARS by Argentinian filmmakers Gastón Duprat and Mariano Cohn is an experimental documentary showing real people in Buenos Aires, captured in long, static takes with the camera on a tripod, simply dancing to pop music. In their kitchens, offices, and garages, identified in the film by their name and occupation, they include all ages, diverse lifestyles, and levels of talent, each sharing a common and infectious enthusiasm. The seemingly simple premise has an overwhelming cumulative effect of shared humanity and pure joy, consistently surprising, endlessly fascinating. Sunday, May 17, 6 p.m.
*The World Premiere of PRIVILEGE AND OBSESSION by festival alumnus Stephen Graves, whose first film A BODY WITHOUT ORGANS won the Most Visionary Award jury selection at the 2013 CUFF. PRIVILEGE AND OBSESSION is an unsparing, often comedic portrait of the future of America's middle classes, its youth, as they balance at the threshold of adulthood in a world mired by dogma and inauthenticity. Sunday, May 17, 7 p.m.
Other Festival Highlights
*The Underground Prop Art Show is a gallery exhibition of props and costumes from experimental and underground films by festival veterans, including work from Jennifer Reeder, Mike Olenick, Chris Sullivan, Jerzy Rose, Michael Lopez, Todd Mattei, Lyra Hill, Kenny Reed, Spencer Parsons, Ali Aschman, and Laura Harrison. The opening reception is Saturday, April 25, 6-9 p.m., at I Am Logan Square Gallery, 2644 N. Milwaukee Ave. The show continues through May 22.
*"Hardcore Home Movies," curated by Bradford Nordeen of Dirty Looks, features queercore films and videos that plumb a recent queer history, where gay and lesbian sexualities weren't so tidily divided, as well as hardcore DIY filmmaking that brought together a generation of flamboyant outsiders, filmmakers who drifted from sexuality to sexuality, town to town. Drawing from punk and queercore archives, Dirty Looks will showcase essential works by G.B. Jones, Greta Snider, Jill Reiter, and Rick Castro, in addition to unearthing recent finds and lesser-known titles.
*"Critical Paranoia: Dark Knight Rising," curated by Ernest J. Ramon. CUFF is proud to present the World Premiere of a motion picture event Hollywood, DC Comics, and the military industrial complex don't want you to see!
*HOZOMEEN, a five-channel video installation by Jeremiah Jones, will be on display in the Logan Theatre Lounge during the festival. An adaptation of Jack Kerouac's Dharma Burns (1958), each video asks to be seen forever, or slept through, until you are ready to get back to sex and eating and living. This work considers the lack of meaning we find when we go looking for it in the mountains.
Blending experimental, documentary, traditional, and nontraditional narratives, the festival's acclaimed shorts programming features an impressive lineup featuring nearly 100 films from more than 20 different countries. The programs include new work from festival favorites such as Ben Russell, Jennifer Reeder, Jesse McLean, Deborah Stratman, Robert Todd, Mike Olenick, Daniel Schmidt and Alexander Carver, Terra Long, Michael Galinsky, Gabriel Abrantes, Mike Gibisser, Ben Rivers, Alexander Stewart, and many others!
We're also very excited to present our 2015 festival poster art designed by Jenna Caravello, an artist and videographer living in Chicago. She studied at the School of the Art Institute of Chicago, majoring in video production and traditional animation. For two years, she worked at Kartemquin Films as a video-media archivist, organizing boxes of U-matic tapes, while she finished her own short animations. Her work has appeared in the Eyeworks Festival of Experimental Animation, the Chicago Underground Film Festival, the Melbourne International Animation Festival, and the traveling Australian International Animation Festival. She has a parakeet named Voodoo Crispy and spends a lot of time whistling.
Tickets are $15 for opening and closing nights, $9 per program. Festival passes are also available for $75, which grants admission to all screenings and events. Tickets are available here and the complete festival pass appears at http://cuff.org/.
CONTACT
Emily Oscarson
Chicago Underground Film Festival
2044 W. Chicago Ave.
PMB #155
Chicago, IL 60622
emily [at] cuff [dot] org
###